There are many hummingbirds at my house. We go through 6 to 8 feeders a day. This one obliged for a close up.
By Suntydt from Tazewell, TN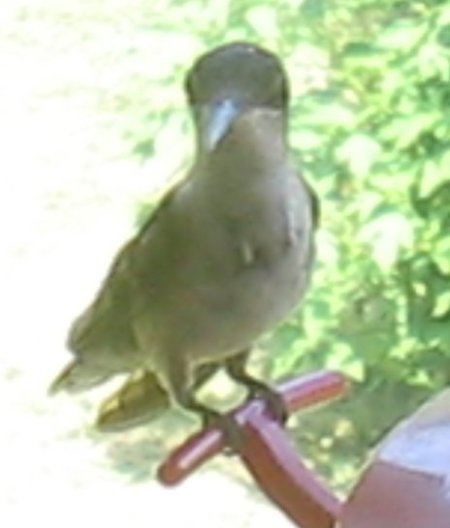 Comments
Add your voice! Click below to comment. ThriftyFun is powered by your wisdom!
I had already taken down my hummingbird feeder BUT on seeing a flash of one come to the window I put it back up with sugar water in it. Sure enough, up came this fat little fella. He should have already flown south by now. I understand they really fill-up before flying south for the winter.
By Eileen H.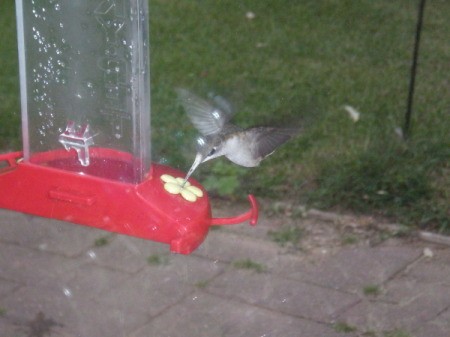 September 28, 2011
0

found this helpful
I live in Oregon and I saw hummingbirds in January, during snowy weather! I don't know what they were still doing here but I was happy to see him. Didn't think to grab my camera until it was too late.
Thanks for sharing, it is a cute picture. Hummingbirds are one of my favorite birds.
September 28, 2011
0

found this helpful
I am in Iowa and they have not left here yet either.
September 28, 2011
0

found this helpful
PLease leave you feeders out all winter not all hummingbirds go south for winter!! i took a birding class and got to meet the top and most experienced hummingbird expert at a bird confrence and not all fly south! it was interesting . thats why sometimes you see them and there is snow.
September 28, 2011
0

found this helpful
Hummingbirds that are traveling south will stop at a feeder as they travel. Unless you are at the North Pole you very easily could be on a migration route. I wondered about this at one point and realized they may find feeders when they are traveling back North in the spring to get to their birth area.
September 28, 2011
0

found this helpful
Thanks to all who told me about their Hummingbirds, and I will do as suggested, leave the feeder up even in winter. I am so lucky that they come right up to the kitchen window, I love to watch them.
September 28, 2011
0

found this helpful
Could you all please vote for me, with the price of sugar these days I could do with the $25.00 prize money to keep my feeder in sugar water all winter. LOL
October 9, 2011
0

found this helpful
Well, I learned something about hummingbirds, too. I have never seen any here on Long Island, but friends say they have. I didn't know some don't fly south, I wonder how they survive the winter? Your photo is marvelous. I've heard it's hard to photograph them as their wings beat so fast. I voted for you anyway, but your comment about the price of sugar is hilarious! I hope you win. In any case, you're very kind to take care of the birds all year round. Best Wishes!
October 17, 2011
0

found this helpful
Been following the posts... most of my hummers are now gone. But, still have one that still feeds and rests/grooms in the bushes. Where are all the others? I live in Big Bear Lake, CA and noticed that most of the hummers left after a heavy and lengthy rain storm a couple of weeks ago. No snow yet, but getting colder at night, though in mid 70's daytime.
Have not seen any nests. Why would others leave, but this one stayed? Someone told me that they have hummers in the east end of Big Bear Valley all winter? We are not far from Lucerne Valley (desert). Would love a good answer. Thanks.