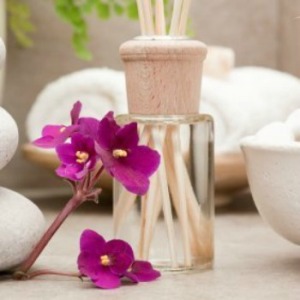 Solutions: Homemade Reed Diffusers
Read and rate the best solutions below by giving them a "thumbs up".
These reed diffusers can be quite expensive, but I found a way to do them for just a few dollars and you get the same effect. For maximum scent, make sure the skewers stick out several inches from the top of your container.
Pour your choice of scented oil into a container until it is about 75% full. Use a glass bottle or a vase with a small neck opening. Then stick your bamboo skewers inside. I used lavendar and lemon, use whatever you like. After an hour flip skewers over to saturate the parts that stick out the top above oil level. This speeds up the process of oil soaking up from the bottom and diffussing the entire skewer.
After they have dried, decorate with little washi tape flags if you like. Within 2 hours, you will notice a light fragrance in your room. Rotate ends about once a month to refresh. Works very well!
By coville123
Give a "thumbs up" to the solution that worked the best! Do you have a better solution? Click here to share it!
Questions
Here are questions related to Homemade Reed Diffusers.
Does anyone know what kind of oil is used in the reed diffuser bottles? I've found sets, but would like to refill the bottles with the bamboo reeds already in them. My oil ran out. Can I use Potpourri oil, or something similar? Thanks.

Kim from Crawford, CO
---
Most Recent Answer

By Ginni Selby10/04/2013
Kim, most of the discount stores in Delta have the small bottles of diffuser oils to use in these.

How do you make reed diffusers at home? I love them but they can be expensive for the whole house.

Linda from Lewes, DE
---
Most Recent Answer

By Dilworth Granny (Guest Post)09/24/2008
I buy small jars at the dollar store, nice smelling liquid pot-pourri and cut the pointed end off bamboo skewers. If you need to fill in the top so it's not so open, use a cork and either poke the skewers through or cut a large hole in the middle. Costs about 1/8th of the packaged diffusers and you can use any "flavor" of liquid.
How do I make the base for the fragrance oil used in the reed diffusers?

P Sanders from Deep South Mississippi
---
Most Recent Answer

By Sally E. Greer (Guest Post)09/23/2008
HI All..Its not alcohol, that is used in the Berger lamp recipe that I have for the fragrant lamps. I had to buy the blank base then add my oil to make up my fragrance for my reeds. Directions on bottle to how much ratio base to fragrant oil. I gave up on lamps as the stones were always getting clogged even after setting in alcohol to clean them. They worked great in the beginning when new. Now I'm into the reeds.
Does anyone have instructions for making room diffusers from wooden skewers in a bottle of scented liquid, similar to reed room diffusers?

Marie from Fennville, MI
---
Most Recent Answer

By Susan05/25/2007
http://www.mabelwhite.com/Seasons/Archive/2007_17_03.htm#Scent

Try this one...I love the diffusers also!