Woven Rug from Recycled Insulation Bags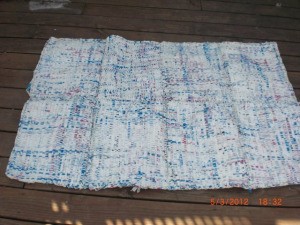 Here is a rug I made in 16 parts from packaging leftover from an insulation job we did. Each part is the size of a standard place mat.
Approximate Time: about a week
Supplies:
plastic, preferably recycled
loom for place mats
scissors
crochet hook or shuttle
plenty of time
Instructions:
Begin by readying your materials, cutting strips the desired width for your project.
Weave as few or as many parts as you want to complete a rug the size you want it to be.
Connect the parts in the manner you wish them to be, at the edges.
I must say, this was very personally rewarding!
There are more photos on my personal blog:
By melody_yesterday from Otterville, MO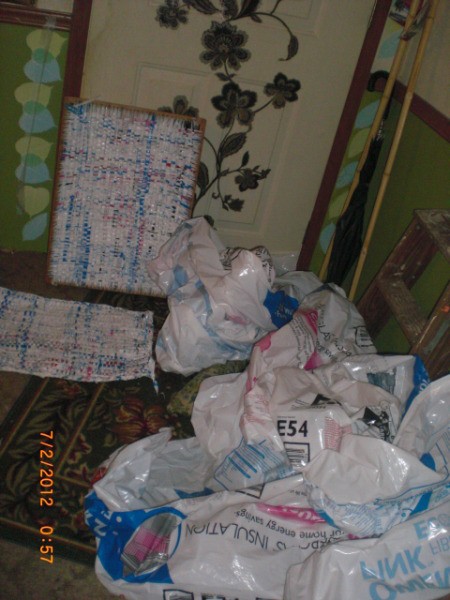 Feedback
Read feedback for this post below. Click here to post feedback.

By
03/21/2012
Gotta few questions. When you say insulation, do you mean the fiberglass stuff that you put in the walls and the attic? Isn't that stuff bad to get in your eyes, nose or on your hands? How did you clean the packaging first?

Next question. I know how to make a loom, but could never figure out how to finish off the edges of the piece once it's done. Can you explain it to me?
And does this rug lie down flat after a while? I'd be afraid of tripping on it if it doesn't. But I can see this kind of rug being great for out on the grass at a picnic or on a porch or deck. You did a great job piecing it together.
Post Feedback
Add your voice to the conversation.
Related Guides
Related Posts