I try to think 'outside the box' for recycling. Sometimes I don't always have rug canvas. I made a rug from a less-than-lovely knitted throw and some old t-shirts. Everything is machine washable, and I didn't have to run out and get rug canvas.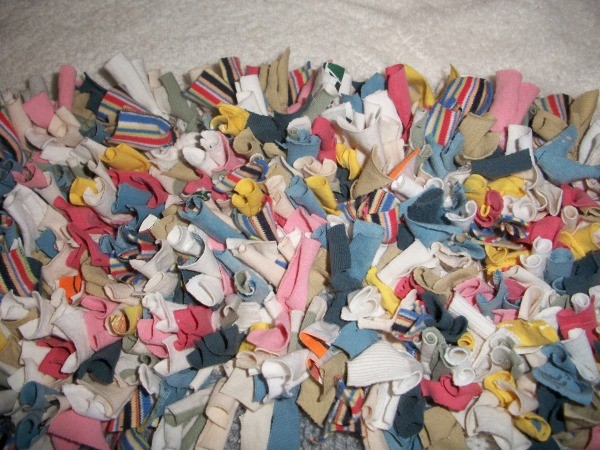 I cut the t-shirts into small 1 inch wide and 3 inch long strips and created a latch hook rug.
It was easier for me to fold the t-shirt strips in half lengthwise as I latch hooked them into the knitted throw. In the second photo, you can see a view of the back of the throw.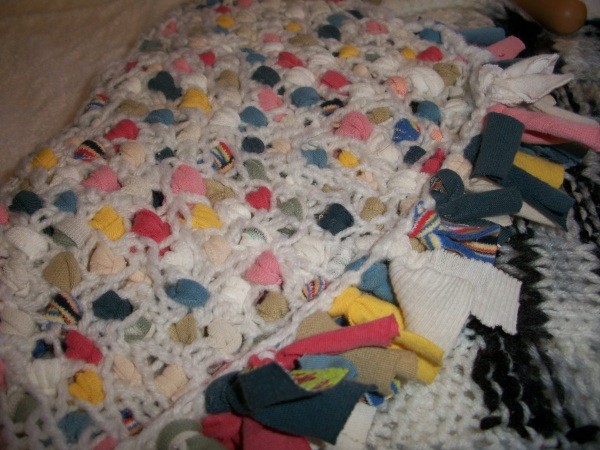 Editor's Note: Following are photos of the steps Monica followed: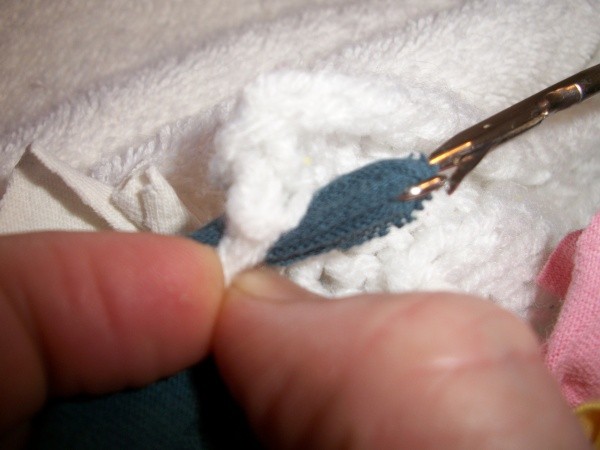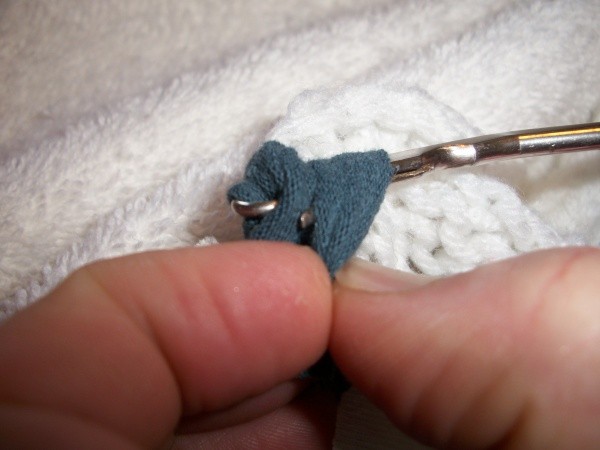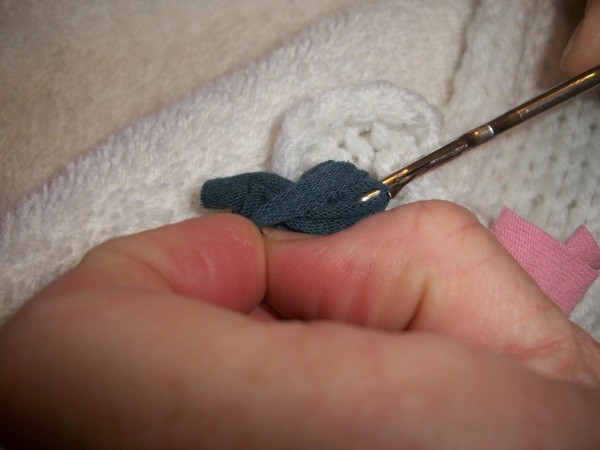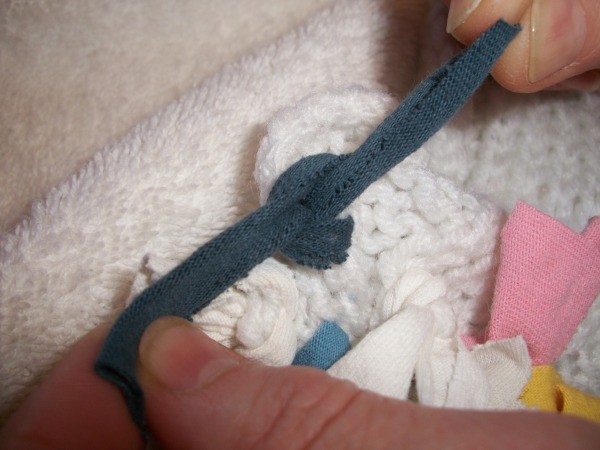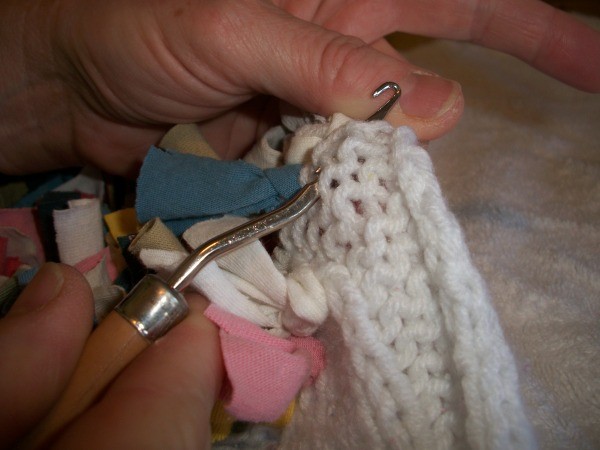 By Monica from Cortez, CO
I am looking for anyone that has some info on how to make a hooked rug from rags! Help!

Shel from KS
Answers
January 11, 2007
0

found this helpful
hooked check out the library & thrift shops for older books plenty out there
January 12, 2007
0

found this helpful
Jantoo....I am unable to get to the website you suggested....message says that it cannot be found....any suggestions?
Editor's Note: Hi, it is the period after the URL. I moved it, you should be able to click the link now.
January 12, 2007
0

found this helpful
Hi Shel,
You can buy a kit and get a lot of info on how to make the rugs..I find lots of kits at yard sales and goodwill....I have been making the hook rugs out of the plastic shopping bags that you get when you are shopping...I cut the bags into 4 inch strips and hook them into the hook rug canvas...I do not use the pattern I just mix up the colors...these are really nice out on the patio...when dirty just hose them off and hang them up to dry....Good Luck...
By (Guest Post)
January 14, 2007
0

found this helpful
i am not sure what a "hooked rug" is other than those kits; have you thought about using strips of 100% cotton fabric and crocheting a rug..they are beautiful!
March 6, 2007
0

found this helpful
This right up my alley! Most Rug Hookers use 100% Wool rag strips that they have shrunk & felted. (like old blankets & shirts) THEN, they use a small type of cutting "machine" that cuts the strips evenly into the desired widths. You then choose the size of hook you need to pull the wool through cotton monks cloth, burlap, or other backing. When the rug is finished, you bind the edges. (Usually with wool yarn)
---> If you "HOOK" you "fish" the thin strip of wool from underneath, thus working on the Front side of the pattern... or "topside-up"
---> If you "PUNCH" you stretch your monk's cloth backing on a frame with tacks that stick up & "grab" your fabric, you then use a punch tool instead of a hook to punch the wool yarn or thin fabric strips through the backing fabric. Punched rugs are usually made with yarn, not wool strips like Hooked Rugs are. The Rumpelstiltskins company makes an electric rug puncher (for yarn) that really speeds up the process, but it's pricey! Punched rugs are done through the BACK of the work or "upside-down"
---> DO not confuse rug hooking & rug punching with the rug kits they sell in craft stores. This is a totally different ARTform. You will not end up with a synthetic "shag" type of rug, but a high quality rug that will last over 100 years if taken care of. Just like the pioneers made!
---> Many Rug makers dye or "over-dye" their wool before cutting it into strips.
---> Rug Hooking is sometimes called "Nantucket" rug hooking. With Nantucket style, you hold the backing fabric on your lap & wrap it around the top of your legs & pull it tight as you work. This way you can take your work with you because it's portable & not hooked to a frame.
---> Sometimes you can take classes at Weaving Stores... Look under "Weaving" in the yellow pages.
--------------------------------------------------------------------------------------------------
The first 3 URL's are a GREAT newsletter for rug "hookers" & rug "Punchers":
Rug Hooking, Beginners Questions:
http://www.rugh /hooked/WG28.txt
Woolgatherings Newsletter = Index of Subjects:
http://www.rugh ked/WGtable.html
What is traditional Rughooking? (this is a GREAT URL with lots of resources!)
http://www.rugh oked/hooked.html
--------------------------------------------------------------------------------------------------
What is NANTUCKET HOOKING? (with "how-to" diagrams)
http://www.litt ooking-page.html
Q's & A's about punch needle hooking:
http://www.red- om/rcrpage6.html
Tips & Tricks for rug hookers:
http://www.netw rafter4/FAQ1.htm
Rug Hooking List of Suppliers in many US states:
http://www.rugh nchsupplier.html
Rugmaking tools-CATALOG:
http://www.netw ter4/catalog.htm
Pictures of frameless hooked rugs that are for sale:
http://www.orientalrugdesigns.com/
March 13, 2007
0

found this helpful
I think I have a better answer for you.... I posted here before about rug hooking & rug punching, but tonight I was in Walmart & saw just what you're looking for it's called "American "Locker Hooking" or just plain "Locker Hooking" or sometimes "Anchored Loop Rugs" The technique is totally different from "rug punching" or "rug Hooking" This style is done with a tool called a "Locker Hook" it looks just like a crochet hook with an eye (like a very large needle) on the end. This technique is most commonly done with 100% cotton fabric of many bright colors or old blue jeans. It can also be done with wool yarn or fancy novelty yarn. Locker Hooking was invented in the UK in about 1900... There are at least 3 different styles of locker hooking: American, British/Irish & Australian. Some people use unspun, carded wool. But the new thing is to use cotton fabric strips or fancy novelty yarn.
Supplies Required:
--- Rug Canvas--- with large holes (3.75 per inch) smaller if you choose to use yarn instead of fabric. (a note: the type of rug canvas usually used is the same type used in "Latch Hook " Rugs, the shag type kits & patterns they sell for kids in the craft stores)
--- Locker Hook Tool (about the size of a size "G" crochet hook) Avail at most Walmart's
--- 100% cotton fabric (because 100% cotton rips better than 50/50 & who wants to cut all that fabric when you could easily just rip it instead!)
--- 100% cotton yarn or rope (about the size of "worsted weight" yarn)
The Basic Technique:
--- Tear fabric strips into 1 inch widths,
--- Fold fabric in half with right side out
--- Put fabric strip under the rug canvas
--- Thread "Locker Hook Tool" (LHT) with the cotton yarn or rope
--- Insert hook into first hole & pull up a loop of the fabric strip just big enough to push locker hook tool through, continue in a row to insert hook & pull up a loops until you have about 7 or so loops on your locker hook tool.
--- When you have about 7 - 10 loops on your LHT, push the hook through the loops, thus bringing the cotton yarn through the loops & locking the loops in. (this was it's washable & durable)
You will need more instructions so you know how to finish off the excess cotton yarn & how to knot the cotton strips together. Look at the pictures in the $15 book that many Walmart's sell for ideas & directions. Below are some URL of how to:
http://www.sand fter4/anchor.htm
http://www.moth -Down-Under.aspx
SUPPLIES for Locker Hooking:
http://www.deer om/supplies.html
How to PICTURES:
http://www.marr om/locktech.html
Here is a quote from Australian Mother Earth News (above URL):
WHAT'S NEEDED? To try your hand at locker hooking, you'll need a locker hook, locker cord or yarn, rug canvas, a yarn needle, wool, andif raw wool is to be useda metal comb or wire-bristled cards
The locker hook (see Fig. 1) resembles a rug hook or heavy crochet hook with a large eye opposite the hook end. Like a traditional rug hook, it has to be fairly deep to accommodate the thick fibers used. If locker hooks aren't available at your local craft shop, they can be mail-ordered (see the end of this article for the names and addresses of two suppliers).
Locker yarn should be sturdy cord or yarn just fine enough to be easily threaded through the hook's eye. Four-ply knitting wool is the ideal yarn, but other types can be used successfully. Any color is suitable because the yarn doesn't show . . . but it is best to choose one that blends with the basic color of your hooked piece.
Sized rug canvas without a plastic coating is used for the backing. Plastic-coated canvas is the type most often found in craft outlets, but it cuts the wool fibers and won't soften enough when washed to be compatible with this supple filling. Cotton or cotton-polyester canvas also seems to serve the purpose better than the 100% polyester variety. Be sure to specify which type you need when you buy. Mesh size of three or four squares per inch is suitable.
A yarn needle, easily purchased in any department store or craft outlet, is needed for concealing the locker yarn ends and finish ing the edges of the project if it's intended as a rug or wall hanging.
To read the rest go to:
http://www.moth -Down-Under.aspx
----------------------------------------------------------------------------------------------------
*One more idea: If you have a lot of strips of fabric or rags, you could also make a braided rag rug. (like in colonial days) They now have a tool you can buy at the fabric stores that is used in making "Bias Tape" this tool folds your strips of fabric for you. Here's Directions:
http://www.craf ruction/rugs.htm
* Another idea: I had a friend who collected old sheets (from friends & the thrift stores) she would use a super-huge crochet hook & make really nice large rugs by crocheting fabric strips. When dirty, she just through them in the wash!
http://www.cana 188&idSM=307
http://www.thri f001084.tip.html
http://www.thri f314427.tip.html
Answer

this Question

...
I just received materials for a latch hook rug, so I am basically starting from scratch. What is a simple, budget-wise, non-stick backing for it?
By Carolyn
Answers
February 15, 2012
0

found this helpful
I have made a lot of latch hook rugs, but not for use on the floor. We have always used them as wall hangings. I have also given some as gifts, and I don't know how the people chose to use them.
February 15, 2012
0

found this helpful
I have made a lot of latch hook rugs, but not for use on the floor. We have always used them as wall hangings. I have also given some as gifts, and I don't know how the people chose to use them.
February 16, 2012
0

found this helpful
Consider using burlap. It's fairly inexpensive and it isn't made to be "pretty", it's made to be sturdy.
February 21, 2012
0

found this helpful
It's been many years, but I used to go to a carpet store and find a jar of this stuff like rubber cement which I would brush onto the back of the hooked rug and it would dry to be kind of rubbery. It worked very well.
January 13, 2013
0

found this helpful
I've read that a non-skid back can be made by "painting "on sealant that you'd normally use for cracks or adhering smooth materials together. It comes in a tube that you use w/ a caulking gun. Its pretty cheap too. I plan on trying it as a slip-less bottom for fleece slipper socks I make.
Answer

this Question

...
Does anyone know of any sites that have patterns for latch hooking that are not for children? Everywhere I look, all I can seem to find are patterns for kids. I want patterns for my home that don't pertain to kids.
By Cricket from Parkton, NC
Answers
January 30, 2010
0

found this helpful
Herrschners catalog has all kinds of gorgeous latch hook kits. They are pricey, but really pretty. There is also a web site for them. It used to be that the larger craft stores had all kinds of kits too.
February 8, 2010
0

found this helpful
Also try Shillcraft, they are mostly latch hook rugs. Not sure if they are still in business, but you could try googling them.
February 8, 2010
0

found this helpful
You can find latch hook for home in at Herrschners.com I have a catalog and there are some on sale there too. Hope this helps. I found my last one at a yard sale in a large box paid 1.00 for it. It was a 24x48 Indian minus a few of the colors but I used crochet thread and cut my own for the ones missing attached a cloth backing with hangers for a rod and it hangs in my hall. Good hunting.
March 15, 2011
0

found this helpful
You can also make and print your own patterns. Just upload a picture that you'd like to do to www.leftsource.com There you can chose how many per inch tall and wide, also how big you want the project to be. It will create a pattern for you and tell you how much yarn you will need for the project.
Answer

this Question

...