When dogs need to be kenneled, it is important to keep their environment clean and safe to maintain their health. This guide is about cleaning a dog kennel.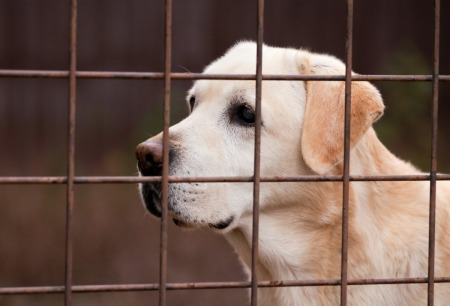 By Heidi 1
I volunteer with a human society. I have been using their mixture of bleach and water to clean and disinfect the dog crates and kennels. I personally do no use bleach in my home life, and would like to know if there is a recipe that I could make to disinfect the kennels.

Heidi from Salem, OH
---
Most Recent Answer
October 4, 2010
Bleach is an effective disinfectant when used properly but is NOT a cleaner. To clean and disinfect kennel environments using bleach, one must clean the area first using a soap or detergent, rinse thoroughly and apply a bleach solution (diluted 1:32) to the surface. The bleach solution must remain on the surface for at least 10 minutes before being thououghly rinsed off. Bleach is seriously inactivated (as a disinfectant) when it comes in contact with organic material such as urine, feces, blood, pus, or just plain old dirt, that is why you MUST clean all surfaces prior to disinfecting with bleach.
---
My 5 month old pup is in an outdoor kennel during the day. The ground cover is pea gravel. I clean up everyday, but was wondering if there was a home made antibacterial I could sprinkle or spray on weekly? Or any other suggestions to keep away unwanted bugs and flies?

Annie from Severance, CO
---
Most Recent Answer
By Kim Bond 1 3 Flag
July 6, 2009
I use a product from Top Performance, it is an Animal Quarters Disenfectant, detergent and deodorant. You can but it from PetEdge.com for around $20 for a gallon which is a very strong concentrate that you dilute with water. It will make about 250 gallons. It is what many vets and groomers use because it also kills parvo virus as well as others. I got an attachment for my garden hose, that I put the disenfectant in and it automatically mixes the solution as I spray. I have raised shelties for about 15 years and I have used this almost as long and love the results.
---
By Nelwyn Mills 48 1
I am setting up a new kennel in the yard for my Sheltie, Blue. How should I keep it clean? Is there a system that can have the waste washed into or do I have to scoop
daily? Any suggestions will be appreciated. Thanks.

Nelwyn from Bunkie
---
Most Recent Answer
By guest (Guest Post) Flag
January 29, 2009
We offer a wonderful product for cleaning and sanitizing kennels. Please visit our website, http://wysiwash.com/kennelcleaner.html for additional information and photos. When you decide to order, please use the promotion code 'wysiwashbd' for a $5 discount.
---
I have an outside kennel with a dirt and grass floor. Is there any product that I can use that is safe for my 2 dogs that will help or eliminate the urine and feces odor that comes from the kennel?

By Teresa from Thief River Falls, MN
---
Most Recent Answer
April 4, 2011
Depending on the type of soil you have, try mixing in some perlite into the dirt. I did this in my kennel where I have heavy clay soil. Believe me, this does not absorb liquids well. Pick up the solid waste daily but the perlite will absorb the smell and help the soil stay somewhat dry and fresh.
---
By grannylovesme 2 6
We have a very small kennel run and cannot thoroughly clean it with water but once a week at best. We really hate using chemicals, but would like to find something natural and very safe for our kids. What do you know that we don't?
---
Most Recent Answer
By nelliemary 22 63 Flag
January 28, 2014
Use white vinegar mixed with water. I clean up after my dogs with it all the time.
---
I have dog kennel with a wood floor. How do I get rid of the urine smell that's in the wood?
By Rich
---
Most Recent Answer
July 21, 2013
Try covering the floor of the kennel with a generous amount of baking soda - get plenty into the joins of the wood. Leave overnight then vacuum away. Or you could mix white vinegar & baking soda together and sponge wash the floor leaving it on for a few hours then hose it clean. Put the kennel in the sun to dry. Good luck
How do you get rid of excessive dog odor in a kennel? We have English bulldogs, and sometimes the dog odor is almost unbearable. It is not a urine or feces odor, but just the dog smell. Any help or suggestions would be greatly appreciated.
By MH
---
Most Recent Answer
By Virginia T. 15 Flag
July 12, 2011
Try vinegar. I use vinegar for all my cleaning and everything smells great and the vinegar odor leaves in just a few hours. Its' also like a germ killer.
---
I want to eliminate the dog smell in the dirt and grass of the kennel. Will white powder lime work an will it harm my dogs?
By Ray