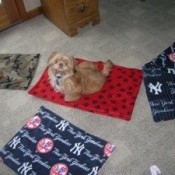 I had, by mistake, just got into making fleece blankets for pets of all kinds. I found out that even cats love the fleece feel. My sister has two dogs and one of them is a retriever. She had bought him expensive bed that looks so comfy and guess what? For Christmas, I made him a nice big blanket and he won't go off it unless he is hungry or has to go out. LOL
I am doing well with these blankets and the best thing is that the pets are very happy. Easy to care for and washable lasts for long time. Then with the scraps of fleece, I just tie them together to make a rope. These puppies LOVE to play tug a war. They too last forever and are washable. So here your pet is one happy dude.
By Jill from Lake View, NY
January 21, 2010
0

found this helpful
Your idea is great. Can you tell me the sizes you make and do you double the material. I will be making one for my dog when I get one and know a few friends with dogs.
Sheila
January 23, 2010
0

found this helpful
There is a company called Mutt Matts that makes similar products. Just be sure that if you sell these, that you don't infringe on their copyright.
January 24, 2010
0

found this helpful
Oh, my doggie also just loves fleece. Once I scammed on to that, away went the expensive beds. He now sleeps in an old soft-sided suitcase that I was going to throw out because the zipper broke which is lined with a fleece blanket and Cookie Bear is in Heaven! Good idea to sell them.
December 18, 2016
0

found this helpful
Our chapter of Project Linus did a meeting on using up scraps of fleece from the blankets we make for children in hospitals, etc. We made blankets with the scraps and donated to the local animal shelter who was very happy to receive them.
January 21, 2010
0

found this helpful
If you make the no sew fleece blankets, don't throw away the squares you cut out from the corners! I gather them up and sew them together to make pet blankets for the local shelter. They wash nicely and need not be perfect.

Mara
Answers:
Make Pet Blankets With Fleece Scraps
Good for you! What a great thing for you to do. (09/29/2004)

By Vicki
Make Pet Blankets With Fleece Scraps
How nice that you do this for the shelter animals!! I'm sure they love them. (09/29/2004)

By Kathy