Reusing Canning Jars
If you do a lot of canning you will want to reuse the jars next season. This is a guide about reusing canning jars.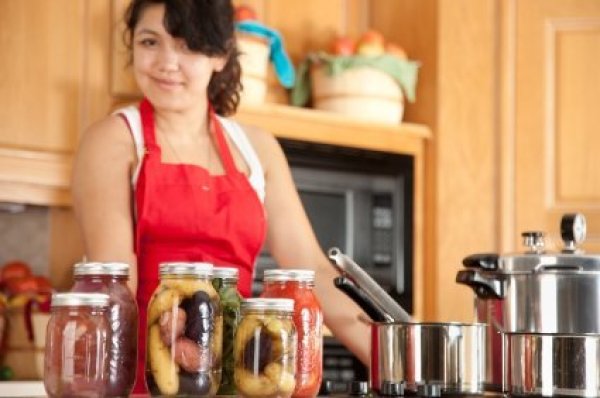 Filter

: All Articles
Sort

: Relevance
If your blender cap, gasket, and blades will fit onto a standard canning jar, you have your very own Magic Bullet, coffee grinder, and baby food grinder in one. I already had drinking glasses that have handles on them that look like canning jars, and regular canning jars can be used for drinking glasses too.
I have found that the pint size canning jars were the most useful for me, like for grinding and keeping fresh ground coffee beans (ask online how many seconds to grind beans for what type of coffee you want). I have used other sizes too. I have some of the small 1/2 cup ones that works well for my grandson's homemade baby food too. I also bought a box of 12 canning lids that twist, not expensive, and not the usual two part canning jar lids, and they are great for covering anything left over put into the refrigerator.
My Oster blenders have always been able to use canning jars for me. I don't know about the other types of blenders, so just check and see if they will fit. I'm pretty sure there are others that will fit too.
Be careful with using boiling water in blending in the canning jars. I didn't have any problems with it ever, but I thought it was best to put a towel over it before blending, just in case.
By kas2 from Grand Rapids, MI
For my lunches, I use wax paper to wrap my sandwiches in, but I often take soup, salad, jello, or puddings. For these I have several different sizes of mason jars. You can store these in the freezer, fridge, and they can be microwaved. After use, wash and return for tomorrow's lunch.
Also, all my baking supplies are in mason jars. You can go to garage sales or second hand shops. I have even been given them free from people who don't can anymore.
By Marymargaret from Scotland, Ontario
I was wondering if I can use some old mason jars I got for free to do some canning. Will the metal lids work? Should I get new lids? Some have rust on them. I really wanna be able to use some of my tomatoes from my garden this winter.
Jennifer from Illinois
September 1, 2006
0

found this helpful
I also like to freeze my tomatoes. Since they are low in acid like Debbie52 said, you don't have to worry about them not sealing. I also like them frozen better because after you can them and water bath them. They loose color and flavor from all that cooking. You can also make stewed tomatoes and freeze them with the spices, celery onion etc.
September 1, 2006
0

found this helpful
you can use the same jars but make shure you boil them and please dont use your old lids get new ones you go to all the trouble of canning your food dont let it ruin on you the lids dont cost that much and you can get them anywhere
May 30, 2007
0

found this helpful
I have found lots of spaghetti jars have mouth openings that don't match the standard or wide mouth lid sizes so those jars have limited applications. i.e. jam/jelly jar with paraffin wax. There are some exceptions. My favorite commercial jar to obtain is a Sam's Choice salsa jar which is 26 oz. The glass appears to be as thick as a normal mason jar for canning and the lid fits the standard size.
August 16, 2008
0

found this helpful
Hi,
I have always reused my canning jars providing they are in good shape. I also do that so called no-no of using just about any jar that the ring and seal will fit on. I figure if the company that originally filled and processed them didn't break them, I should be able to use them.
Rings I reuse until they get pretty rusty. As long as they are capable of holding the lid down, why spend the money to replace them?
Read More Answers...
Take your favorite recipe, Zucchini bread, applesauce raisins, carrot, spice cake, friendship breads, and carrot cake. You can even use box mixes. All you need to do is make your recipe.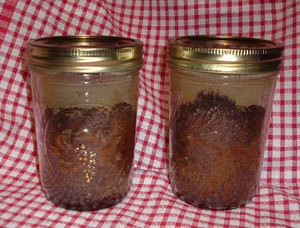 Can I sterilize empty canning jars in my oven? My dishwasher is out of service for a while. So instead of water boiling all my clean empty jars to sterilize them, can I sterilize my canning jars in the oven before filling the jars to can in my pressure canner? If so, what temperature and for how long? If not, why not?
By G A
October 14, 2013
0

found this helpful
Water boils at 210 degrees F. I bake my jars at 250 for about 10 minutes, but I do boil the lids. I have not had any problems using this method and think it may be better because of the higher temperature.
If you're doing canning, try this. Wash your jars and check the tops of your jars. They should feel like a piece of flat glass, nice and smooth. Put them in the oven on a cookie sheet, open side up, at 200 degrees F until ready to use. This gives you more room on the top of the stove.
Source: 30 years of canning.
By love2can from Sweet Valley, PA
To save money on canning, most jars that food came in will work just as well as "canning jars." Save the ones that are the size you need and are nice thick quality.
After I get done with my spaghetti sauce jars, I clean them and use them for canning. It saves money on buying mason jars. These are the spaghetti sauce jars that are the heavy canning jar type.
It seems I read somewhere that you could sterilize canning jars in the oven. Does any one know about this? At what temperature and for how long?

Thanks for any help!
Shona from Ocoee, TN
Answers:
Sterilizing Canning Jars
I've heard that you can sterilize your canning jars in the dishwasher if you turn your water heater up to it's highest setting and wait about an hour until the water is super-hot. This is how I've always sterilized my canning jars when making jam and also my baby bottles... I'm sure it depends on how hot your water heater actually gets. I'd like to hear if others have used the same technique when canning veggies.

f course a really hot dishwasher is always nice for removing germs from dishes when someone in the house is sick with something contagious (like mono). But always remember to turn the hot water heater back down (especially if you have small children) so you won't scald yourself or waste energy.

* And as for your original question. I'd say about 350 degrees F for an hour would be MORE than enough time and temp to kill any lingering germs, but REMEMBER to NOT preheat the oven (as you normally do) because you don't want to "shock" the glass and have it break. Just put the jars in, THEN let the oven heat up and cool down with them in it. I've heard that it's best to but about an inch of water in and around the jars (while they sit in a baking pan) but I don't know why this is done. If it were me, I'd go on to a forum-based website that specializes in cooking and canning and ask this question. (09/05/2008)

By Cyinda
Sterilizing Canning Jars
I have sterilized canning jars in the oven. I wash and rinse them, then put them in the oven wet before I start preparing whatever food I'm going to process. I lay them on their sides on the rack. I set the oven for 275 - 300 degrees F and leave them in until I need to use them. I have also sterilized jars by running them through a dishwasher cycle and by putting them upside down in the canner rack over the hot water that I will be processing the jars in. (09/05/2008)

By skinney54
Sterilizing Canning Jars
The oven method seems so much work. First, boiling water is 212 degrees F or 100 degrees C. So you would not need to bring it to 350 degrees.

I put a dutch kettle on the stove when I am canning, bring it to a boil with what ever pints are needed. I can in smaller amounts so a canner full can be easily cleaned to germ free. Boil water 10 minutes gets you sterilized jars. They must be immersed totally. You can do the same with a larger kettle/canner for quarts. You don't have to worry about burned fingers, exploding glass. Been there, done that.

I can pints for quantity needed now.

I usually have run the jars through the dishwasher in the first place, and use the added kettle water addition if they sat and cooled a few hours. A hot jar will process faster when you put hot items into it to pressure cooker or water bath. My dishwasher has a heat water cycle built right in so the temp is disinfecting to start with.
(09/05/2008)

Sterilizing Canning Jars
I do this all the time, and find it the most convenient for me. I wash the jars in hot soapy water, rinse, and place in a large pan. Put in 250 degree F oven for 20-30 minutes. I noticed on a canning site that the purists do not believe this method or the dishwasher method actually sterilizes the jars and are against it. But it has always worked for me without any problems.
(09/05/2008)

By Sue
Sterilizing Canning Jars
I sterilize my canning jars in the dishwasher. After years of doing this, we have never had a problem. I just wash them in a regular cycle because I store them in an old box. BUT, you can just use the drying cycle if your machine gets hot enough. Thanks! (09/06/2008)

Sterilizing Canning Jars
My husband taught me to use the oven for sterilizing jars about 27 years ago. We have not had any problems such as jars coming unsealed or food poisoning. I use 200 degrees for at least 20 minutes or until I am ready for the jars, and take them out of the oven one at a time as I fill and cap them. (09/06/2008)

By coreenhart
Sterilizing Canning Jars
I've been preserving for years using clean empty ordinary jam jars and their lids. Easiest method I've found is to fill them with boiling water including the lids, drain and put them in a low oven upside down to dry. Turn the oven off and leave them in there till you need to fill them. I've just put waxed paper rounds and put the original lids on and have always had a tight seal. EASY AND SIMPLE. I have NEVER had a problem with contamination. Some jars I have opened a year or so after filling and they have always been perfect. (09/06/2008)

By cett
Sterilizing Canning Jars
I have always turned them upside down in a shallow roaster with about 1 inch of water allowing the steam to sterilize them.

Another note you can reuse baby jars that have the pop off lids for jellies. They will reseal at least one more time. (09/06/2008)

By BOZOMOM
Sterilizing Canning Jars
I found a book on canning that you can read online. The title is Complete Guide to Home Canning and Preserving and was published by USDA in 1999. (09/07/2008)

By crazyliblady