Does anyone know if they have started remaking Grease Relief? I use Simple Green a lot but I need to find something to clean stove rings and pans.
By fundjo from Portland, OR
Ad
---
Recent Answers
Here are the recent answer to this question.

By Nancy Muhlig A.08/29/2015
I love it too! The Grease Relief formula was transferred from Johnson & Johnson to Dow Chemical to Texise, etc., and it is sold widely, including at Amazon.com for $7.00 per 22-oz bottle, and $5.95 if you "subscribe & save," meaning you agree to have it sent to you periodically (like every 3 months), shipping included! It is the original formula and works better than ANYTHING I've ever used on laundry. Ask my son; I'm the Laundry Wizard!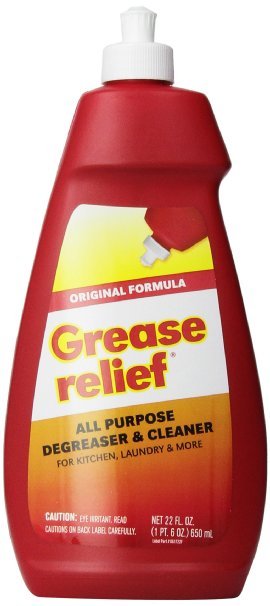 By Meryl R.12/30/2012
Grease Relief is the best grease remover ever invented. I also called Johnson but I don't think they are interested in bringing it back. However, tonight I Googled "where to buy Grease Relief" and a company called Malco phone 330.735.0361 seems to have it. I will call them tomorrow. The downside is it comes in a case of 12 and costs $45 a case. That will last me the rest of my life. I wish I had someone to split it with. So give them a call.

By texize02/20/2010
Texize is back! We have the original formula now available as Grease Release. 864-962-6705 ask for Steve.

By page02/12/2010
I use cigarette lighter fluid to get grease spots (old and new) out of washable fabric stuff. I buy the small blue and yellow squirt can at the cigarette counter at WalMart.
Put a clean white cloth or paper towel under the grease spot on a dry garment. (this will absorb some of the grease and extra fluid) Sqirt on lighter fluid to dampen and cover spot. It does not take much. Blot with clean cloth and put item in the washer and wash as usual.

I have NEVER seen this fail.
Very old spots may take more than one treatment and washing.

Years ago I saw a friend do this to lots of exspensive golf shirts my brother was going to throw away. Walla! the shirts were saved to play another day!

By Abbie01/22/2010
I also loved Grease Relief. It was discontinued in 1998. S C Johnson bought the formula and rights to it years ago. I called them at 800-494-4855 and waited to talk to a person to ask that they start making it again. I told her that it was the best product for grease on laundry, but also worked well as a kitchen cleaner. She politely said that she'd pass it on. More people need to call. Please!

By michelle12/27/2009
I, too, have been searching and searching for the wonderful Grease Relief product, (as well as my daughter has been, also, which I just found out when I mentioned it to her). I'm very disappointed to find out that they really did stop making it. I've been using the Dawn dish detergent for grease spots on my laundry, but I would rather use Grease Relief. None of the "stain remover" products work very well for grease, even tho they say they do. Please, everyone, contact the company info that people have posted on this site & let's see if we can bring it back by popular demand! www.scjbrands.com/contact

By T. Baltine08/14/2009
I too think Grease Rief was the best grease cutter ever made. I still have a full bottle saved it is labeled DOW 1989. Here is my research:

History

Texize Chemical Company, Texize Household Cleaner, or simply Texize, was a chemical company incorporated in the 1940s which sold industrial cleaners to textile plants, hence the name "Texize." Texize's product line included Janitor In A Drum Fantastik,Glass Plus, Spray'N Wash, Vivid detergent, Grease Relief, and many others. Texize was acquired by Dow Chemical Company in 1986.
Glass Plus is a popular glass and multi-surface cleaner that is currently manufactured by Reckitt Benckiser </wiki/Reckitt_Benckiser>, who purchased the brand from SCJohnson corporation. SC Johnson had purchased it from Dow Chemical Dow Chemical acquired it through its 1986 purchase of Texize .

Now

I believe Reckitt Benckiser still makes Glass Plus, Spray N Wash, and Vivid, I suggust you contact them and inquire if they now own the rights to Grease Relief and ask for its return. If not ask them to obtain the rights and start to market it again.


By Beth [25]04/06/2009
Awesome at the dollar stores also has a grease dissolving product. I remember Grease Relief and theirs is comparable. For a buck!

By Kathryen [5]04/05/2009
When I was taking care of my Mother, she had a bunch of clothes that I was getting ready to throw away because of the grease stains. My sister told me that the lye soap that my mother had made years ago and still had several bars left would take it out. It DID. My mother died in December 2004, and I am still hoarding the three bars she had left just for grease stains! I have never made lye soap myself but I "think she made it from lard. And if I'm not mistaken isn't lard made from the fat of hogs?

By metroplex [81]04/05/2009
I buy Greased Lightning at my local dollar store - it does work like a charm! I've also had good luck with 409. Also, try Googling Grease Relief and see what happens.

Do you still have a bottle of it? Get the manufacturers info off of the bottle and call them or email them. All of their details should be on the bottle. Good luck!

By JoAnn Barrick04/05/2009
The best grease or anything cleaner I have ever used is Greased Lightning. It cleans viturally anything. I buy it by the gallon at most any grocery or hardware store. At Menards you can normally get it for about $6-7 dollars a gallon. Believe me you'll love it.
Archives
Thrifty Fun has been around so long that many of our pages have been reset several times. Archives are older versions of the page and the feedback that was provided then.
Answer This Question
Add your voice to the conversation. Click here to answer this question.