If you can single crochet, you can make this heavy double thickness potholder.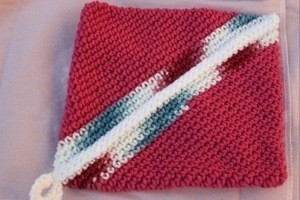 Approximate Time: Two hours.
Supplies:
Instructions:
Chain 40 or whatever size you want your potholder. (This will be the size.)
Single crochet on each side of the chain. Do not add stiches at the end of the row. You want it to start to "buckle" right away.
Continue single crocheting around until the yarn meets. This will take awhile, so sit back and enjoy, but make sure not to add stitches.
When the yarn meets you will be ready to close the potholder. I crochet it closed, but you can slip stitch and it will look exactly the same.
Chain six (or whatever you would like) to form the loop. Inside the chain single crochet to give the loop strength.

This is a great way to use up scrap yarn and the potholders are very sturdy when going through the washer.
Since first posting this project, I found that in the last three rows, If you use a contrasting yarn, the potholder looks so much better. See top photo.
By Tedebear from San Jose, CA
Ad
---
By Chris 1 05/07/20100 people found this helpful
I am So Very Happy to have found this pattern here. I have been looking for it for years. My grandma taught me how to make this when i was about 10 & didn't show me a pattern, just showed me how to make it, but I'm 46 now & didn't remember how it went & I've been looking everywhere on the net trying to find it & low & behold it's here @ thrifty fun. I am So excited in case you couldn't tell. haha Thank You to whomever posted the pattern & the pictures.
By Shirley 1 12/20/20100 people found this helpful
I have found that if I chain 35 then work half double crochet instead of single crochet I like the thickness better. I have made a lot of them and give them as gifts.
By Harlean from Arkansas 139 417 03/06/20120 people found this helpful
I have been making these for a lot of years. It is my way of using leftover scraps of yarn. I save any piece of yarn scrap that is 10 inches or longer. I start with a piece of yarn and begin rollilng it into a ball. When I get another piece, I just tie it to the first piece with a knot. It doesn't matter what color or how long the piece is. Just keep tying pieces and rolling it into a ball. Then use this multicolored ball of yarn to make your potholders.When you come to a knot, just push it to the inside of your potholder. They will be "no two alike" and make great stocking stuffer gifts, or for gift exchanges with friends.
Harlean from Arkansas
By Teresa Tart 1 345 07/07/20120 people found this helpful
I am new to crocheting and like this but I don't understand number 2. What do you mean crochet on each side of the chain and do not add stitches at the end? Thanks!
By Sandy 46 41 11/03/20150 people found this helpful
Hi Teresa,
Flatten the chain. Single chain on one side of the chain loops, turn and single crochet on the other side. You should have 39 single crochets on each side. Never add stitches. If you do, this will cause the potholder to remain flat. If I am not clear, please let me know.