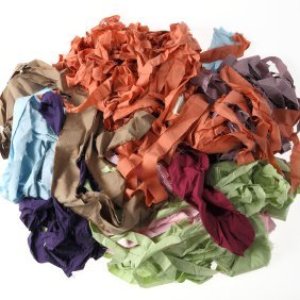 Recycling old clothing into new items is not only green, but also, great fun. Making rugs and other craft items from recycled t-shirts is a popular activity. This is a guide about crafts using recycled t-shirts.
Ad
---
This video shows a simple innovative idea to re-purpose a t-shirts into a cute halter top.
Solutions: Crafts Using Recycled T-Shirts
Read and rate the best solutions below by giving them a "thumbs up".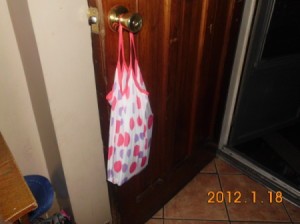 Take an old child's shirt, preferably with spaghetti straps. Turn it inside out and sew the bottom of the shirt. Turn it right way and you're done. Great for small games and books. We also use them in the summer for each child's swimsuit and towel.
By coville123 from Brockville, Ontario
A great way to use T-shirts that are no longer wearable is to make a pet blanket or throw. Just cut the center out of the T-shirt and sew each square together. Fold the outside edges under to hem.
You can donate these to a local pet shelter. They can use them for bedding, drying animals, or most anything. This recycling idea keeps those T-shirts out of the landfills, and also helps much deserving animals.
By Bittyfrog from Tupelo, MS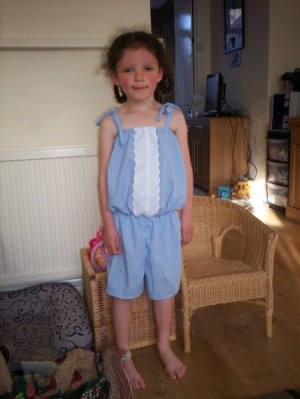 I made my daughter (age 5) a jumpsuit from my dad's old shirt. I didn't have a pattern, but I think it turned out OK. She loves it anyway.
By Ruth from England
I just came across an amazing website called SuperNaturale with instructions on making your own underwear out of t-shirts! It has detailed instructions and a pattern you can print out. I can't wait to make use of some of the cute t-shirts I have *cough* grown out of.
By Kathleen from AB Canada
I know that most stores sell cloth bags to reuse for groceries, etc., but you can make your own with a bit of cutting and sewing. Take an old T shirt and lay it out flat on a table. Cut off the sleeves at the armhole seam and scoop out the neckline. Then, sew a seam or 2 across the bottom hemline. You now have a recycled shopping bag! The scooped out neckline is where you pack the groceries and the armholes become the handles. These are also great to make for kids to take their things to the pool. Smaller ones can be made from kid T shirts.
I saw these for sale on the Martha Stewart website for $20!
Source: Martha Stewart website
By Jan from Gainesville, GA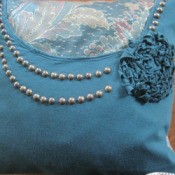 I somehow got a hole in a decorative t-shirt I only wore once, right in the front. There was no way of fixing it so that I could wear it again so I decided to cut just above the hole and make a pillow out of it.
I bought a fleece pillow at a garage sale and used that for my insert. I laid the t-shirt over a piece of fabric that I had in my stash and made the back envelope style (meaning the fabrics overlap at the back to insert the form).
Sew on all 4 sides and turn at the envelope opening. Then where the opening is, sew on a strip of hook and loop tape on each side for closure. The second picture shows this.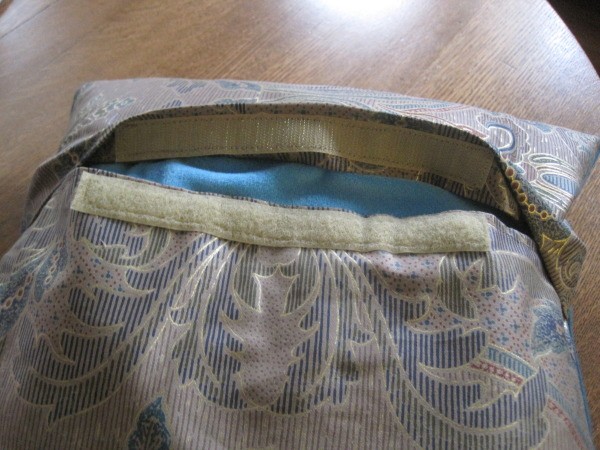 By Elaine from Belle Plaine, IA
Back in the 60's, I saved all my pantyhose for crafts or wearing with pants. I decided I needed some way to keep them and ended up making an old shirt into a storage bag.
I sewed the bottom of the shirt, cut off the sleeves and sewed up the armholes and hung it on a nice hanger. It went on the inside of my closet door and all of the hose that came out of the laundry were tucked into the neck hole.
Over the years I have used this idea several ways:
And lots more, anything that needs keeping needs a handy place to go. The shirt bags take about 20 minutes to make (even hand sewing them) and can be hung anywhere.
Source: Just something I came up with in the 60's.
By villagecraftsmith from East TN
Here is a video that shows how to turn a T-shirt into a no sew pillow. I found it easier to watch this video with the volume off. This is one of the projects I really enjoy.
My daughter had a stain on one of her shirts that I was unable to get out, and she had another shirt that she had outgrown. I decided to use the outgrown shirt to create something to decorate the shirt that had the stain. This is the result!
Approximate Time: About 1 hour
Supplies:
plain t-shirt
rotary cutter or scissors
sewing machine
thread to match shirt
straight pins
Instructions:
Cut straight up each side seam of the shirt and cut away the sleeves and neck band. Using the front or back of the t-shirt, cut it into one-inch strips that are the width of the shirt. You will need about 8 strips for this project.
To create the ruffles, set your sewing machine's tension to the highest setting and set the stitch length to the longest length. Stitch down the center of each strip, and you will see the fabric ruffle on its own.
Arrange the ruffles in swirls and designs on the shirt, pinning in place as you go.
Once you have your design like you want it, set your machine back to its original setting and sew ruffles in place, removing the pins as you sew.
When finished, trim any long threads and you're done.
You can also use this same concept to decorate pillows, towels, and other items.
By Rachel's Mom from Wilkesboro, NC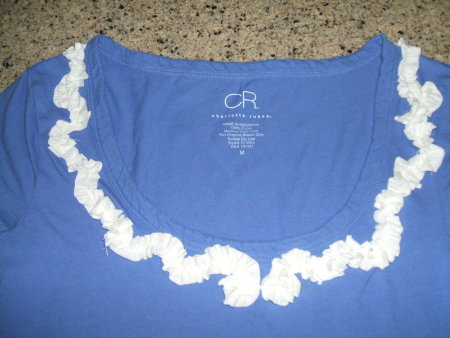 I wanted a new nightgown, and figured there must be something in my wardrobe that I could fashion into one rather than buying one. A touristy tee shirt that someone had given me was just the thing. Nice and soft, but too short. I like long nightgowns for the cold temps here in NY.
And the cheesy, glittery seashell motif had to go. I found some soft fabric in my stash to add the length I wanted. And another matching piece to cover up the seashells--had to line this bit with a piece of muslin to keep the pesky seashells from showing through.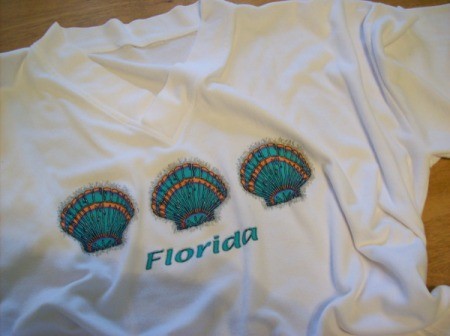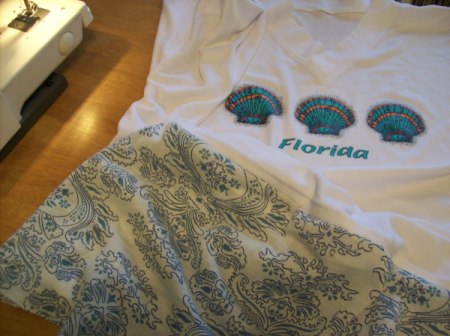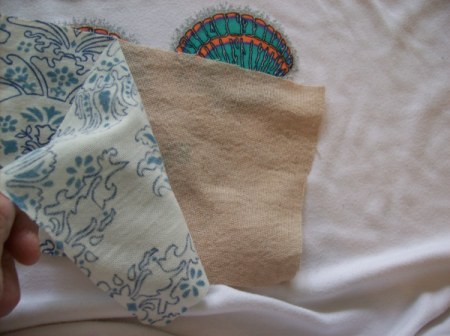 I'm happy with how my new nightie turned out and saved some money too. I had to scrunch the fabric up in the photos in order to get it all in the pictures.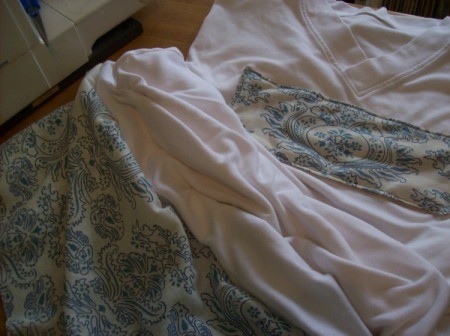 By Gloria from Western NY