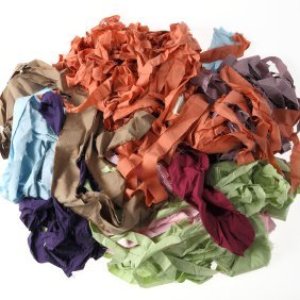 Recycling old clothing into new items is not only green, but also, great fun. Making rugs and other craft items from recycled t-shirts is a popular activity. This is a guide about crafts using recycled t-shirts.
Solutions: Crafts Using Recycled T-Shirts
Read and rate the best solutions below by giving them a "thumbs up".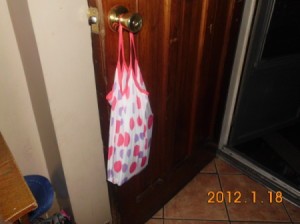 Take an old child's shirt, preferably with spaghetti straps. Turn it inside out and sew the bottom of the shirt. Turn it right way and you're done. Great for small games and books. We also use them in the summer for each child's swimsuit and towel.
By coville123 from Brockville, Ontario
A great way to use T-shirts that are no longer wearable is to make a pet blanket or throw. Just cut the center out of the T-shirt and sew each square together. Fold the outside edges under to hem.
You can donate these to a local pet shelter. They can use them for bedding, drying animals, or most anything. This recycling idea keeps those T-shirts out of the landfills, and also helps much deserving animals.
By Bittyfrog from Tupelo, MS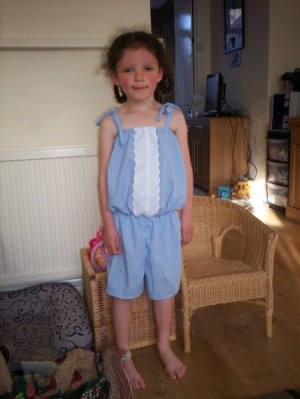 I made my daughter (age 5) a jumpsuit from my dad's old shirt. I didn't have a pattern, but I think it turned out OK. She loves it anyway.
By Ruth from England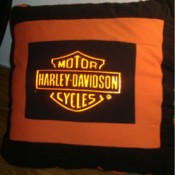 Do you have a t-shirt you just can't seem to give up but it has some stains or tears? Well, make it into a pillow. First cut the design or pattern from the front of the shirt into a square, then sew material that coordinates with the shirt around the center. When you have the size you like, take the back of the t-shirt if it's in good condition and make the back of the pillow, sew together and stuff. Now you have a new favorite pillow
By Beesplace from Indiana PA
I know that most stores sell cloth bags to reuse for groceries, etc., but you can make your own with a bit of cutting and sewing. Take an old T shirt and lay it out flat on a table. Cut off the sleeves at the armhole seam and scoop out the neckline. Then, sew a seam or 2 across the bottom hemline. You now have a recycled shopping bag! The scooped out neckline is where you pack the groceries and the armholes become the handles. These are also great to make for kids to take their things to the pool. Smaller ones can be made from kid T shirts.
I saw these for sale on the Martha Stewart website for $20!
Source: Martha Stewart website
By Jan from Gainesville, GA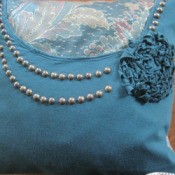 I somehow got a hole in a decorative t-shirt I only wore once, right in the front. There was no way of fixing it so that I could wear it again so I decided to cut just above the hole and make a pillow out of it.
I bought a fleece pillow at a garage sale and used that for my insert. I laid the t-shirt over a piece of fabric that I had in my stash and made the back envelope style (meaning the fabrics overlap at the back to insert the form).
Sew on all 4 sides and turn at the envelope opening. Then where the opening is, sew on a strip of hook and loop tape on each side for closure. The second picture shows this.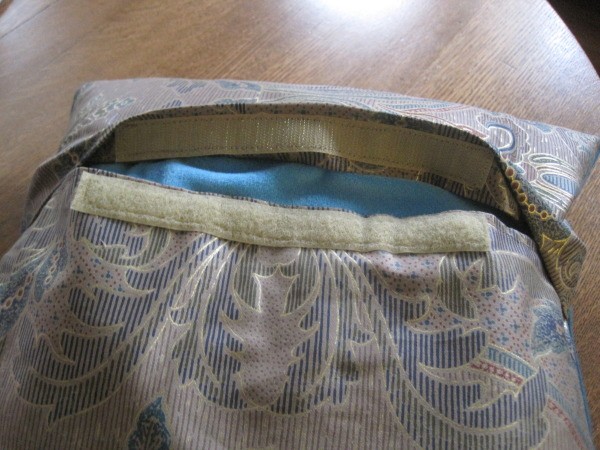 By Elaine from Belle Plaine, IA
Here is a video that shows how to turn a T-shirt into a no sew pillow. I found it easier to watch this video with the volume off. This is one of the projects I really enjoy.
My daughter had a stain on one of her shirts that I was unable to get out, and she had another shirt that she had outgrown. I decided to use the outgrown shirt to create something to decorate the shirt that had the stain. This is the result!
Approximate Time: About 1 hour
Supplies:
plain t-shirt
rotary cutter or scissors
sewing machine
thread to match shirt
straight pins
Instructions:
Cut straight up each side seam of the shirt and cut away the sleeves and neck band. Using the front or back of the t-shirt, cut it into one-inch strips that are the width of the shirt. You will need about 8 strips for this project.
To create the ruffles, set your sewing machine's tension to the highest setting and set the stitch length to the longest length. Stitch down the center of each strip, and you will see the fabric ruffle on its own.
Arrange the ruffles in swirls and designs on the shirt, pinning in place as you go.
Once you have your design like you want it, set your machine back to its original setting and sew ruffles in place, removing the pins as you sew.
When finished, trim any long threads and you're done.
You can also use this same concept to decorate pillows, towels, and other items.
By Rachel's Mom from Wilkesboro, NC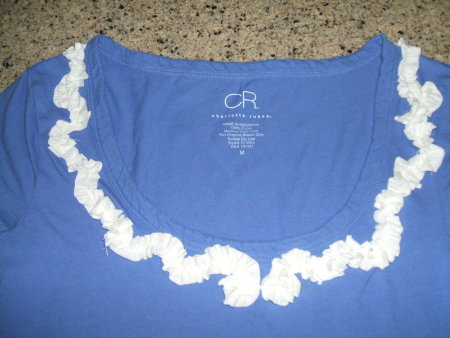 I take old T-shirts and cut off the binding around the neck. There is no need to cut deeper as this will stretch far enough making a scoop neckline. Then comes the fun part. Use a decorative stitch on your sewing machine to sew around the neckline. You can make as many rows as you like. Use different colors. I crochet little flowers with fine thread and hand sew them onto the T-shirt. On me, most Ts are a little tight around the bottom, so I cut aways up the side and hem. You can think of lots of ideas using these ideas as a base.
Source: I got my inspiration on the Internet. Google "refashion T-shirts." Lots of good ideas.
By hopeful from Salem OR
Give a "thumbs up" to the solution that worked the best! Do you have a better solution? Click here to share it!
Questions
Here are questions related to Crafts Using Recycled T-Shirts.
I'm looking for some information. I recently learned to crochet and am practicing making rag rugs (all shapes) and tote bags with recycled t-shirts that I cut up into strips.
At first, my family was really excited about my rugs and I made lots. They gave me all their discarded t-shirts and stuff. I now have mountains of old t-shirts which aren't good to give away, but perfect to recycle into other things. The problem is, now my family is begging me not to make them any more rugs, place mats and bags because they have so many. I still have literally a mountain of old stuff which I would love to use, but I have no idea for what else to make with them.
Does anyone have any ideas please? I really hate to throw them away, but they are taking up so much storage space for nothing, at the moment. Any thoughts, please?
By cett from Malta, Europe
---
Most Recent Answer

By Maggie [13]01/17/2012
All the items you've made for gifts, could also be sold at craft shows or do a "yard Boutique"; like a rummage sale, but no rummage, just hand made "gifts". I do them about once a month from May through Sept. Make some pocket change with your creativeness :0)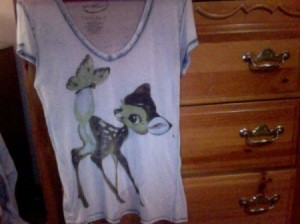 Okay, so I'm an extremely sentimental soul. I have this shirt that's no longer wearable, but the image on the front, which I adore, is still entirely intact. I would love to immortalize this article of clothing (I've been looking into converting it into a pillow, for instance), but there's a slight issue: all of the craft ideas I've stumbled upon are geared toward t-shirt material.
The top is made of extremely flimsy material (which was ultimately its downfall as an article of clothing), and I have my doubts as to whether or not it would work in most of the crafting scenarios I've looked into thus far. Any ideas?
By C.A.M
---
Most Recent Answer
By Sandi [391]01/06/2014
Do what I have done with aprons... simply hang it up on the wall, with maybe a scarf around the hanger like an outfit. If you can't save it, keep it intact. I googled "using clothes as art" and came up with hundreds of ideas. Good luck!
Archives
Thrifty Fun has been around so long that many of our pages have been reset several times. Archives are older versions of the page and the feedback that was provided then.
I have access to a lot of inexpensive used t-shirts and I was wondering if anyone has any craft ideas. I can't crochet but I guess I could learn. I was thinking maybe rugs or something that would take advantage of the myriad colors I'll have available.

Anna from Indiana
---
RE: Craft Ideas For Used T-shirts
My old roommates grandmother made a quilt out of her old t-shirts. It was really quite nice. Hope this helps (03/11/2005)
By Jill
RE: Craft Ideas For Used T-shirts
Hello, I'm going to take mine & cut into 4" squares to make into a super comfy blanket! I have saved all t-shirts from when the kids were little of special places we purchased t-shirts from & I plan to cut out the logos. Also the pockets are cool to cut out to, the same with jeans, I save all old jeans & I plan to use the pockets! I just think it would be a super comfy comfort blanket to curl up with on those not feeling so good days! One day I'll be able to get this project done! I hope this gives you some ideas, good luck! (03/11/2005)
By Brenda
RE: Craft Ideas For Used T-shirts
Old t-shirt (logos) make interesting patches for patch work quilts. Check at "Simply Quilts" at www. hgtv.com. for good directions. (03/11/2005)
By Connie
RE: Craft Ideas For Used T-shirts
They make adorable pillows for in a family room or a child's bedroom. just sew around the sleeve openings inside out and the bottom. turn and stuff w/ old hose or poly-fill. slip stitch the neck shut, and you have a pillow! (03/12/2005)
By johnsonya
RE: Craft Ideas For Used T-shirts
My mother has rugs that look like they've been made out of used t-shirts. It looks like the maker just rolled up pieces of the shirts in 1 cm thin lines, tied them in little sections (also about 1 cm sections), then sewed the sections all together. It looks slightly time consuming as well, but it's cheap! Look up rag rugs, you've probably seen them, and they sound like what you're looking for. Something I like to do is make journals. You can find techniques for binding the pages (I'd tell you but I'm afraid I can't explain it without a demonstration or pictures). Then I cover the journals in old t-shirts that have a neat design or pattern on them. Also, patchwork skirts can be a fun item to wear, or patchwork pajama pants. You can make pillow cases for your bed with cotton shirts, and I find it's comfy. (03/12/2005)
By Meghan
RE: Craft Ideas For Used T-shirts
My friend made a quilt out of anything and everything she could find, some squares were pics from kids t shirts and it was so cute. Even the rubbery type t shirt graphics worked and looked nice! I've wanted to give it a try, but haven't put my mind to it yet :-) (03/22/2005)
By Texasladi
RE: Craft Ideas For Used T-shirts
I made a pillow out of an old t-shirt I had. They are really easy to make, and very comfy! (05/02/2005)
By Sara
RE: Ideas for tank tops
I'm a very young girl who wants to go into fashion and I have a lot of those white beaters and tank tops and what I do is; take the tank top I want to use and sew it over a long sleeve shirt or short sleeve and then i cut holes in the front NOT TO BIG. I laced them up with ribbons or shoelaces and I added safety pins to them. Now everyone wants me to make them! By the way, this is for you Allison. (07/31/2005)
By Lindsay
RE: Craft Ideas For Used T-shirts
For a cute and fun pillow follow these directions: 1. Make the base (the pillow part) like johnsonya suggested. 2. Blanket stitch (button hole stitch) with contrasting yarn on the arms and bottom. 3. Embellish with buttons, lace, ribbons, yarn, appliques (sorry if miss-spelled), or denim pockets for home phones or remotes. 4. Fill with poly-fill or anything else that is "stuffing-like". 5. Blanket stitch bottom and VOILA! A cute and comfy pillow! Hope this works!! I haven't tried it but am going to! ~ Mackenzie age 11 (06/11/2007)
By
RE: Craft Ideas For Used T-shirts
Cut to fit swiffer sweeper, attach to sweeper and dip in water and scrub floor totally washable. (09/28/2007)
By winglesangel
RE: Craft Ideas For Used T-shirts
I made a bag out of an old long sleeve tee shirt, I turned it inside out and stitched at where i thought a good length would be. Then I put it back the right way cut the neckline bigger to be the top of the bag, and I tied the sleeves together to make the strap. (12/29/2007)
By ainsley
Does anyone know what I can make out of old T-shirts? Something I can wear or what not.