Sunshine (Boxer)
Sunshine (Boxer)
Sunshine is 11 months old and is a Boxer. We saw a sign advertising Boxer puppies on our way home from warehouse club shopping last November. Sunshine was part of an unwanted litter.
She likes to play frisbee and ball, sleep, tear the fringe off her taggie blanket.
Boxers are a wonderful breed. Aside from how beautiful they are, they're a lot of fun to play with and kind. Proper training is a necessary part of having a Boxer as they're strong and high energy. Sunshine's our pal and our kids get a kick out of her.
By cerealwife from Minneapolis, MN
By cerealwife
Feedback
Read feedback for this post below. Click here to post feedback.

By
06/27/2009
Boxers are my favorite breed. They have so much personality :)
Sunshine is a very nice looking boxer, beautiful!

By (Guest Post)
08/25/2008
Thanks for the comments! We're in the middle of a relocation so I didn't see that she'd been POTD until just now :o)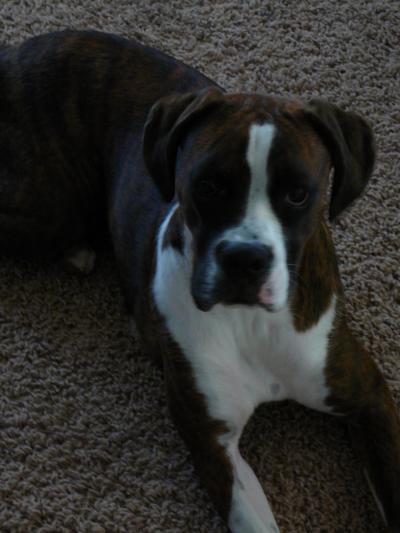 By
08/21/2008
Sunshine is a beautiful girl! You can tell that she is fascinated by that camera and is wondering why you're pointing it at her! Thanks for sharing her with us and God bless you.

By Lady (Guest Post)
08/20/2008
What a beautiful dog. I have one also but he's an old guy now. I agree, they are great dogs.
Post Feedback
Add your voice to the conversation.
Related Guides
Related Posts