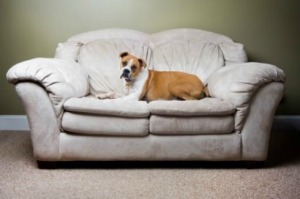 Pet hair on any furniture can be a chore to clean up. However, microfiber fabric can be especially difficult to get the hair out of. This is a guide about removing pet hair from microfiber.
Ad
---
Solutions: Removing Pet Hair from Microfiber
Read and rate the best solutions below by giving them a "thumbs up".
Brooms don't do a very good job at picking up dog hair from the floor. I put a microfiber cloth around my broom bristles and secure it with a rubberband. Tada! It picks up the dog hair.
Give a "thumbs up" to the solution that worked the best! Do you have a better solution? Click here to share it!
Questions
Here are questions related to Removing Pet Hair from Microfiber.
My husband and I just bought a really nice sectional. I do not know if it is suede or micro fiber. It's pretty that's all I know. Anyway, my beagle keeps getting on the furniture when we are gone or at night when we sleep. I keep finding dog hair on it. Does anyone know how to deter a pet from getting on furniture? If not, what is a good way to get dog hair off other than the vacuum or lint roller? I would hate to kick the dog outside, but this is expensive furniture and she knows she is not supposed to be on it. Please help.

Elizabeth from Lebanon, MO
AnswerWas this interesting? Yes No
Ad
---
---
Most Recent Answer
By Annie Rios Hill [14] 11/29/20080 people found this helpful
The rubber hair remover at WalMart works great or else as the last person leaves the living room, area throw a sheet over couch. Ahhh please, don't put doggie outside it gets too cold and doggie just needs to know that couch is not ok for him to be on.

My poo-bischon mix lives on couch. He is not a shedder but even if he were I would prefer him to any furniture. He is my friend and had been abused. He is one sweet doggie.
Good luck.
---
Archives
Thrifty Fun has been around so long that many of our pages have been reset several times. Archives are older versions of the page and the comments that were provided then.
We recently purchased a microfiber couch and its beautiful. However, our dog is currently shedding as a result of her being pregnant. We have attempted to vacuum it off. How do I get rid of the pet hair that is clinging to the couch we love?
J.M. from Sterling, CO
---
RE: Pet Hair on Microfiber
Have you tried using a rubber glove to wipe the hair? It works on regular furniture but I have had no experience with microfiber furniture. It's certainly worth a try. (02/26/2006)
By Luvyabye
RE: Pet Hair on Microfiber
I have the same problem with my six cats. I was told to use a damp sponge and just wipe it off. I vacuumed the couch first then used the damp sponge. It worked OK - I think if I did it once a week it would work very well. (02/26/2006)
By Shea
RE: Pet Hair on Microfiber
Spray endust on a cloth then gently wipe your couch it will repel the animal hair. (02/26/2006)
By barbaglia
RE: Pet Hair on Microfiber
I am looking at purchasing a Microfiber couch and I also have animals. The salesman told me to spray Static Guard on the furniture and then vacuum. I don't know if this works so you probably want to try a small area, but he said he uses this method for his Microfiber furniture. (02/26/2006)
By buddy!
RE: Pet Hair on Microfiber
A wide strip of tape like sealing tape, or the sticky window envelopes used by UPS/FedEx works well to remove a few layers of fur!; follow with a damp sponge or a sponge available at pet shops for removing pet hair. (02/27/2006)
By slw1299
RE: Pet Hair on Microfiber
I use a sticky-tape roller on all of my upholstered furniture, including microfiber, and it works really well. I get the rollers at the dollar stores and they last quite a long time. You just peel off the used part of the tape when you get through, and you have a new sticky tape available. Needless to say, I go through a lot of tape as I have a constantly shedding pomeranian, an old Pekingese who sheds, and a solid black cat who also sheds. (02/27/2006)
P.S. The sticky tape roller also works well on your clothing. I always get hair on me when I'm around my pets, don't you? (02/27/2006)
RE: Pet Hair on Microfiber
We have two major shedding felines and two microfiber couches. We use a soft rubber brush thing that is sold for the purpose of removing pet hair, and it works very well. (02/27/2006)
By Susanna
RE: Pet Hair on Microfiber
Just wipe with a cloth dampened (not wet, just damp) in bucket of water with a little fabric softener added. (02/28/2006)
RE: Pet Hair on Microfiber
As I sit here with 3 rescue cats piled on top of me I feel your pain. They want me to tell you about a wonderful product Pet Hair Magnet by Petmate, you can find it at most pet stores and wow. It looks like something you would scrape your windshield with and you use it very much the same way. A quick tip, if there is a lot of hair and/or it is fly away have your vacuum close by, it normally rolls the fur into long strips but sometimes with fine hair it drags it in a pile but not easy to pick up. Tip #2 if you have carpeted stairs and you just can't ever get the hair up this thing is great. (03/30/2006)
By scooby.
RE: Pet Hair on Microfiber
I have a microsuede couch and I vacuum the bottom of it twice a week to keep up with the dog. In the summer I cover it with a cotton throw cover. (03/30/2006)
By camo_angels
We have a new brown microfiber sofa, loveseat and recliner, and we are having troubles getting dog hair off it. We tried the lint brush did not work well. We also have a cat that sneezes a lot and leaves her sneezes on the furniture (when we find it it is hard). Any ideas?
Donna from MD
---
RE: Pet Hair on Microfiber
I bought a microfiber couch in March '06 and have been having major problems. What I thought was pet hair on my couch was actually the stuffing coming up through the material! Plus I am having other issues with the microfiber as well like tearing at the button holes. If you constantly see little white "hairs" coming up through the material, call the manufacturer. The couch repair guy said that this material must have come from a bad roll! I am in the process of exchanging this set for a whole new set! As for the real pet hair issues most of the time I will just put a sheet over the couches, or just vacuum it off everyday. (01/09/2007)
By kimmcg
RE: Pet Hair on Microfiber
The rubber glove WORKS! I am pet sitting a boxer for a month and she is nothing but a ball of tiny white hairs... covering everything in my beautiful studio apartment. I was told about the rubber brush ("zoom groom" is one brand) but I haven't come across one so I tried putting on a rubber cleaning glove and passing that over the cushions.. works like a wonder. Thanks! (02/19/2007)
By Allison
RE: Pet Hair on Microfiber
I am having the same problem the vacuum does not work the hair seems to be clinging to the sofa. The tape takes forever, any other suggestions? I also have a lot of other things, like strings, lint from a blanket, etc. I will never buy microfiber again! (07/30/2007)
By holly