Corn Dog Muffins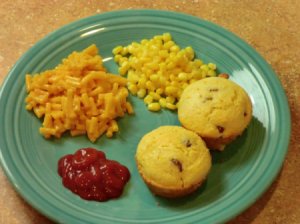 If you love corn dogs then you definitely should try these yummy corn dog muffins. They taste just like them, but have the benefit of being baked instead of fried.
Ingredients:
2 pkg. Jiffy cornbread mix, prepared
6 hot hot dogs
shredded cheese, optional
Directions:
Preheat oven to 350 degrees F. Mix the cornbread mix according to package directions. Cut hot dogs into small, bite-sized pieces.
I chose to lightly brown the hot dog pieces in a frying pan before adding it to the cornbread batter. However, this is an optional step.
Fold them into the cornbread batter. Let rest for 3 minutes, for maximum crown.
Spoon mixture into prepared muffin pan, filling each cup to 2/3 full. Top with a little shredded cheese if you want.
Bake for 8-10 minutes, or until a toothpick comes out clean.
Note: If you want bite-sized corn dog muffins, consider using a mini muffin pan.
By Laurel...
Feedback
Read feedback for this post below. Click here to post feedback.

By
03/13/2012
That sounds like a recipe the kids would like. Thanks for posting. And personally, I do not understand why some post negative remarks on here. If you feel it isn't for you, don't make it. You don't like the GMO corn, don't eat it.

By
03/13/2012
All these recipes contain corn meal that is from corn that is genetically modified,
99% of the corn that is produce today is from GMO.

By
03/13/2012
Wow, That looks super yummy and it's also an On the Go treat for anyone.
Thank you for the easy recipe and inexpensive too ; D

By
03/08/2012
Thanks! This sounds really quick and easy. I will try it and I think the kids will love it.
Post Feedback
Add your voice to the conversation.
Related Guides
Related Posts