October 20, 2009
0

found this helpful
I really like this idea, it is so simple and is decorative as well as functional. My only concern would be that they would get too heavy and slip off, but I guess that is a reason to keep to to only 3 or 4 cups. I may borrow this idea, thanks!
October 20, 2009
0

found this helpful
I use this exact same concept ( except I have used a dowel & cup hooks ) to store my necklaces and bracelets on since I have sooo many. Easy to grab a necklace ( or in your case a cup ). Just be careful so they dont slid off when grabbing one!
October 20, 2009
0

found this helpful
Jess : Bamboo is super strong.It is used for many things-including bridges.
http://www.bamb onstruction.html
The rod holding 4 espresso mugs included.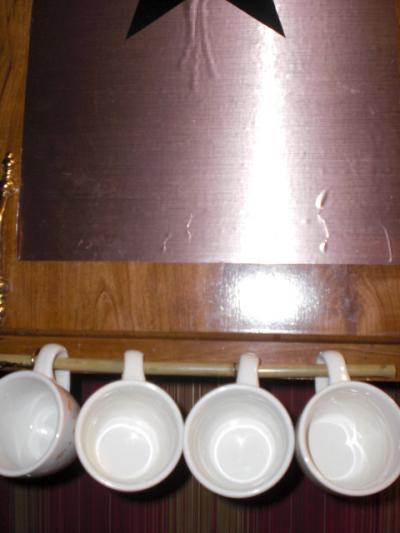 October 21, 2009
0

found this helpful
Great idea! Thanks for the tip!
October 21, 2009
0

found this helpful
This is definitely one to try. Some of my curtains are hung up using the same principle. So cheap and eco friendly too.
Marg from England.
October 22, 2009
0

found this helpful
jehosophat jones : thanks for the input. I also use the same for one set of curtains in a bedroom I am unable to do anything much with right now due to costs & so on!
The pic I am including is the way I got a curtain up in a rush (& in a pinch), but instead of my $1 bamboo place mat I used a bamboo garden rod I got toward the end of the season, which, when purchased, my mind conjured up it being one of those "good to have on hand items" for whatever reason might occur (& I was right, a use did occur & more probably will later on!) Those come in several lengths & I had the foresight to purchase one pack of each length & "the big red K store - lol)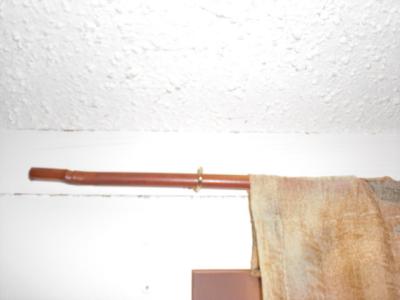 January 16, 2014
0

found this helpful
Love this idea!