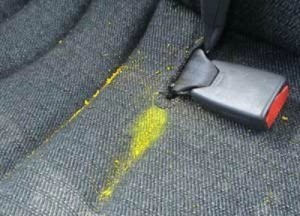 Melted crayon wax in the car can be a challenge to remove. This guide is about cleaning melted crayons off a car seat.
Ad
---
Solutions: Cleaning Melted Crayons Off a Car Seat
Read and rate the best solutions below by giving them a "thumbs up".
Supplies needed:
plastic card such as a credit card or hotel key card (which is what I used)
baby oil
clean scrap towel
soapy water
sponge
NOTE: the seats in my car are black, leather seats. The leather is not a real soft leather, it is a durable leather. The specific car I have is a BMW 328GT. If you have any other kind of leather I would suggest trying this in a small spot on the underside just to make sure it goes okay.
Using the plastic card take some time to scrape off as much of the crayon as possible. It's easiest to do the bigger pieces when the wax is cooler so that it can pop off.
I let the rest of it heat up in the sun a little, rolled down the windows of the car and let the sun beat in. Once it has melted a tad, squirt some baby oil onto the wax, or all over the seat so that the seat is evenly oiled. Spread it around with the towel to cover all of the wax. Be sure not to wipe it off, just spread it around. Let sit for about 5-10 minutes. Using the towel rub hard in small circular motions to remove. I had to do this about 8-10 times, Wipe/oil/wipe/oil, repeat.
Once you feel that you've gotten as much of the crayon off as possible use the soapy water and sponge to clean off the oil. I also used a spray bottle with water in it to rinse the seat after I washed it with the soap. So soap/rinse/soap/rinse. I did this about three times. Just wanted to be sure all of the oil was off of the seat. Don't want people getting oil marks on their butts!
Hope this works as well for you as it did for me!
By nataloon [1]
Give a "thumbs up" to the solution that worked the best! Do you have a better solution? Click here to share it!
Questions
Here are questions related to Cleaning Melted Crayons Off a Car Seat.
My son left his crayons in my car and it melted on my cloth seats. How do I get it out?

Queenb80201 from Clinton, Ohio
AnswerWas this interesting? Yes No
Ad
---
---
Most Recent Answer
By lou7272 11/09/20090 people found this helpful
Place a old towel over the wax and then lay a warm iron on the towel.The wax will melt to the towel.
---
I don't see my dilemma in any of the postings. My daughters left a box of crayons in the back seat of my car. Of course, they melted all over the back seat, but also onto the visor of a specially made baseball cap. Surely, I cannot throw that in the washing machine. Short of taking it to the dry cleaners, does anyone have any ideas?
AnswerWas this interesting? Yes No
Ad
---
---
Most Recent Answer
By motherbit3 (Guest Post) 05/06/20070 people found this helpful
I had crayon on a white skirt that had been through the dryer twice it was awful! A friend suggester Lestiol I had to rub it in and wash the skirt 2 or3 times but ie worked beautifully! just the smell when you are using it
---
Archives
Thrifty Fun has been around so long that many of our pages have been reset several times. Archives are older versions of the page and the comments that were provided then.
My children left a crayon on the back seat of my car. Neither one of them have admitted guilt. It melted. It is a neon green color. It doesn't match too well to the grey fabric seats. Anyone have a suggestion on how I could remove this stain without replacing the seats? The car isn't even a year old yet.
Laura Lange
---
Iron it Off
The best way I've found to get out wax or crayon stains is to use the iron. If you can get your iron out to the car, place an old clean rag on the crayon and iron over it on a medium (or low) setting. It works every time, also good to get candle drippings off of tablecloths or carpeting! Good Luck! (07/29/2005)
Goo Gone
The same happened to me. I used Goo Gone. It took out 99% of the stain. I'm sold on it. (08/16/2005)
By Signe
Iron
As a single father I have found a way of using an iron! I just put a damp rag over the crayon and iron over it! Most of it comes out (07/21/2006)
By Dean
My niece left a yellow crayon in the back seat of my car and it melted. Does anybody have any tips on how I can get this out without damaging the fabric? I chipped away most of it but there's still a big yellow spot where is melted into the weave of the fabric.

Amber from Nashvegas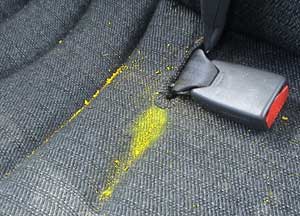 ---
RE: Melted Crayons Off Car Seat
Best thing to do is scrape off as much of the crayon as possible with a blunt knife. Vacuum the residue.
Place brown paper over the stain and iron on a medium heat until all crayon wax has transferred onto the paper. (10/04/2006)
RE: Melted Crayons Off Car Seat
Happened to me too. 4 Year old fun! Whoopee.
I tried multiple approaches. 1st scraping off excess with credit card 2nd lifting with medium steam iron, old towels, and paper towels, 3rd Goo Gone, 4th WD-40, 5th upholstery shampoo.
Lots of work, but finally have it nearly unnoticeable, except for one slight problem. Left the iron in one spot too long, and have a slight discoloration from that. Bummer. That was my only mistake. Be very careful with the iron.
I would do it almost the same way again, except, I'd use the WD-40 first and Goo-Gone second, because the GooGone is citrus, and leaves a nice smell, while WD-40 leaves an unpleasant chemical odor. Also the WD-40 dissolves the crayon much faster.
If you don't have GooGone then I'd follow up the WD-40 with some other nice smelling upholstery cleaner, and a steam-vac if you have one. (05/01/2007)
By jere
RE: Melted Crayons Off Car Seat
Using tips from this web page, I just now cleaned up some crayons melted into the fabric of my car seat. Here's what I did:
1) scrape off as much of the crayon as you can. (using putty knife, old credit card, etc.)
2) spray WD-40 on crayon residue
3) wipe off with paper towells
4) repeat steps 2 & 3 until the mess is gone
It worked!!! (05/29/2007)
By Justin
RE: Melted Crayons Off Car Seat
WD-40 worked like a charm. (07/22/2007)
By Tony A.