Sunrise on the water was taken on March 2010 at Ft. Loudon Lake in Loudon, TN. I was able to capture this beautiful sunrise on the water with my camera. I take the camera with me everywhere as you never know when you catch that perfect shot. This is one of those sunrises that you don't always get to see and was one of my favorites to photograph.
By lovingnature from Maryville, TN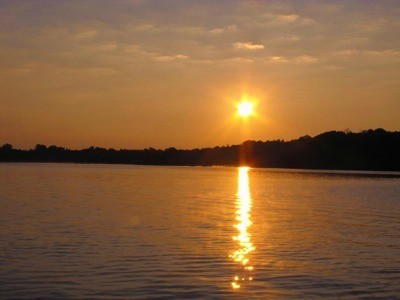 Add your voice! Click below to comment. ThriftyFun is powered by your wisdom!
Sunrise in East Tennessee. My husband and I were fishing and this picture just captured my eyes of the beauty of the morning.

By lovingnature from Maryville, TN
Answers:
Scenery: Sunrise (East Tennessee)
Beautiful! (04/23/2010)

By Hate Litter
Scenery: Sunrise (East Tennessee)
Beautiful and one of a kind. Thanks for sharing. (04/23/2010)

By keeper60
Scenery: Sunrise (East Tennessee)
That is so beautiful and relaxing. Isn't Maryville where the two earthquakes happened yesterday? That is the kind of picture I like to take but often it takes so long to get the pic just right..you did great! Blessings, Robyn (04/23/2010)

By Robyn Fed
Scenery: Sunrise (East Tennessee)
What a gorgeous photo! Thumbs up! (04/23/2010)

By Deeli
Scenery: Sunrise (East Tennessee)
Beautiful! (04/23/2010)

Scenery: Sunrise (East Tennessee)
Stunning! Isn't it wonderful God gives us all this beauty to enjoy everyday for free? (04/24/2010)
By PainterLee
Scenery: Sunrise (East Tennessee)
Beautiful pfoto. Thanks for sharing this lovely scene with us. (04/24/2010)

By Tahera
Scenery: Sunrise (East Tennessee)
What a peaceful, uplifting moment that must have been for you! I'm happy to say my hubby and I moved to Maryville last year and love it here. (04/24/2010)

By lmatty