Is there an easy and inexpensive way to modify a deep-to-the-side corner cabinet that's under my kitchen counter to make it more accessible? The way it is now, I have to get on my hands and knees and shove my items to the closed-in side to the right. So, in order to get to these baking pans, etc. I must unload part of the cabinet in front of me first. Any suggestions?

Nica from Big Bend, WV
By Nica
Ad
---
Recent Answers
Here are the recent answer to this question.

By Lettuce_love10/27/2013
Nica, I'm with you. The others don't seem to understand. A lazy susan only does a two cupboard space. Think of a square. Divide it into four. The two squares on the right have easy access. It's the top and the bottom square on the left that has no access.

In order to slide something in and out, I would have to take everything out of the quadrants on the right. Hopefully now we can get an answer that works.
Thank you.

By Jayne F.04/19/2013
For goodness sake, take pots and pans out of lower cabinets and hang them. Bed, Bath and Beyond have several models. Also if you have room for kitchen shelf unit against wall, Sams had stainless shelves and Crate and Barrel has shelves. This is not about your kitchen looking good while you're aging. It's about preventing injury and making your life easier

By Amie S.03/10/2013
I'm single with a low income, and I was looking for a quick fix. Here is something that really helped me. http://www.finehomebuilding.com/PDF/Free/021133098.pdf
If you don't have the tools, measure your cabinet and take your measurements to homedepot. They were nice enough to cut the wood for me, and all I had to do was install it myself! This was the best answer I found. Note: I had to take off both cabinet doors to fit the Lazy Susan inside, then I replaced both hinges to let the cabinet open more like a closet. Don't forget to measure twice and cut once ;)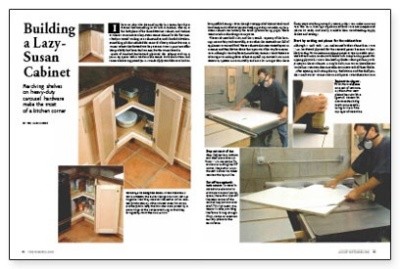 By Connie Vowles [3]01/17/2009
I know I'm the luckiest woman in the world because my wonderful husband has built me pull out drawers or shelves for all of my lower cabinets. I have bad knees and can't get down or up easily so he made me pull out shelves with a slight edge around three sides and a long handle on the front for a pull out handle. I can pull out the shelves and get to the very back without having to get down on my hands and knees. Everything is easy to see and get at. I know I'm lucky and I know I'm loved.

By lorraine mcdonald [3]12/12/2008
Hi, i have read about your troubles with your lower cabinets. I have found a solution and have shared it with many others. Go to your big box store like home depot and purchase a mechanics stool, it is low, with 5 wheels and a tray over the wheels. We keep one on each floor. Imagine my glee when I could sit and clean out the frig with no trouble, knees are still fine.

I roll along to the lower kitchen cabinets and they get a tidy each week so they are in order and so I can see what is there. [Way too deep and I forget what is stored there]. They work all through the house, last week the stove needed a good clean and it worked again. My husband uses one in the basement for various things. Good luck.
Laurie in Ontario

By Betty (Guest Post)12/11/2008
I have this same problem on both sides of my kitchen sink. I store stuff there that I don't use often and it gets forgotten therefore this is really wasted space that I need. Thanks for all the good suggestions. I'm going to work on this after Christmas and see if I can't do better in getting these areas organized.
By Sandi/Poor But Proud [429]12/11/2008
See if the three piece stackable recycle bins would help?

By (Guest Post)12/09/2008
Just wanted to mention that the house in which I lived had a huge lazy susan built into a deep cabinet. Everything would have been great except for the fact that items would periodically fly off the shelves and become trapped down below because the shelf edge wasn't built up very high. So make sure that items are well secured! I spent many years turning myself into a human pretzel trying to help my mother reach in and dig things out with a broom handle. Ugh! Possibly the whole thing was tilted - I really can't tell you why this happened on a consistent basis, but you don't want to go there.

By Syd (Guest Post)12/06/2008
Many years ago, I bought a large plastic turn table that fitted into the corner cabinet on the bottom shelf. This was in early '70's.

Check to see if they still make them.

By Nica (Guest Post)12/04/2008
Thanks, everyone! Like Harlean, I already have 1 corner cabinet that was built as a "lazy susan". It's great! It's spoiled me for having another one like it in this other problem corner.
From your suggestions, what might work best for me is using cake pans to organize smaller items, & then slide the pans in & out. The remaining problem (talk about spoiled!) is that I'd need to unload the open/front part of the shelves before I could slide anything deeper inside. So I'm still thinking here....

By Janet [7]12/04/2008
I used plastic wash pans in my deep cabinets. I filled each one with things like: my mixer & its parts, my coffee machine, filters & coffee, etc. You could try to put cake pans in one, pie plates & ? in another. I liked this idea because I could find everything at once in one pan, & the cupboards stayed very clean. The shelves needed a light dusting every now & again - that's all.

By Harlean from Arkansas [125]12/03/2008
My corner cabinets, both upper and lower came with a lazy susan in them. Perhaps you could buy one at a cabinet shop and get a handyman to install it. I really love mine. The upper one holds all my spices and baking ingredients, and the bottom one has two shelves and I store all my microwave dishes and plastic containers for leftovers and freezer foods there.
Harlean from Arkansas

By terryr (Guest Post)12/03/2008
Oh my goodness! I was just talking this over with my friend today! The storage box lid idea sounds good! I am going to try this this weekend!

By jsham (Guest Post)12/03/2008
I use cardboard boxes, as mentioned by others, but I also make an inventory of what I have in the one(s) in the back and tape it to the inside cabinet door, so I don't forget what is back there.

By Linda (Guest Post)12/03/2008
I have used the tops of the storage boxes for office stuff. I just put the box in the cabinet, fill it with whatever and pull it in and out of the cabinet as needed. Happy sourcing!

By Shirley [1]12/03/2008
You can use plastic bins and push them around to get what you need. Or you can find small drawers from an old or broken piece of furniture. With those you can attach small wheels and a handle on to pull them around.

By (Guest Post)12/03/2008
I've seen where you can take a flat cookie sheet and put things on that and slide them out that way... Hope that idea helps...
Answer This Question
Add your voice to the conversation. Click here to answer this question.