Organizing Under Your Kitchen Sink
Solutions
Share on ThriftyFunThis guide contains the following solutions. Have something to add? Please share your solution!
I always take one metal rack out of my oven because I usually don't need it in there. I store it under my kitchen sink standing it vertically and leaning on the drain pipes. This makes for a great place to hang towels, dish cloths, or even plastic grocery bags.
By Louella from Billings, MT
Here is a great way to keep all your cleaners organized under the sink. Buy a short shower curtain rod and install it under your sink, make sure it is in there tight. Then, place all of your cleaners that use a spray nozzle on to rod.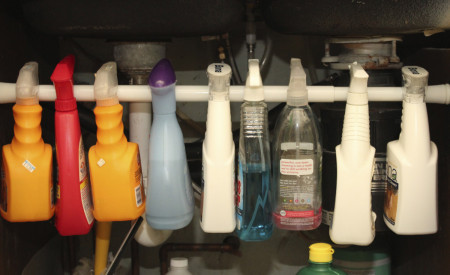 This rod keeps all the cleaners up off the bottom of the cupboard, leaving room to for other things. I have a cleaner caddy under there that I have all of my cleaning tools in, such as sponges, brushes, and steel wool.
Note: I haven't had any trouble with the rod slipping down, but I thought that if I did start to have that problem I could fix it by buying the cups that hold the closet bar in place and use those to also hold the shower curtain rod in place.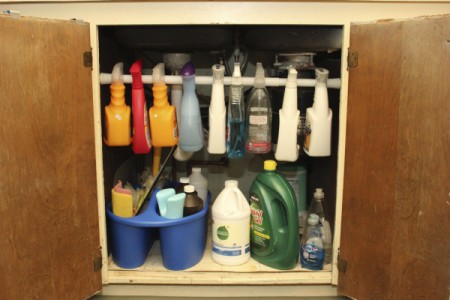 August 23, 2004
4

found this helpful
An ordinary sink has what I call a "hell hole" under it. Sure, you can buy expensive organizers, but when money is tight, consider these means of organizing things. Tall plastic waste baskets can be used to hold dishtowels, household rags, sponges and brushes of various types.

You can use shoe boxes to make stacking shelves on which to set the dozens of bottles of cleaners we all seem to have; from window cleaners to furniture polish, ammonia and vinegar to the seldom used silver polish and such.

One of those touch battery operated lights inside this former "hell hole" will come in handy when you're trying to locate a particular, perhaps small, object!

Janet from NH
I like to use the cardboard cartons from a 6-pack of beer bottles to hold various items. Occasionally DH buys the 4-packs of larger bottles and those work well for larger items. You can stand up rolls of parchment paper, wax paper, aluminum foil, etc, in them.
I also use one to hold extra new sponges, steel wool, Bar Keepers Friend and several other cleaners. Sometimes I cut out one of the dividers to fit larger items like the dishwashing liquid (I keep a pump filled with it on the counter; so I just keep the extra under the sink). If they start to get old and icky, just tell DH he deserves some beer this week!
Source: My Granny has always done this.
By cdoss from Cincinnati, OH
July 29, 2012
2

found this helpful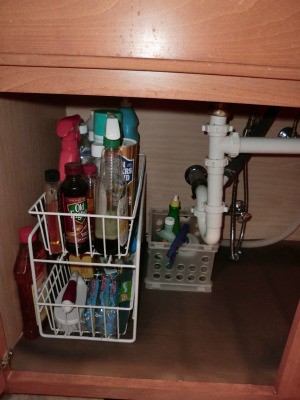 I recently found an under sink rack on clearance. Previously all of our cleaners and things were in a crate under the sink and took up a lot of space and were difficult to get to. Since this rack has two tiers it utilized the higher, unused space, and makes it easier to find things.
November 9, 2004
1

found this helpful
I was sorting out my cupboard under the sink, which is full of assorted cleaning stuff, aerosols etc. and general clutter. I wanted some plastic boxes to tidy things into before putting them back, but the ones with a handle, that are designed for this sort of purpose, are quite expensive, and I needed about five of them.

Instead, I bought some rigid plastic seed trays at the local garden centre, for 99p each (GBP), which do the job fine.

Now that everything is tidied into its own tray (separated into cleaning stuff, laundry items, cloths/dusters etc.) I can easily take the lot out for a quick wipe around the shelves, rather than having to remove and replace each item separately.

This tip saves time as well as money!

By Econ o'miser
Vinegar, baking soda, dish detergent; that's about all the cleaning products I use in my kitchen other than a few SOS type pads.
Read More...
Related Content