Wally will be 2 years old on March 28. He is 1/2 shar-pei, 1/2 border collie. My daughter owned his Mom so I was there to deliver him. His most favorite thing is to torment me (lol.)
Last september, I was home alone. I passed out in the backyard. When I came too I was so weak I couldn't get up by myself. Wally was standing right beside so I tried using him for support. He locked his legs and stood very still. He even helped steer me to the house. I was wobbling all over the place, so he would change sides pressing against my legs. I know service dogs do this all the time, but Wally doesn't even know what sit means lol!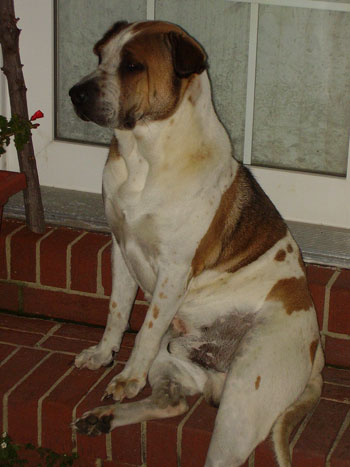 By variven from Goldsboro N.C.
Ad
---
Feedback Forum
Feedback about this article is posted here. Want to contribute? Click above to post feedback.

By Kathi (Guest Post)02/19/2006
Wally is beautiful! What a great friend you have in him! I'm so glad he was there for you and knew just what to do. Dogs are so wonderful, my life would be so empty without my babies! Hugs to Wally! Kathi

By Annie Rios Hill [12]02/16/2006
Good job, Wally! That he took care of you just shows
his love for you. Please take care fainting is something scary. Oh maybe I should have gotten a
bigger doggie than a 5 pound yorkie LOL !
He is pretty I had never seen that combo.

By Stacey Silva [52]02/16/2006
That's a really neat story, it is amazing how much animals know what's going on and they're always there when we're sad or whatever. I love 'em! He sure is a cutie pie!!

By Kathy02/16/2006
I truly believe animals tap into us so well they "feel" when we are sick or in trouble. Thank God for your angel! A cute one at that!

By Alma (Guest Post)02/16/2006
wow, what an awesome story! he is a hero. i hope some day to get a dog. Wally is a great looking fella.

By Joyce [4]02/16/2006
I also have a shar pei/hound mix and he is so faithful. He's like my second skin because he stays so close I can't move sometimes. He won't let anyone near me unless I tell him it's o.k. . He's the best . So I understand Wally's commitment to you and just thank God that you have him. He's special.

By Chris Ellyson [2]02/16/2006
An all-star for sure....give him a big hug from me.

By Olivia [1]02/16/2006
Wally's story gives me hope for my lab/border collie! I'm glad he came through when you needed him to. You can't help but love the boy, I'm sure. Yea Wally! (Adorable picture.)
Post Feedback
Add your voice to the conversation. Click here to share feedback.