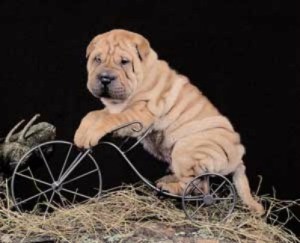 Breed Description:
The Chinese Shar-Pei is a medium-sized, muscular dog, easily distinguished by its harsh coat and the wrinkles and folds that cover its face and body. These wrinkles once served to keep the breed from being pinned down during dogfights. Today the Shar-Pei is prized for its friendly nature and independent spirit.
Group: Non-Sporting group.
Purpose of Breed: Originally thought be to bred for dog fighting
Country of Origin: China
Average Size: Range from 18-20 inches and 35-45 pounds.
Color(s): Solid colors only, typically black, red, chocolate, cream or fawn.
Coat Type: A distinguishing feature of this breed is its extremely harsh coat that stands straight out from the body. Coat lengths can range from being extremely short to one inch in length
Grooming: Regular brushing of the coat is required. Their eyes and ears need to be given extra care due to their folded skin.
Exercise Needs: This independentl-minded breed requires plenty of regular exercise and should be kept on a lead or safely within a fenced backyard.
Temperament: The Chinese Shar-Pei is a highly intelligent breed and extremely loyal and devoted to his family. This breed has a dominant and independent nature that is calm and dignified, yet aloof and snobbish at the same time. Naturally reserved around strangers, the Chinese Shar-Pei makes a good watch dog.
Common Ailments: Susceptible to skin and eyelid problems.
Life Expectancy: Averages 8-10 years.
Trivia: The name "Shar-Pei" means "sand-skin," or loosely translated, "Rough, sandy coat," which are distinguishing characteristics of the breed. Along with the Chow Chow, the Shar-Pei is the only dog to sport a blue-black tongue.
More Information: Chinese Shar-Pei Club of America, Inc., www.cspca.com