January 21, 2011
0

found this helpful
Have you tried the brand new Weight Watchers Points Plus program? It is supposed to be much more realistic. I have a friend who currently loves it. I've been a member of WW before and lost about 50 pounds but I'm trying to do it on my own right now. I'll probably rejoin if I don't manage to start some downward progress.
Good luck!
January 22, 2011
0

found this helpful
Have you thought about joining sparkpeople.com It is free and it is a whole community of support as they teach you to eat healthy. I have lost 83 pounds so far on this program.
Bobbieed
January 22, 2011
0

found this helpful
I have to check the dates, but I think I have some blank ones. If you give me your address, I could send it.
June 18, 2013
0

found this helpful
I'm looking for this too. Actually the whole program from then. I had great luck with this one and I was never hungry plus I lost 4lbs a week, week after week. Most of the time I didn't use my extra points but I ate well! I just recently tried to stay on the new Points+ and I lost some the first week but nothing much since then and, I'm hungry and it's confusing to do online. I also love fruit and veggies and "unlimited" to me means "unlimited"! I could easily eat only fruit, veggies, nuts and some seeds with a little chicken and fish. My only weekness is sweets but I can easily stay off them when I'm losing weight and with WW deserts, you don't need extra sweets. I'm retired now and the pounds have come back and I'm ready to make a commitment to having a healthy strong body through my older years. Can anyone help?
September 4, 2013
0

found this helpful
I am also looking for the diet journal from the weight watchers exchange program. Anyone have any ideas where I can get one?
December 4, 2015
0

found this helpful
If any one still has a weekly meal planner I can download and print off for the quick success plan from 1989 I would be grateful
Not sure if this post is still active
February 23, 2016
1

found this helpful
I am pretty sure this is the 1980's weight watchers no-fuss menu plan. I have a few others if anyone interested. :-)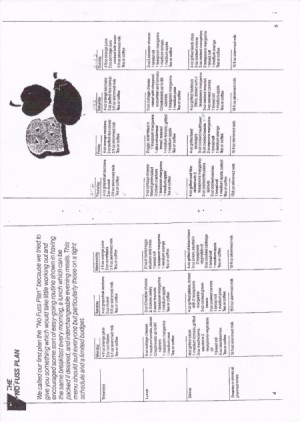 February 24, 2016
0

found this helpful
This is exactly what I am looking for!! If you have more of these sheets, I would greatly appreciate it if you could email them to me! s.tomsick at att.net. Thank you very much!!! :)
February 26, 2016
0

found this helpful
I need a copy of this!!!
July 28, 2016
0

found this helpful
Please could you send me a copy of this to sarahcrowe at btinternet.com. Many thanks.
September 7, 2016
0

found this helpful
Do you have a cell phone that will receive photos. I have the booklet and can send you a photograph of the list.