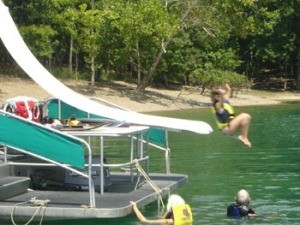 Our family's recent trip to Beautiful Dale Hollow Lake (Southern Ky/Tenn). This picture highlghts the FUN we had just spending 4 days on the water. It was so relaxing and just wonderful to be able to bond. On this trip were Grandpa (age 73), Grandma, Mom, Dad and DH's age 14 and 8. What a blessing to be able to share this special time together.
By Diana from Prospect, KY
By Diana
Ad
---
By Ilona (Guest Post) 08/29/2006 Flag
Wonderful pictures and what wonderful memories. We did this exact same thing two years ago at Dale Hollow. Great bonding time with family and the only time that we had ever done something like this. We also did ours during the week. We live in Somerset and brother's family that joined us lives in Knoxville.
By Sharon 4 66 08/29/2006 Flag
Thanks for shareing........
This makes me want to take a vacation with my family.
More families need to try to join together like this.
By Annie Rios Hill 14 1,777 08/29/2006 Flag
Looks like so much fun and great that grandparents went. I remember so many fun times in the ocean
with family.
By badwater 263 654 08/31/2006 Flag
Looks like a great time had by all! Thanks for the photo. I'm from Western KY area. I miss it alot. Thanks for the memories your picture brought back!!
Terri
By Lynda (Guest Post) 09/05/2006 Flag
Looks like a place in Okla. called, Turner Falls, we
visited one Summer. Those barges are so much fun.
I have fond memories of those days. God bless you.