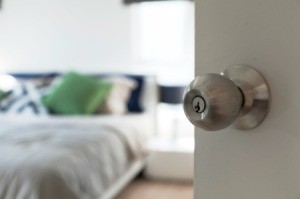 Is there any way I can repair a baseball-sized hole in a hollow-core interior door? We damaged it while moving a bed frame and are renting, so we need alternatives for taking care of it.
By Sherri Lile from MO

Answers:
Repairing a Hollow Core Door
The time and material you'll need to repair that door will add up to more than the door is worth. Just buy a new one. The only repair that's reasonable for a door like that is to cut it down to a desired size. (08/06/2010)

By Chuck
Repairing a Hollow Core Door
Try using the foam insulation in the applicator bottles, the kind you apply around windows to seal them. I used it to seal a hole in my porch post a wood pecker pecked through. You may need to take a saw and cut a rectangular hole into it, then I would take a piece of wood that fits the spot and epoxy glue it into place, then take the foam insulation and work around and level as best you can. Let dry. Then sand down and paint. Good luck. (08/07/2010)

By susan
Repairing a Hollow Core Door
We did that. Put a dresser leg through the door. I bought a cheap full length mirror and mounted it on the door, covering the hole, with those little mirror mounts, leave it there when you move out, the new tenants will appreciate the "gift". (08/08/2010)

By Dena Roberts
My hollow door has a dent in it caused by an object hitting it. The dent in the wood has left cracks surrounding the dent. I have used heat before for dents made on other wood furniture to smooth the surface, How do I repair this door?
By Beth Sullivan Herren from Trumansburg, NY
Answers
December 27, 2010
0

found this helpful
Try wood filler and smooth over the dent. Wait to dry and sand smooth and paint over it. If the door is not a painted door, but of woodgrain, the filler will be obvious. I'm not sure if you can stain over the filler and cover it either. But, you can definitely use it to fill in a place.
December 29, 2010
0

found this helpful
Not the same when the wood is hollow. Steam heat (iron) is used for solid wood.
March 16, 2014
0

found this helpful
We drilled a hole in the wrong place on our hollow wooden door. How do we fix it?
Answer

this Question