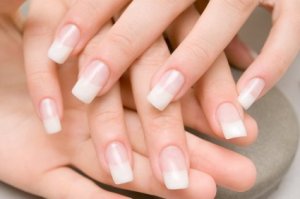 Applying your own acrylic nails can save you money over going to the nail salon. If done correctly, they can be just as durable. This is a guide about applying acrylic nails.
Solutions
Share a solution for this guide today!
Questions
Here are questions related to Applying Acrylic Nails.
I had a full set of acrylic fitted yesterday, the nail person made my cuticles bleed. Today my fingers are really sore, is this normal?
By Se from Lancashire
By
---
Most Recent Answer

By DorothyNYC09/09/2010
I did this for years and went to different nail salons all the time. I remember once my fingers hurt for a few days and it was because the nail person filed down the tops of the nails too much and they were thin. I know this because the next time I got them done, that person told me that they were filed down too much.

The next time I had to change my nails - boy it hurt to take them off! I stopped getting my nails done and let them grow out. It is so bad for your nails to do that. I feel great now that there are no more appointments, and I'm saving a lot of money!


I have just trained as a nail technician and I am finding things very hard. When I have applied the acrylic it looks great but after buffing I am getting lines in the acrylic and the tip seems a bit lumpy and bumpy. Please help, I am losing heart.
By
---
Most Recent Answer

By Pat (Guest Post)10/08/2008
I am a retired beautician but still keep up my license. I want to apply my own acrylic to my nails but I never get a nice line around the cuticle and wonder if I get it on too thin--do I need to apply it thicker so it doesn't feel "sharp" and look like an "edge" instead of a rounded look?? Am I holding my grinder in the wrong position? I would appreciate any help as this is my new hobby to do myself. Pat
After applying acrylic and all said in done. I notice after a day or two they start to lift. Why? What am I doing wrong and what can I do to keep from having this happen again?
By Magan V.
By
---
Most Recent Answer

By hiphophood05/16/2012
This will usually happen if you do them yourself. Get them professionally done next time if you want to avoid that. More money, but worth it.
I tried the quick dip acrylic and found I can see some of the powder still in the nail after I'm completely finished. I've also had this trouble on regular acrylics, occasionally, just not as bad. I'm not sure what to do. I own a salon and am trying to get better at the acrylic. I've done gel for a while, but for some reason I'm having trouble with this. Help?
By Amanda
By
---
Most Recent Answer

By Lilac04/29/2012
I think you should go to school and get certified for this. If you already have then you should go back to the school for more instruction.
Archives
Thrifty Fun has been around so long that many of our pages have been reset several times. Archives are older versions of the page and the feedback that was provided then.
I was wondering, can I use krazy glue instead nail glue, it sticks better for longer?
Erica
---
RE: Applying Acrylic Nails
I've used it instead for years. It not only lasts longer but you get 2 for $1.00 at your local Dollar General. It's all everyone I know uses. (05/04/2005)
By Laura
RE: Applying Acrylic Nails
I used to apply acrylic nails. I stopped when I found out how unhealthy they are. When you get a fungus it's hard to remove them, then you have to treat the fungus for a while, then it takes about a year for the nails to grow back. Why women do this is a mystery to me. Those long nails are also a wonderful breeding ground for bacteria, and if you don't take a brush and scrub under them each time you wash your hands they're still there.. I often wonder how many times people get sick and wonder what the heck it was, and don't even consider passing that bacteria on in food they have prepared, at home, at potlucks, etc. Think about it. (05/04/2005)
By Dotty
RE: Applying Acrylic Nails
I was told not to use superglue on your nails because of the fungus. And I was warned about using acrylic nails for a lengthy period of time for the same reason. Acrylic weakens the nails. Did you know there are nail strengthening products on the market that work. There is a product, I think Sally Hansen, that works like a wrap. Put on two coats. Also, filing your nails in a severe oval weakens your nails. (05/05/2005)
By Gloria