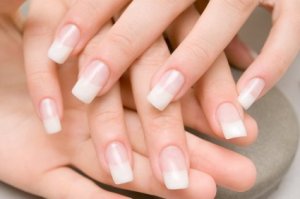 Applying your own acrylic nails can save you money over going to the nail salon. If done correctly, they can be just as durable. This is a guide about applying acrylic nails.
Ad
---
Solutions: Applying Acrylic Nails
Read and rate the best solutions below by giving them a "thumbs up".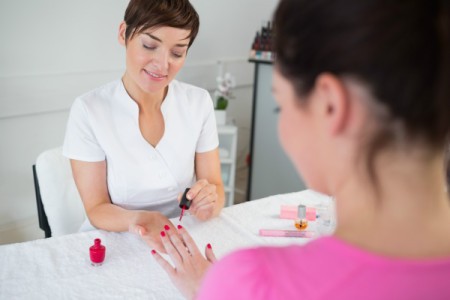 I hear it over and over, clients and others blaming acrylic or gel polish or some other service for damage to their nails. I'm sorry, ladies, but it's not the product doing the damage. It's people who do damage to the nails, not the product. Yes, you're putting a product that sticks to your natural nail and sometimes when that product pops off or rips off, that does do damage. Of course it does. But if it is properly put on and properly removed, and cared for in between appointments, then your natural nail should be in good shape.
So, who does the damage? One of two people or both who are caring for your nails; the client, and/or the nail tech. If you have a nail tech that goes at your nails roughly, improperly uses the e-file (electronic file, not "drill") then you will definitely, guaranteed to have damage done to your natural nail. Which, if you are having acrylic nails put on, you won't see till your nails are removed. Then you're blaming the acrylic when all the while it was your nail tech doing damage every time you came in for a fill.
Do your nails ever hurt when you get your acrylics done? Nail services should NEVER, EVER, hurt. Ever. Sure, sometimes you get nicked by a file and that's painful. But I've had clients tell me about seeing a nail tech and their fingers hurt for days afterwards. Seriously?! Then don't ever go back!
How does a client do damage to their nails? If you get a service done and then treat your nails like they're tools in between appointments then you're doing damage to your own nails. Lifting is caused by so many reasons that it's impossible to name them all. Don't use your nails as a tool, like to remove stickers from products, to pry things open, etc. Be kind to your nail extensions and you'll be much happier with your nails and you won't have all that damage that you're doing underneath your acrylics that you don't see until you have them removed. You just don't even think about all that twisting and flexing that goes on when you're being rough with your nails.
By the way, your nails do not breathe. You don't need to have your acrylics removed every month. That in and of itself causes most of the damage that is getting done to your nails. Discount salons like to always charge for full sets rather than just have you come in for fills. So, they tell you your nails need to be replaced because your nails need to breathe or whatever. Actually, it's less damaging to just leave your set on. Think about it, you get fills every 2 weeks so you're always growing your nails and always getting new product put on so in about a month or two you have fresh acrylic on your nails! Why get another full set? It's totally not necessary and not even recommended by reputable nail tech's.
You get what you pay for in this industry. If you want a reputable nail tech that is well trained and wants to do a good job and keep your natural nails healthy, then don't go to a discount salon that only cares about making money and cranking people out on a regular basis.
I am a Board Certified Nail Technician and I care about giving my best to all my clients. There's too much misinformation out there. Educate yourself which not only helps you know what to expect from your nail tech but it keeps your nails safe and healthy.
Directions:
Give a "thumbs up" to the solution that worked the best! Do you have a better solution? Click here to share it!
Questions
Here are questions related to Applying Acrylic Nails.
I have just trained as a nail technician and I am finding things very hard. When I have applied the acrylic it looks great but after buffing I am getting lines in the acrylic and the tip seems a bit lumpy and bumpy. Please help, I am losing heart.
AnswerWas this interesting? Yes No
Ad
---
---
Most Recent Answer
By Pat (Guest Post) 10/08/20080 people found this helpful
I am a retired beautician but still keep up my license. I want to apply my own acrylic to my nails but I never get a nice line around the cuticle and wonder if I get it on too thin--do I need to apply it thicker so it doesn't feel "sharp" and look like an "edge" instead of a rounded look?? Am I holding my grinder in the wrong position? I would appreciate any help as this is my new hobby to do myself. Pat
---
I had a full set of acrylic fitted yesterday, the nail person made my cuticles bleed. Today my fingers are really sore, is this normal?
By Se from Lancashire
AnswerWas this interesting? Yes No
Ad
---
---
Most Recent Answer
By Alia 2 02/20/20150 people found this helpful
You said you got bleeding while pushing back cuticles. Acrylic liquid should not applied to the damaged bleeding nails. I suppose your beautician done something very wrong. The products use to apply acrylic nails are very toxic. You better to visit your doctor and stop doing acrylic nails for few days until you recover. For more information visit http://www.acrylicnails1.com/
---
After applying acrylic and all said in done. I notice after a day or two they start to lift. Why? What am I doing wrong and what can I do to keep from having this happen again?
By Magan V.
AnswerWas this interesting? Yes No
---
Most Recent Answer
By hiphophood 1 23 05/16/20120 people found this helpful
This will usually happen if you do them yourself. Get them professionally done next time if you want to avoid that. More money, but worth it.
---
This is my very first time doing this at home. I normally go to a salon, but just figured I would save some money. My question is, when you do your own nails at home, do you have to use the dehydrating liquid and do you have to use the nail primer? Those are the only two things I didn't buy.
By Ashley
AnswerWas this interesting? Yes No
---
Most Recent Answer
I tried the quick dip acrylic and found I can see some of the powder still in the nail after I'm completely finished. I've also had this trouble on regular acrylics, occasionally, just not as bad. I'm not sure what to do. I own a salon and am trying to get better at the acrylic. I've done gel for a while, but for some reason I'm having trouble with this. Help?
By Amanda
AnswerWas this interesting? Yes No
---
Most Recent Answer
Archives
Thrifty Fun has been around so long that many of our pages have been reset several times. Archives are older versions of the page and the comments that were provided then.
I was wondering, can I use krazy glue instead nail glue, it sticks better for longer?
Erica
---
RE: Applying Acrylic Nails
I've used it instead for years. It not only lasts longer but you get 2 for $1.00 at your local Dollar General. It's all everyone I know uses. (05/04/2005)
By Laura
RE: Applying Acrylic Nails
I used to apply acrylic nails. I stopped when I found out how unhealthy they are. When you get a fungus it's hard to remove them, then you have to treat the fungus for a while, then it takes about a year for the nails to grow back. Why women do this is a mystery to me. Those long nails are also a wonderful breeding ground for bacteria, and if you don't take a brush and scrub under them each time you wash your hands they're still there.. I often wonder how many times people get sick and wonder what the heck it was, and don't even consider passing that bacteria on in food they have prepared, at home, at potlucks, etc. Think about it. (05/04/2005)
By Dotty
RE: Applying Acrylic Nails
I was told not to use superglue on your nails because of the fungus. And I was warned about using acrylic nails for a lengthy period of time for the same reason. Acrylic weakens the nails. Did you know there are nail strengthening products on the market that work. There is a product, I think Sally Hansen, that works like a wrap. Put on two coats. Also, filing your nails in a severe oval weakens your nails. (05/05/2005)
By Gloria