May 3, 2007
0

found this helpful
First Idea: Go to a snowboard shop(they are probably not as plentiful as in vermont;-) and ask if they have any used snowboards that are unusable, discards. You can either attach to wall as art or make into wall shelves, mattering on the condition of board. There has got to be snowboard bed stuff somewhere! Do you sew? Find snowboarding fabric and make a duvet cover. if you can only find a couple yards: make pillowcases(these are quite popular in my house, I made my son a jeep one). Or if you can REALLY sew, you could quilt/applique snowboards. Good luck!
By guest (Guest Post)
May 3, 2007
0

found this helpful
If you can't find any specific themed bedroom stuff, you'll have to concentrate on snowboards, not bedroom. Like the other reader suggested, find snowboard decorations from a place that sells snowboard. Now should be a good time to buy snowboard stuff since summer's almost here & winter things are on clearance. For me, it helped to find one thing to start the room theme with (a baby bedding set for my oldest daughter - circus theme, a rug for my middle daughter - pink roses, a bistro table set for my youngest daughter - tea party). I did my oldest daughter's room in a garden theme once and found most of the stuff to decorate it in the garden shop. I painted a park bench, bought bird houses, made a "clothes line" to hang her artwork from, bought an arbor and intertwined fake flowers. Start searching snowboard sites for inspiration and ideas. You could find a snowboard poster you like and frame it and choose the room colors from that. You might have to expand your idea a bit, add snow or some other winter sports to tie in if you can't find enough snowboard stuff. You can always use solid color bedding and maybe add some snowboard type throw pillows. Good luck!
May 3, 2007
0

found this helpful
find a snowboard photo and blow it up frame it
draw a huge snowboard and paint it on wall with
washable paints
also some snow photos would be nice blow up
to poster size
find an old snowboard paint it and attach to
wall for a cool shelf
By guest (Guest Post)
June 13, 2007
0

found this helpful
Pottery Barn Teen or sometimes Target as they tend to copy pbteen styles.
By guest (Guest Post)
September 15, 2007
0

found this helpful
For bedding ideas, go to:
http://www.extr … &Category=90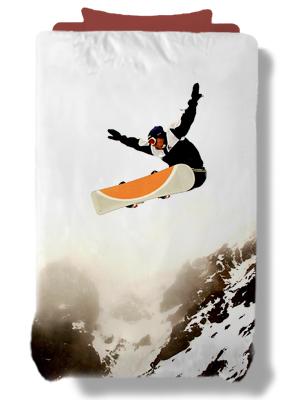 By guest (Guest Post)
May 4, 2008
0

found this helpful
PB Teen has amazing snowboarding things including bedding, beds, magazine racks and more.
By guest (Guest Post)
June 1, 2008
0

found this helpful
I am also decorating a snowboard room for my son. I found cheap framed art and a wall mural at allposters.com
By guest (Guest Post)
December 14, 2008
0

found this helpful
I purchased a Pottery Barn snowboard shelf, with ipod connection..has speakers. and a snowboard table...for my teenage sons room. We never used it. I am selling it, if anyone is interested. cristienorth6 AT gmail.com
February 7, 2015
0

found this helpful
Awesome. Thanks for sharing.