My 10 year old wants his room decorated in a snowboarding theme. I have searched everywhere and can't find much of anything for this, not even bedding. Any help or suggestions would be much appreciated.
Answers
May 3, 2007
0

found this helpful
First Idea: Go to a snowboard shop(they are probably not as plentiful as in vermont;-) and ask if they have any used snowboards that are unusable, discards. You can either attach to wall as art or make into wall shelves, mattering on the condition of board. There has got to be snowboard bed stuff somewhere! Do you sew? Find snowboarding fabric and make a duvet cover. if you can only find a couple yards: make pillowcases(these are quite popular in my house, I made my son a jeep one). Or if you can REALLY sew, you could quilt/applique snowboards. Good luck!
By guest (Guest Post)
May 3, 2007
0

found this helpful
If you can't find any specific themed bedroom stuff, you'll have to concentrate on snowboards, not bedroom. Like the other reader suggested, find snowboard decorations from a place that sells snowboard. Now should be a good time to buy snowboard stuff since summer's almost here & winter things are on clearance. For me, it helped to find one thing to start the room theme with (a baby bedding set for my oldest daughter - circus theme, a rug for my middle daughter - pink roses, a bistro table set for my youngest daughter - tea party). I did my oldest daughter's room in a garden theme once and found most of the stuff to decorate it in the garden shop. I painted a park bench, bought bird houses, made a "clothes line" to hang her artwork from, bought an arbor and intertwined fake flowers. Start searching snowboard sites for inspiration and ideas. You could find a snowboard poster you like and frame it and choose the room colors from that. You might have to expand your idea a bit, add snow or some other winter sports to tie in if you can't find enough snowboard stuff. You can always use solid color bedding and maybe add some snowboard type throw pillows. Good luck!
May 3, 2007
0

found this helpful
find a snowboard photo and blow it up frame it
draw a huge snowboard and paint it on wall with
washable paints
also some snow photos would be nice blow up
to poster size
find an old snowboard paint it and attach to
wall for a cool shelf
By guest (Guest Post)
June 13, 2007
0

found this helpful
Pottery Barn Teen or sometimes Target as they tend to copy pbteen styles.
By guest (Guest Post)
September 15, 2007
0

found this helpful
For bedding ideas, go to: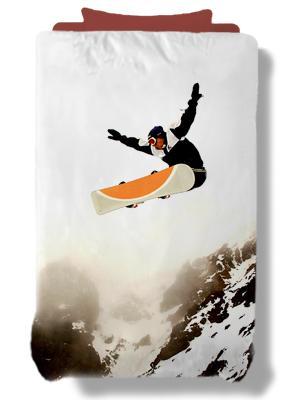 Read More Answers
I am wanting to change my son's room. He is 11 yrs old. His whole room needs a makeover from top to bottom. I am a single parent so money is tight. Any good suggestions? He loves sports.

Gina from Missouri
Answers
By guest (Guest Post)
January 7, 2005
0

found this helpful
A sports make over is one of the most creative and easily cheap ways to remake a room. Go to any type of second hand stores in your area, garage sales, your sons old sports items, or his magazines. There is so much out there that you may want to pick only one sport. Decorate with sports posters, frame magazine picts, make pillows and comforter out of old sports team sweat shirts, use any wooden sports equipment and nail on to existing furniture. Paint his furniture his favorit team's colors...really your only limitation is your imagination. Also have him search for items and create his room with you, he will love it all the more. Sounds like a great family project!
By guest (Guest Post)
January 7, 2005
0

found this helpful
Hi for my stepson, I once put a kite on a ceiling using just 4 clear thumbtacks! You can also hang
a cute toy airplane using sturdy clear line, like fishing line, (I used green weedwacker string) .
Also find used good skateboards at garage sales
and put those up for shelves! Use color by using fabric on walls with liquid starch (comes off easy).
Once you get started you will get many good ideas
and Have Fun oh and also involve him too to get
his ideas too you may be surprised.
By guest (Guest Post)
June 4, 2005
0

found this helpful
The best idea that i have heard recently is to saw a bat in half and screw it to the wall along with some gloves and a baseball. If you cut the ball in half and fill it with foam you can simply glue it to the wall. Hats stapled to the wall make a nice border. If you want to look at hockey you can drill through the center of some used pucks and fasten them to the wall with some longer screws.
Answer

this Question

...