My brother-in-law has collected a bucketful of bottle tops. Has anyone any ideas what he can do with them?

Sue from Perth, WA
By sue
Ad
---
Recent Answers
Here are the recent answer to this question.

By Big Timko (Guest Post)03/01/2009
Nothing like a good beer pong table! Friends of mine did this! Took the first year of college to get enough caps, but the next 3 the table was well used! O-H-I-O.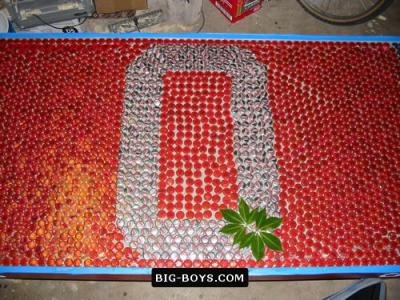 By Coen H. (Guest Post)02/26/2009
I want to make a wall too, but how to attach them? Can I simply use super glue, or are there other easy ways? Thanks!

By )(Will)( (Guest Post)12/05/2008
Well, you can take them and hot glue them or superglue them around the edge of a pair of old shoes. It'll make look new and cool. "BEER SHOES", and you could wear them when your drinking.

By Joy10/22/2008

If he wants to show off the beercap names, he could make a fun "wreath" to hang up on a bar room wall or door. I did this a long time ago, using a round wreath form from the $ store & a hot glue gun. Above the wreath, I used a small pine, painted placard & stamped a fun saying on it. I attached it all together with metal wire,(also $ store) that I kind of looped around in circles & formed an upside down V w/ the point hanging from the wall to the two ends of the plaque, then to the wreath. Good Luck!

By Eliane [1]10/22/2008
http://www.johntunger.com/recycled_green_earth_friendly/index.html
http://reciclagem-artesanato.blogspot.com/2008_09_07_archive.html

Look at these url's, alot of ideas.


By Grandma J [46]10/21/2008
Get some plaster of paris, make your own lawn stepping stones. We use marbles and rocks, but caps should work just as well.

By Nelda (Guest Post)10/21/2008
Stepping Stones.

This seemed to be the one thing my sons could collect for me to work with...go figure. Get medium size pizza boxes and line with saran wrap. Pour quickcrete in and place your bottlecaps in whatever design you'd like displayed. One of my boys collected some unique ones while in Japan and those I've used for decorative inside displays.
Answer This Question
Add your voice to the conversation. Click here to answer this question.