I have hundreds of beer caps (I'm thirsty?). I wanted to put them on cork and put them on my cabinets in my kitchen (it has a bar theme, go figure) but that didn't work, I need an idea for a bachelorette pad, no cutesy stuff. I live in an apartment so it can't be too permanent. please help :) - Dawn from CA
Answers:
Looking for Ideas for Beer Caps
Drill holes on the top and bottom of the sides (where the beer name is facing out to you) and tie together with beading wire or fishing line and make a curtain or valance for your kitchen window or a door curtain in your kitchen doorway.
Find a pretty vase and fill with beer caps and put a floral arrangement inside.
Hot glue magnets to the insides of the caps and use as magnets all over your refrigerator.
Hot glue around edges of a beer themed mirror frame.
Find an old metal serving tray, a large size one. Paint the tray in whatever colors you want and then paint the inner bottom with chalkboard paint. You could even glue bottle caps around the edges of that. Use as a message chalkboard.
(07/13/2004)

By Tawnda
Looking for Ideas for Beer Caps
Buy an inexpensive wooden coffee table or dining room table. Attach wood strips around the edges the depth of your bottle caps. Glue them in place all over the table inside the wood strips, and then fill in the gaps with tile grout. You will have a solid surface table with a neat top. You can make a smaller one on a wood base the same way to use as a hot plate or trivet in your kitchen. (07/13/2004)
Looking for Ideas for Beer Caps
Well back in my party days here's what I did with them : using a glue gun I fixed the ugly old belt with a double row a caps between each grommet. Glued around the sides of my sketchers. Earrings - hole punch not threw center but threw each side, short or long your choice, don't forget hook to place in ear. Bracelet/anklet/necklace - punch hole same as above and string with dental floss or fishing wire.
It's important to string threw the sides so the tops show. Press into plain candles for decoration. You can pretty much glue it to anything that sits still long enough, chairs, sides of the desk, filing cabinet. Just get the glue gun and go. Good luck and have fun (08/31/2004)
Looking for Ideas for Beer Caps
I always had a ton of caps so I would make hair clips and picture frames. All you need is a hot glue gun and you can do it from there. (10/05/2004)

By Cassidy
Looking for Ideas for Beer Caps
I actually just finished working on a beer cap mirror. I went to Wal-Mart and bought a full-length mirror and hot-glued all of the caps around the frame of the mirror. It looks awesome, and now I'm on my way to thrift stores to find a small old table that I can glue them to the top of, and slide a piece of glass over for a cool looking table for my bachelorette pad. I SO recommend it!! (12/26/2004)

By Christy
Looking for Ideas for Beer Caps
You could make your own display to hang on your wall,
Back in my drinking days we use to take the beer tabs off the cans and make string curtains for doorways .
I doubt 200 caps is enough , but it could keep you occupied for a few evenings lol
You might just get pretty glass jar fill it up with the caps,put it on your coffee table for a conversation piece. (01/03/2005)

Looking for Ideas for Beer Caps
Tag them all right now (01/14/2005)

By shmenton
Looking for Ideas for Beer Caps
This is my table. It's an old kitchen table which i cut the top for the right shape and cuz the legs for a coffee table stance. For the trim around the edges i ripped a 1x4 lengthwise then made a recess for the caps to slide under. I laid out my pattern one row at a time on my stenciled and painted table but using clear silicone to stick the caps to prevent them from floating when i poured on the top surface.
With the caps stuck and dried, i used an epozy called envirotex lite which is meant to be for coating small wook items and be as good as 30 layers of laquer or something like that. This stuff is not cheap. I think I used 4 or 5 quarts and it cost me over $100. Anyways, the red are Budweiser, white are bud light, blue are the newer bud light, and the stars are Coors light. Good luck if you try to make something like this... (11/25/2005)
By Brocko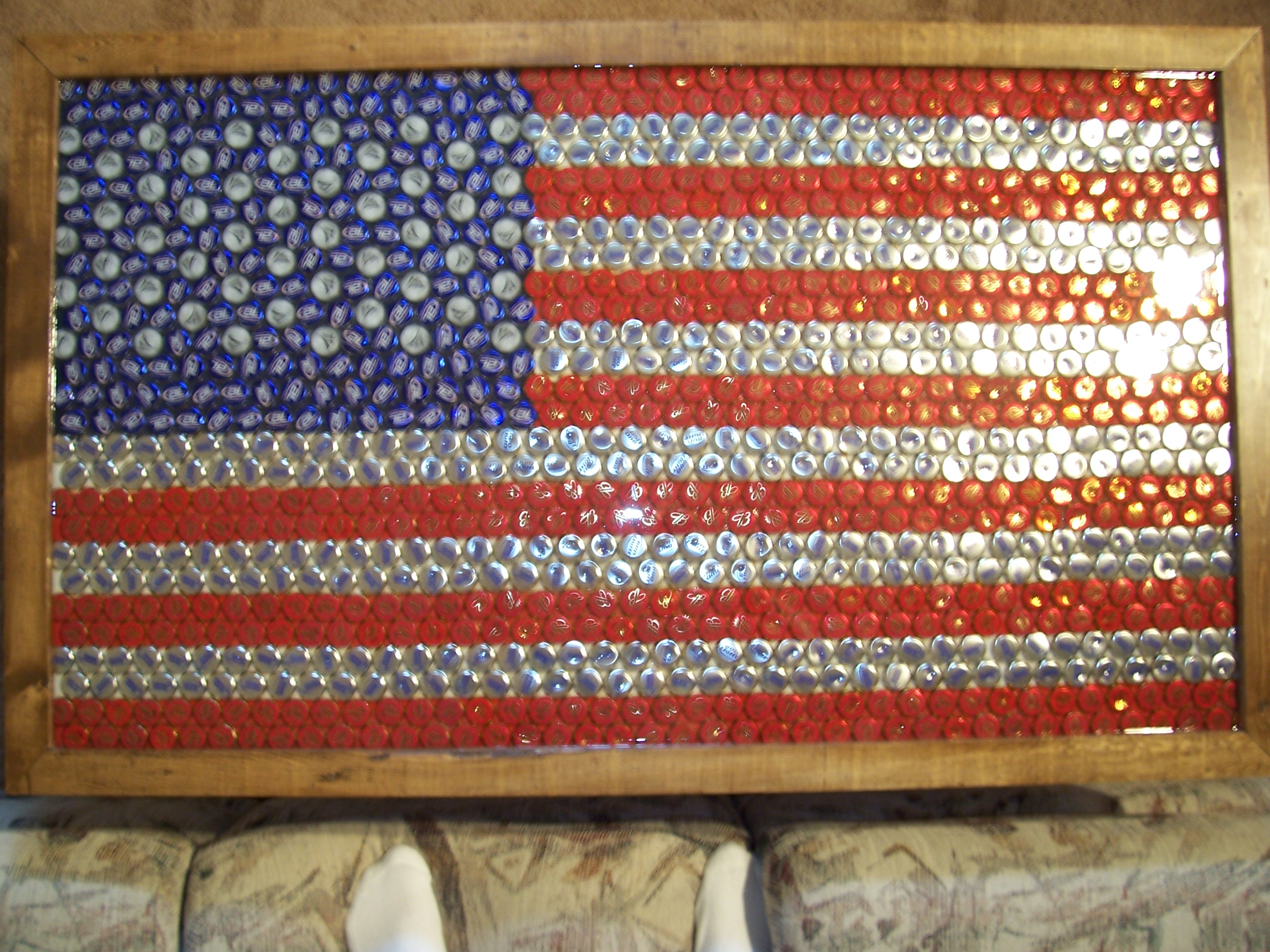 Looking for Ideas for Beer Caps
My mom gave me this old mirror she was going to throw away and I repainted it and added bottle caps by hammering them on. Now it hangs in my garden and bounces sunlight back at my rosemary plant. : )
(07/02/2006)

By Wendy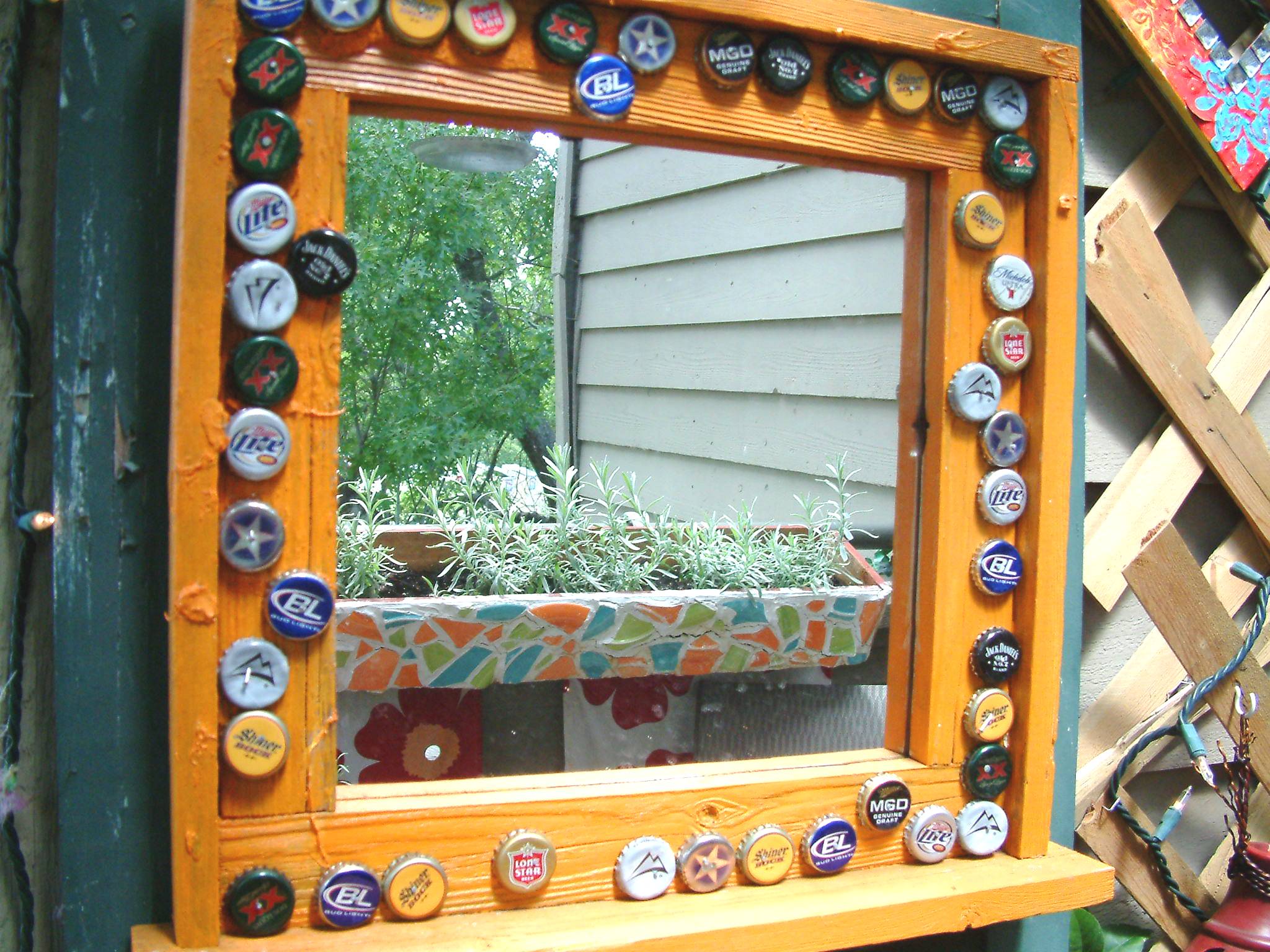 Looking for Ideas for Beer Caps
Have an emblem/logo from your favorite sports team. (08/20/2006)
Looking for Ideas for Beer Caps
I put caps on my cupboards in my bar it turned out great! I used Alene's tacky glue (clear) It worked great and you can even remove them with no damage to your cupboards just by popping them off leaves no marks. I have even changed the design a couple of times. (08/14/2007)

By machelle
Looking for Ideas for Beer Caps
I make outdoor side tables with beer caps. My most recent table has a peace sign as the pattern. They look great and hold up outside! (09/03/2007)

By Rachel C
Looking for Ideas for Beer Caps
I work in a frame shop and drink beer the rest is history, tacked em on, had a friend with similar interests..."beer", and he sorted and I tacked. (09/11/2008)

By b hix