These bottle cap magnets are to hang on your fridge. You can design them any way you like, with words or even pictures.
Approximate Time: 10 minutes
Supplies:
bottle cap (preferably the metal ones)
Gorilla glue or glue gun
magazine clippings or pictures
acrylic paint
small magnet
Instructions:
Paint the bottle cap with your acrylic paint. I usually use a grey acrylic paint or a black one. Paint the inside and outside of the cap. Let dry.
Glue a magnet on the back of bottle cap. You can get the little circle magnets at dollar stores.
Place your magazine cut out picture, regular picture, or words inside the bottle cap. Glue them down with Gorilla glue or a glue gun.
Let dry for about 20 minutes.
Now you are ready to put them on a magnetic surface.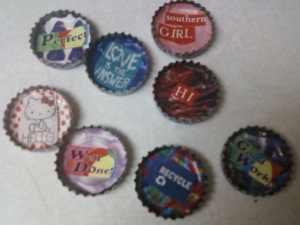 Note: If you wish to make bigger magnets, you can use jar lids, just use a bigger magnet on the back.
By rocketrider2011 from IA
Comments
July 17, 2011
0

found this helpful
Top Comment
Great idea. I am thinking, however, you might do well not to paint the bottle cap where you will be gluing the magnet. With my luck, I would go to take the bottle cap off the fridge, and the paint would let go and I would be left holding the empty bottle cap!
Makes me think we need to buy some soda pop in the old-fashioned kind of bottles and get some caps! Maybe this is a good excuse to make root beer floats? :) Thanks for sharing!