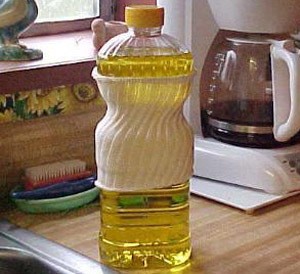 If, like me, you are tired of your bottle of canola oil dripping down the sides of the bottle every time you pour out of it, just cut the ribbed cuff off of one of your husband's old stocking and slide it over the bottle. It will catch all the drips and keep your cupboard shelf clean. When it gets soiled, either launder it or replace it.
By Harlean Hot Springs, AR
Ad
---
Feedback Forum
Feedback about this article is posted here. Want to contribute? Click above to post feedback.

By Nora06/09/2009
What a great idea! It's not only useful but also interesting. I will search the drawers after work.

By Annie Rios Hill [14]04/24/2009
Oh I should have known it was Harlean from Arkansas you have great wonderful tips. Annie in Missouri

By Annie Rios Hill [14]04/24/2009
Thank you, so much. I had that problem and my only idea was I put a vinyl tile under sink cabinet to put oil on. This is so much better, Thank you!


By Suzanne Bergholz [2]04/17/2009
This is a brilliant idea! Thanks.

By Nica [19]04/17/2009
Nice idea ... thanks! I've just made a ribbed "neck" for my laundry detergent, too. Any liquid that slides out from the cap onto the bottle's screw-top can be easily cleaned up & thrown right in the wash.

By Deb [14]04/16/2009
What a great idea. I'll search my drawers now! Thanks!
Post Feedback
Add your voice to the conversation. Click here to share feedback.