March 31, 2005
0

found this helpful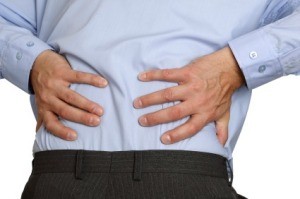 I work long hours and have a lot of pain in my feet, legs and lower back. Basically, I hurt all over! I wear insoles in my shoes (not custom), and take ibuprofen for the pain. Does anyone know how to manage my pain without so much over the counter medicine? Quitting my job is not an option.
Thanks :)
Aeromama
March 31, 2005
0

found this helpful
Best Answer
I am very sorry about your situation! It is terrible. Ideally, you and your co-workers would be able to get together in a union and make some changes (depending on what type of job it is, and what is causing the pain other than simply the hours), but I know this is hard, and you would need to take care of your back, legs, and feet regardless.
Here is my advice:
1. Wear good, supportive shoes or boots. They should fit perfectly, feel comfortable, and have thick rubber soles without high heels. Unless you need to wear steel toes for your job, avoid them, as they can be hard on your knees. If possible, alternate pairs of shoes from day to day. You need to let one pair air out before wearing them again.
2. Consider your socks. I own some good socks I ordered from Dr. Leonard's. They made from nylon and spandex and are called support socks. They are comfortably snug, and I find they make a genuine difference in how my legs and feet feel at the end of the day. They are 3.99/pair (cheaper if you buy multiple pairs), come in a few different colors, and are perfectly attractive as socks go. See if this link works:
http://www.drle cfm?EDP=10179208
3. Practice good posture. This will make a difference for your back.
4. Simply don't lift anything that is too heavy for you. It's not worth it, so don't risk it!
5. When you get home, try to elevate your legs and feet. Take off those socks I recommended so highly, and let your skin breathe. If you have actual swelling, alternate heat and cold. (For example, put a very warm--I would say hot but I don't mean you should burn yourself--washcloth on the swelling for a few minutes, and then switch to an ice pack.) If there is no swelling, just let someone give you a massage! It will feel great. Let them bring you a nice cup of herbal tea, too. You've earned it!
March 31, 2005
0

found this helpful
Best Answer
You have my sympathies with the long hours on your feet! Here are some tips to hopefully help you alleviate some pain:
1. You didn't specify if you are permitted to wear athletic shoes at work or not. If you can, wear athletic shoes all the time, specifically running shoes if possible, which have more cushioning than any other type of athletic shoe. At one time, we were required at work to wear dress shoes, either flats or heels. Then, our company made a switch to a "uniform", at which point we could wear athletic shoes or whatever type of shoes we chose. Once I switched to athletic shoes, I was much more comfortable than when wearing dress or casual shoes. If you are not permitted to wear athletic shoes, consider getting a doctor's note from your primary care physician for your employer stating the need for you to wear athletic shoes. Cotton athletic socks are a good pairing with the athletic shoes. If you are unable/unwilling to wear athletic shoes, then you are already doing the only thing I can suggest by using insoles.
2. Also, I would elevate my feet for 15 to 20 minutes at home after my shift was over. Instead of just propping my feet up on a footstool, I would lay on the floor and place my legs up on a sofa or chair so they were bent at a 90 degree angle. It may be hard to visualize, but picture your body in the same position as if in a chair, but in this case, your back on the floor is like the back of a chair. If you push the small of your back gently in towards the floor while in this position, it will give your back some relief too.
3. I used to soak my feet after a shift in a bucket with hot water and Epsom salts. I think I used about one cup per gallon of hot water. Amount of Epsom salts to use is located on the bag or carton of Epsom salts under relieving muscular aches.
4. You didn't say if you currently exercise regularly or not, but I found by accident that my feet, legs and back felt much better after I had been exercising regularly for a while. I started walking on a treadmill and outdoors to improve my overall health and noticed after several months of doing so that I didn't hurt as much at work. I started out with 10 minutes of daily walking and gradually built up to 30 minutes. While I think some of my resulting weight loss helped my situation, I think that the resulting increase of circulation in my body was really helpful in decreasing my pain. The walking also helped to strengthen my back muscles, which also decreased my pain. It did take a couple months before I noticed a change with the exercising. Also, I never found an OTC pain reliever that helped me. Good luck!
April 1, 2005
0

found this helpful
Best Answer
You may be suffering from sciatica. Go to a reputable chiropractor and, if diagnosed with sciatic pain, he will probably recommend that you apply an ice pack to your buttocks for 15 min. to relieve the pain. Sciatica will cause pain in one or both buttocks, legs, and feet, and it's aggravated by prolonged standing, bending, and/or squatting.
April 1, 2005
0

found this helpful
Best Answer
In addition to these other great suggestions, here's some more. What you are needing is arch-support.
SOCKS= If you can wear socks, theres some with an 'arch support' around the middle that do wonders for the feet. They aren't expensive at all, I got mine at Target, 3 prs for about $5.00....
When I wore dress shoes to work in a department store, I bought a couple pair of mens knee-high black support-socks to wear and they really helped.
FEET-UP= Standing on our feet all day makes the blood 'pool' in our lower legs & by putting our feet up higher than our body, it helps it to UNpool.
Lying flat on my back with feet high up on the wall, with arms stretched out to the side for half an hour helps me tremendously.
SQUAT= with your armpits on your knees with your lower back rounded. Stay this way while it stretches your back muscles, then very slowly roll yourself up to standing, a friend taught me this & it really helps the back.
SHOES= if you are wearing dress shoes, look at the sole to see the shape of it, if it curves inward toward the arch & heel area, DON'T wear them, they will KILL your feet. Make sure the sole is flat all the way across the bottom. They are a little harder to find but they are out there. Even if you have good arches in your feet, you need arch-support in your shoes & socks.
SHOELACES= if you are wearing lace up shoes, loosen the shoestrings. Tie them loose enough you can slip them on & off without tying & untying. This is a tip a co-worker gave me when I worked in a factory, and he was right, it helps alot.
SOAK= in a warm tub of epsom salts. One co-worker told me she soaks in a warm tub with Clorox in it to kill the pain in her legs!
LOVING HANDS= not yours, someone else's :) Stretch out on the sofa with your legs in his lap while he very gently strokes your legs, HEAVEN! :)
MOVE= keep stirring around to keep the blood circulating & muscles limber.
Good Luck Sweetie, "This too shall pass".........
April 4, 2005
0

found this helpful
Best Answer
I had the same problem. It was so bad I could hardly walk when I got home from work. I went to a very good foot doctor who molded the arches of my feet and gave me inserts for my shoes. As soon as I put them in I didn't have pain anymore! It worked great. They are a lot better than the ones in the stores. They are customized to fit your feet and give you the support you need.
By guest (Guest Post)
April 11, 2005
0

found this helpful
I am a cooking teacher and must stand on a concret floor while teaching 3-2 hour classes a day besides cleaning and class preperation. I have a herniated disk in my back, neropathy in my feet legs, hips and back. I must keep working but suffer great pain which I am told will keep getting worse. I first went to a GOOD Nerologist and pediatrist. I had a full check up from both. I gave up trying to wear heals higher than two inches and then only once in a while never at work. Some people have problems with their feet and back that can be ajusted or made better by simple surgery. I don't have such luck and don't want to become dependant on heavy pain killers till my conditions get so bad that I must quit work. Several years ago I attended a pein clinic. I have made the following changes and use a form of modifyed yoga because I can't sit on floors or kneal on my kneas any longer.
It is so important that you get medical advice. before changing anything or trying new items that might hurt you rather then help.
I was advised to change the following:
I wear the best running shoes possable only til they begin to wear out. Usually I can get a good pair of Revock or nikes on a good sale. Do not scrimp on your feet.
I have an hour in the morning and one in the late afternoon when I have arranged my work day so I can do sitting work. The Nerologist recommended that I purchase a well made, well padded adjustable chair that I can sit on when working with the clients so I am not on my feet so much. I got my employer to purchase an erganomically correct chair for my heighth and counter highth. It is well padded, has arm rests and I can scoot around the counter work stations to work with the clients as needed. I also use it at my desk which is much better than the one I had. some say that this was too expensive, but my sick leave is way down and I never use all of the pain medication I am prescribed.
I also talked with the Nerologist about my desire not to become dependant on high doses of pain medication until the conditions got so bad that I had no other choice. She prescribed a timed released very low medication with another type of medication in a low dose for break through pain. I do take the timed release but rarely use the break through. medication. I am very greatful to have it though.
I put music on the cd player or in the computer and turn off the office lights a few minutes before the first and second classes. Take off my shoes and sit quietly with the music going and visualize my favorite place to go. (a mountain stream, my favorite room in the house etc.) I do this three times a day and for one hour at night just before I go to sleep. At night I also burn my favorite scented candle. Scents can help your mood, I find vanilla and sea breeze are the best for me.
Lastly, I lost sixty lbs. I have fought weight my entire life. I had to take a cordizone drug for a long time and gained sixty lbs. The nerologist orded a blood test for viteman b12. I was very low and suffered the side effects for as long as I can remember. You are supposed to have a level of 400 mine was 128. The nerologist began me on a shot a day for two weeks and then one every other day. In order to maintain my level I give myself a shot of b12 once a week. I have been doing this for almost five years now and have never felt better. I sleep better also. Go get a good physical from both a good Pediatrist and Nerologist before changing anything. You can change something and really cause serious damage to your self. You might also have Neropathy (damaged nerves This is not reversable but you can slow or stop the damage and the pain early if you get medical intervention.
Good Luck)
By guest (Guest Post)
April 29, 2005
0

found this helpful
I have tried the z-coil shoes and you are only wasting your money for a gimmick. The insert they sell at wal-mart are the best for foot pain.
By guest (Guest Post)
June 3, 2006
0

found this helpful
I LOVE YOUR ARTICLES, i WORK LONG HOURS A CASHIER IN A RESTURAUNT AND BELIEVE ME i SUFFER, i AM 66 AND HAVE BEEN DOING THIS FOR 23 YEARS.hEED MY WORDS GOOD SHOES, PODIATRIST,ORTHOPEDIC SURGEON AND ALL HAVE A HECK OF A TIME WHEN IT IS TOO LATE,,,,HELP i AM OLD BUT FAR FROM FINISHED, MY FEET SWELL,ITCH AND IN GENERAL HURT ALL THE TIME....HELP
By guest (Guest Post)
May 9, 2007
0

found this helpful
RE: dealing with foot pain. I'm 42 year old female had been pretty active all my life, ow ever lately I have some of the health problems, I have under gone over 10 major abdomal surgeries before the age of thirty six this is to mention those, getting to the feet pain I know from experience that the feet pain I'm currently suffering from now, I may be in need of just a comfortable pair of socks.
My feet pain was so bad that I ended up final going to the ER, it wasn't I decided to terminate the doctor that had been caring for me for past to years, that I realized that I had been neglected.
throughout this past 6-months I was not aware of the findings until lately that the foot pain could more related to kidney problems.the first ER visit the Urinalysis/culture showed 50,000> 100,000 negative rods of bacteria. antibiotics given for ten days/ second ER. visit do to flank pain, foot pain bladder problems, Er doctor did not run a culture off the because the PH only dropped to a 6 I asked him why he never ran the culture any way I had informed the nurse when I came in that I just got over a severe infection. he said he didn't know this so I open my records that I had with me and showed him the last test findings.
I said to him PH reading the lab got today doesn't mean that there is no possibility of a infection the test show PH 6 this is .5 off of the normal range. as he was looking at the past test he says I didn't know about your past infection. well there was no one to blame here the ER doctor actually would have ordered a culture if the PH had dropped to even 5.5 this how the medical decisions go. he realized at this point that I new better, so I said well doc you did your job you are making your decisions by what the lab results are.
unfortunately i still have reoccurring foot pain, and probably will see a neurologist, i will do more research this issue. if you can send additional information besides what is on the website.
send to Sharlene Peone
P.O. box 562
PAblo, M.T. 59855
By guest (Guest Post)
May 10, 2007
0

found this helpful
No one seems to have mentioned having a rubber floor mat behind your feet to cushion the impact if at all possible...and when I did a lot of sales, I would wear especially "cushy" flat shoes" and rotate them daily - and then massage my feet with a foot roller to keep them supple. Put them up as much as you can on breaks, etc....You really have to work on your feet/legs, as we were never supposed to stand around for those long hours!
Read More Answers