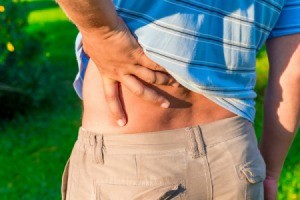 My mother has had severe back pain for the past 10 years or so. It tends to last for about 2 weeks and is caused by the smallest things, like washing dishes, walking outside, cooking, etc. She has been to many doctors, taken injections, and gone through physical therapy, and nothing has had any long term affect on her back.
She has gone through plenty of MRIs and they are always normal. So far, no doctor has been able to tell us what's wrong, but one thing we know is that the disks in her spine move a bit easier than healthy people. I cannot stand to watch her go through so much pain anymore.
My question: has anyone experienced this or knows any possible cures or diagnosis?
By roxy
Answers

December 31, 2010
0

found this helpful
Best Answer
I'm hesitant to post a suggestion, because I'm not sure what you mean by "the disks in her spine move a bit easier than healthy people". But I'll tell you my (short) story. My back would hurt if I stood for awhile, or went shopping (slow-paced walking). I realized it was my muscles knotting up. I learned a stretch that I do every single morning in bed before I get up; and my back rarely aches anymore. Here's the stretch: while lying flat on my back, I gently pull up one knee to my chest (I kind of 'hug' my knee to hold it in place).
I hold that for about 20 seconds, then gently lay my leg down again; then pull up the other knee. I make sure to be very relaxed while doing this, and don't pull harder than necessary.
If your mother went to physical therapy, she probably learned stretching moves too. She should continue those. It takes time, but I believe a lot of our aches and pains are caused by muscle knots and poor flexibility, and also poor posture. I wish her the best.

Lilac
Silver Feedback Medal for All Time! 450 Feedbacks
January 4, 2011
0

found this helpful
Best Answer
Her disks move because her cartelage is probably arthritic. I had the same problem and had surgery which fused two bones in my back. In your mother's case that would have shown up on the XRAY. I really think some physical therapy would help her. They will show her exersizes that will strengthen her muscles which support her spine. She will have to keep up the exercizes but they will help.

January 4, 2011
0

found this helpful
Best Answer
Besides the exercise, I recommend heat from a rice sock. I have made these for myself and several other people. Just take a tube sock, fill it with rice, and tie the end in a knot. Then put it in the microwave for a couple minutes. You'll have to figure out the time on your own microwave... mine takes 2 minutes. It is nice and hot, and stays that way for awhile.
But best of all is that it conforms to your shape!
Wrap it around your back, knee, shoulder, whatever aches. For an added pleasure, I have put lavender in with the rice. Then you not only get the heat, but some aromatherapy as well! :) I just bought a lavender sachet at Walmart and took the lavender out of it.

susan
Silver Feedback Medal for All Time! 472 Feedbacks
January 5, 2011
0

found this helpful
Best Answer
You can buy and "Inversion" table either online or at various stores. They come in different weight frames and sizes so you can find one that fits you even if you are 6'6" and 330 lbs. One type allows you to lay flat and another that you sit on.
Traction will allow the spine to realign and is very gentle; it will also help the muscles relax. With regular use, a person will feel much better.
Answer

this Question