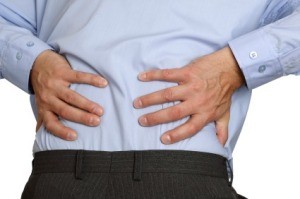 I work long hours and have a lot of pain in my feet, legs and lower back. Basically, I hurt all over! I wear insoles in my shoes (not custom), and take ibuprofen for the pain. Does anyone know how to manage my pain without so much over the counter medicine? Quitting my job is not an option.

Thanks :)
Aeromama
Answers
March 31, 2005
0

found this helpful
Best Answer
I am very sorry about your situation! It is terrible. Ideally, you and your co-workers would be able to get together in a union and make some changes (depending on what type of job it is, and what is causing the pain other than simply the hours), but I know this is hard, and you would need to take care of your back, legs, and feet regardless.
Here is my advice:
1. Wear good, supportive shoes or boots. They should fit perfectly, feel comfortable, and have thick rubber soles without high heels. Unless you need to wear steel toes for your job, avoid them, as they can be hard on your knees. If possible, alternate pairs of shoes from day to day. You need to let one pair air out before wearing them again.
2. Consider your socks. I own some good socks I ordered from Dr. Leonard's. They made from nylon and spandex and are called support socks. They are comfortably snug, and I find they make a genuine difference in how my legs and feet feel at the end of the day. They are 3.99/pair (cheaper if you buy multiple pairs), come in a few different colors, and are perfectly attractive as socks go. See if this link works:
www.drleonards.com/detail.cfm?EDP=10179208
3. Practice good posture. This will make a difference for your back.
4. Simply don't lift anything that is too heavy for you. It's not worth it, so don't risk it!
5. When you get home, try to elevate your legs and feet. Take off those socks I recommended so highly, and let your skin breathe. If you have actual swelling, alternate heat and cold. (For example, put a very warm--I would say hot but I don't mean you should burn yourself--washcloth on the swelling for a few minutes, and then switch to an ice pack.) If there is no swelling, just let someone give you a massage! It will feel great. Let them bring you a nice cup of herbal tea, too. You've earned it!
April 1, 2005
0

found this helpful
Best Answer
You may be suffering from sciatica. Go to a reputable chiropractor and, if diagnosed with sciatic pain, he will probably recommend that you apply an ice pack to your buttocks for 15 min. to relieve the pain. Sciatica will cause pain in one or both buttocks, legs, and feet, and it's aggravated by prolonged standing, bending, and/or squatting.
April 1, 2005
0

found this helpful
Best Answer
In addition to these other great suggestions, here's some more. What you are needing is arch-support.
SOCKS= If you can wear socks, theres some with an 'arch support' around the middle that do wonders for the feet. They aren't expensive at all, I got mine at Target, 3 prs for about $5.00....
When I wore dress shoes to work in a department store, I bought a couple pair of mens knee-high black support-socks to wear and they really helped.
FEET-UP= Standing on our feet all day makes the blood 'pool' in our lower legs & by putting our feet up higher than our body, it helps it to UNpool.
Lying flat on my back with feet high up on the wall, with arms stretched out to the side for half an hour helps me tremendously.
SQUAT= with your armpits on your knees with your lower back rounded. Stay this way while it stretches your back muscles, then very slowly roll yourself up to standing, a friend taught me this & it really helps the back.
SHOES= if you are wearing dress shoes, look at the sole to see the shape of it, if it curves inward toward the arch & heel area, DON'T wear them, they will KILL your feet.
Make sure the sole is flat all the way across the bottom. They are a little harder to find but they are out there. Even if you have good arches in your feet, you need arch-support in your shoes & socks.
SHOELACES= if you are wearing lace up shoes, loosen the shoestrings. Tie them loose enough you can slip them on & off without tying & untying. This is a tip a co-worker gave me when I worked in a factory, and he was right, it helps alot.
SOAK= in a warm tub of epsom salts. One co-worker told me she soaks in a warm tub with Clorox in it to kill the pain in her legs!
LOVING HANDS= not yours, someone else's :) Stretch out on the sofa with your legs in his lap while he very gently strokes your legs, HEAVEN! :)
MOVE= keep stirring around to keep the blood circulating & muscles limber.
Good Luck Sweetie, "This too shall pass".........
April 4, 2005
0

found this helpful
Best Answer
I had the same problem. It was so bad I could hardly walk when I got home from work. I went to a very good foot doctor who molded the arches of my feet and gave me inserts for my shoes.
As soon as I put them in I didn't have pain anymore! It worked great. They are a lot better than the ones in the stores. They are customized to fit your feet and give you the support you need.
Read More Answers