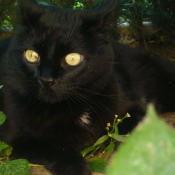 This is a picture of one of our girls, Cecilia, sitting deep in our backyard garden. She spends hours chasing flies and sleeping under the sunflowers. She always keeps a watchful eye out for anyone who dares get close to her flowers. We always know where to find her during the summer months, she never leaves the yard. She just loves her garden.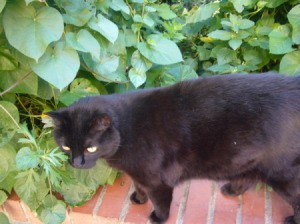 By angelarog from Queens, NY
Ad
---
Feedback Forum
Feedback about this article is posted here. Want to contribute? Click above to post feedback.

By Robyn Fed [388]02/11/2012
Cecilia, you are a perfect example of why black cats are so amazingly beautiful. They simply rule! Look at that happy expression! You are beautiful Cecilia!

Here is a photo of Jerry, with my Christmas Bells I ordered from Oriental Trading Company this year to give to the kids. Jerry is a frequent poser in my photographs, but prefers to keep his eyes closed even though I do not use flash. LOL He is a stinker, and he too, enjoys watching outdoors!

Blessings,

Robyn from East Tennessee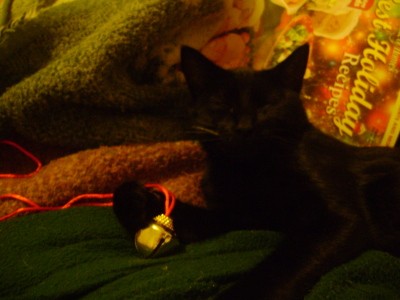 Post Feedback
Add your voice to the conversation. Click here to share feedback.