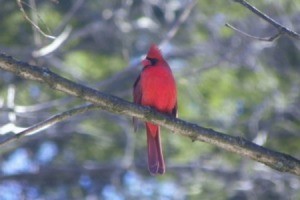 I happened to look out my kitchen window yesterday, and saw this beautiful cardinal sitting there posing for me!
By Toni N.
By Toni
Ad
---
By sally mazgaj [31] 04/05/20110 people found this helpful
Wow!
What a lucky lady you are, great photo!
Photos
Below are photos related to this guide.
I captured this photo with my cell phone looking through our French doors outside one morning as this cardinal was just coming off one of our log feeders and was in flight with its wings wide open. I was truly amazed that I captured the shot with my cell phone. It landed on the rocks below, shortly after I shot this picture, and then went back to the log feeder for more food before flying away.
We have three log feeders in our front yard that we keep filled year around so that the birds will hopefully not snack on our fruit trees in the backyard. So far so good. :)
By lovingnature from TN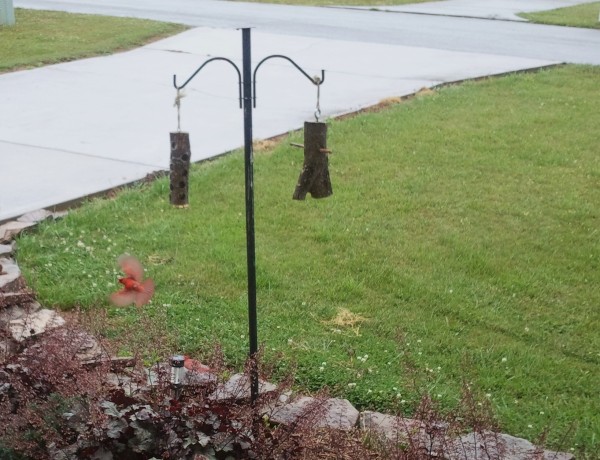 This bird was right outside my window, just sitting there. So I grabbed my camera and started snapping photos. I got about five or six shots before he flew away!
By Terri from PA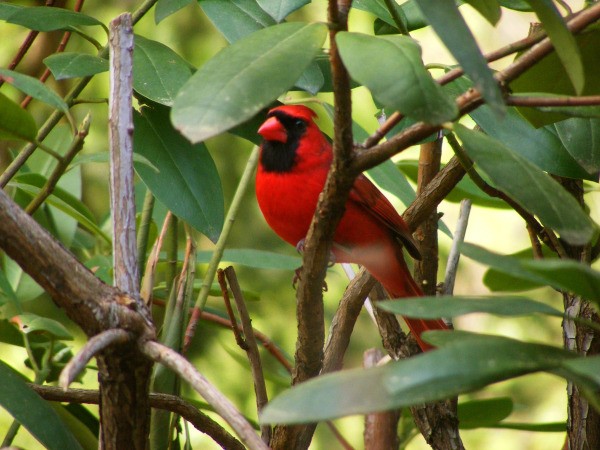 Archives
Thrifty Fun has been around so long that many of our pages have been reset several times. Archives are older versions of the page and the feedback that was provided then.
This is my Red Cardinal that stays in our old shed out back. He comes back every year in the Winter. He only stays in the shed at night, he does have a mate in a nest in my Bamboo next to the shed.
We put out seed and water for him. During the day he is gone, but returns to the Old Shed at night, maybe to watch over his mate.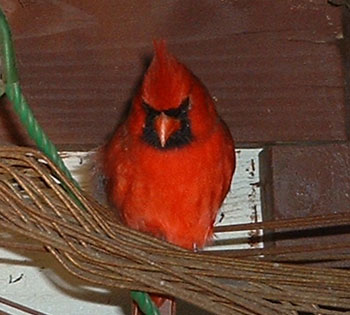 By hamp2468
---
RE: My Shed Cardinal
Wow, what a gorgeous bird! You are blessed to have him nest with you! (06/30/2006)
By Carrie
RE: My Shed Cardinal
He is beautiful. You are so lucky to have him. (07/01/2006)
By kathleen48
RE: My Shed Cardinal
Thanks so much to both of you for your nice replies. I do feel very Lucky and Blessed. This pic was taken at night, the temp. was 29* outside in S. Georgia. (07/01/2006)
By Sherry (hamp2468)
RE: My Shed Cardinal
Thanks for sharing the picture of your cardinal. They're my favorite birds. We had them back home, but here we don't have any. Thanks again! (07/02/2006)
By badwater
RE: My Shed Cardinal
The cardinal was one of the first birds I learned from my father. They are one of the few birds I can recognize by their song. Since my Dad died whenever I see one, I see it as a good luck sign. You are very lucky! (07/05/2006)
By Lynn
RE: My Shed Cardinal
We are also blessed with cardinals. What beauty. I love to watch the parents with their fledglings. As far as you having bamboo, do you find it's a problem? I am trying to find some, it's so expensive. Where do you live? Would you mail shoots? I live in NJ. Val (07/25/2006)
By valery
***
*** This was taken in our yard. The wind blew down the feeder and my favorite cardinal and his mate had fun eating out of the bird feeder on the ground.
By Linda from Erial, New Jersey
---
RE: Wildlife: Cardinal Photos
Linda, I love the picture! What kind if bird is that on the arm? Thank you for sharing :-)
Jennifer, Northern Virginia (05/08/2009)
By ILuvDobes
RE: Wildlife: Cardinal Photos
I was also wondering what that bird is on the arm. I live in Canada and have one of those hanging around with the English Sparrows. (05/08/2009)
By catastrofy
RE: Wildlife: Cardinal Photos
The bird on the arm is either a house sparrow or a purple finch, depending on the depth of coloration and the area in which he lives. We, here in south Georgia, have only house sparrows, but they're equally beautiful. Mr. and Mrs. Cardinal saw a good thing and took advantage of it, didn't they?! I love seeing them, and the assorted finches and sparrows, flying around my feeders. Have a lovely day and God bless you! (05/09/2009)
By tedsmom
RE: Wildlife: Cardinal Photos
The bird that hangs around with my English sparrows has dark orange on it's head and throat, and light orange, fading to tan on it's back. The feathers on it's back, that I saw when it spread it's tan wings, were deep orange. The rest of the body is tan, never seen one before. (05/09/2009)
By catastrofy
A couple of cardinals at our home.
By Bobby
---
RE: Wildlife: Cardinals
Bobby, these are not cardinals :-) They look like the common house finch to me. Nice photo of the pair enjoying the afternoon together! (05/28/2010)
By IvieThorn
RE: Wildlife: Cardinals
A very pretty picture of the birds! I have cardinals in my backyard, but they don't look like yours. I live in PA so maybe they look different in your state. Good photo. (05/28/2010)
By Indianone
RE: Wildlife: Cardinals
They are a rose finch or some such name. (05/28/2010)
By solus
RE: Wildlife: Cardinals
I think these are finches too but not to worry! I had a brain fluff just a few weeks ago and submitted a Blue Heron calling it a Pelican even though I knew it was a Blue Heron ;-) Love your photo! Thumbs up! :-) (05/28/2010)
By Deeli
RE: Wildlife: Cardinals
These appear to be house wrens. Cardinals have pointy top head and very red beaks. (05/29/2010)
By koppenhaver
RE: Wildlife: Cardinals
The male cardinal is red all over. The female is less red all over. These are house finches. (05/30/2010)
By Janey
I followed, and finally saw the elusive cardinal in our backyard! He was very hard to get any pictures of, he was feeding his young who were in the maple tree. A nice family to join us!
By Laurie
Cardinal having a snack at the bird feeder.
By Lovingnature
---
RE: Wildlife: Cardinal
What a beautiful picture! we don't have cardinals here in the Pacific NW; I enjoy seeing the beauty of them! Thanks for sharing! (09/27/2010)
By MzScarlett