Heading out to a pet care store to buy your dog toys gets expensive. These toys are easy to make. You can use different material, make different shapes, and each toy can cost you less than a dollar! (And don't mind that the picture doesn't look as neat as when you first make it. My dog couldn't even wait for it to be finished before grabbing it.)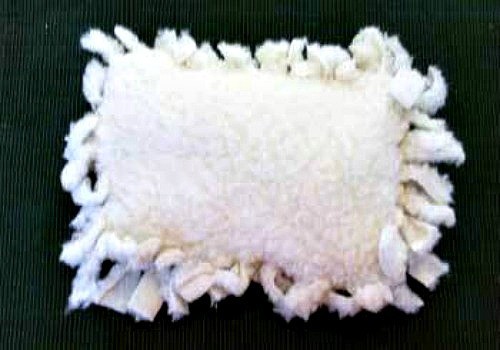 Supplies:
fabric remnant of fleece (fuzzy or flannel types both work) that allows for two pieces 12x12 inches for small dog, 16x16 inches for medium dog, or 24x24 inches for large dog
fiber fill or quilt batting
fabric scissors
dog
Directions:
Cut out two squares based on the size of your dog (see supplies for measurements).
Place fabric wrong sides together.
Cut slits from edge inward 1 to 1-1/2 inch wide and 3 to 4 inches long around all four edges of fabric.
Knot each slit of fabric to the same slit on the other piece, but leave 3 to 4 inches open on one side so that you can put in the batting.
Stuff with batting or fiber fill.
Once it is stuffed to your satisfaction, knot the remainder of fabric.
Then, let the dog go at it. They love to throw it around or chew on the knots.
Ad
---
By Brenda (Guest Post) 07/28/2005 Flag
What a great idea, I never thought of the plastic in the middle before & I think my new puppy will really enjoy this, along with the older dogs!
By rosa (Guest Post) 08/21/2005 Flag
This really neet ! But my doggie is a ripper. LOL she would eat it in a minute.
I also use the legs of jeans when we make cut offs. I draw out big bones sew and stuff. our precious just loves them.

Lori
By Shari Dewey 5 11/05/2005 Flag
Our dogs would rip this up too but have a grand time doing it. I go to the dollar store to buy their toys. I learned the hard way, though. Spent $8 on a toy that they had tore apart within the day. As soon as a new toy comes into the house, Lucy and Tara have to play tug-o-war with it. And these are Lab mixes so they are big with lots of pulling power. ;-)

I have started to take all of my husband old work t-shirts to make pull toys out of. I cut them up both sides and across the shoulders, cut off the sleeves then tie the two pieces together and add lots of knots. They love it.
shari
By Fee (Guest Post) 10/14/2008 Flag
You really shouldn't give a dog the chance to ingest plastic, this can lead to blockages and the death of the dog!
By Deb (Guest Post) 11/27/2008 Flag
VERY DANGEROUS! If fabric can fray in any way, it's ingested & not necessarily eliminated. Dogs have died even from playing with the heavy duty rope tug toys! The threads accumulate in the intestines causing blockages & rotting of the intestines. Very life threatening & very costly vet bills!