Chaze Cinco Reyes is 12 weeks old Catahoula. I found Chaze at a local animal shelter. As soon as I saw him, I fell in love. Chaze loves to play with his brothers Jaxs Alejandro and Oliver Riley. He loves messing with his sisters (cats); Cadberry Juanita Bonita, Splotchio Bolochio,and Gracie Jane. He loves to get a hold of his mother's shoes (lol).
The shelter was not going to let me adopt Chaze, because he was so young. But I had adopted Oliver Riley there, about three months ago. I was willing to to adopt a pup, even though he is possibly deaf in one ear, and blind in one eye. He may not be physically perfect but, in my eyes, he is perfect all the way around. He melts my heart.
By Sandra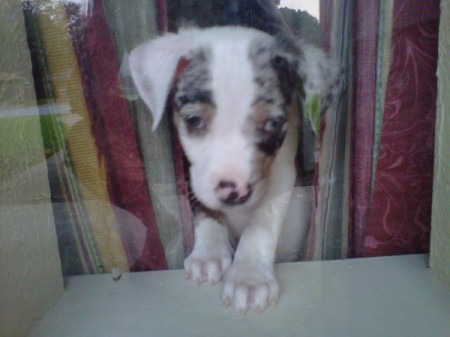 Add your voice! Click below to comment. ThriftyFun is powered by your wisdom!
Chaz Cinco De Mayo Reyes is a 6 month old Catahoula. I got Chaz when he was 6 weeks old. He is blind in one eye and deaf in one ear. He did not have a chance; the animal shelter was gonna put him to sleep. As with all my dogs I looked into his eyes and fell in love. I had to rescue him. Chaz loves to play with his brothers Jaxs Alejandro and Oliver Riley. He enjoys the pool also. He is quite a swimmer. I love my boys.
I lost Gentle Benjamin in February 2011 (he was 18) when we had to put him to rest. That left me with Heinken. He was 11 and Jaxs was 2 years old. So then we adopted my black lab Oliver Riley. We lost Heineken to congestive heart failure two months after Benjamin. Jaxs and Oliver really needed a brother, so I adopted Chaz.
After reading posts on my picture regarding Benny, you can see that I have a lot of time and love to give. When I saw Chaz, I had to take him. I was basically his only way out of there and his only chance of survival. He comes from a breeder that did not want him. As you can see his head is mostly white. Catahoulas that are mostly white have a high likelihood of being blind or having other issues so they are tossed aside.
This little boy is amazing just like my Jaxs (who was given to me from a young girl that could not provide for him) and Oliver Riley (he was at a shelter). So I would like to introduce to you my fabulous trio Jaxs (my Shepaherd), Oliver Riley (my black Lab), and Chaz Cinco De Mayo (my Catahoula).
By Sandra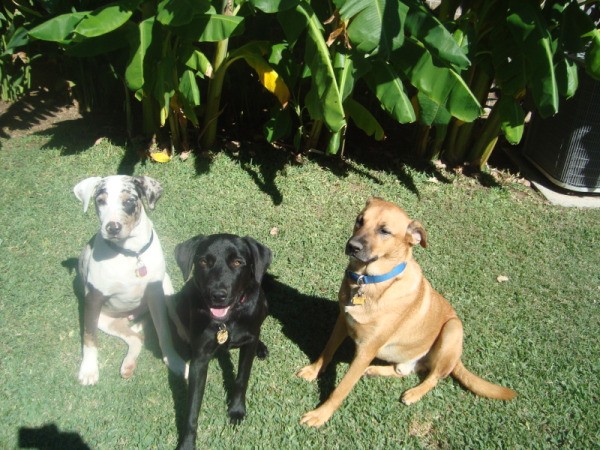 October 29, 2011
0

found this helpful
Looks like you have a wonderful family there. I have 3 dogs also and they bring much love to you. I have never lived a day of my life without dogs or cats
October 29, 2011
0

found this helpful
Thanks, Sandra, for rescuing an innocent little pup who would have otherwise met a terrible and undeserved fate. Every life is precious, and now he will live his out with a family who loves him! I hope you have many happy years with Jaxs, Oliver & Chaz!
November 2, 2011
0

found this helpful
These are absolutely beautiful dogs. I am so glad they have you for a Mommy