I acquired a huge can of stale ground coffee from my workplace (Kirkland brand) and am wondering what I can do with it besides the usual recycled tips I've found online (ie. garden, compost...) My boss says the can has been there for about 2 years and only been used once.

What I'd like to do is perhaps brew the grounds (maybe adding salt or cinnamon?) but am wondering if anyone has any crafts or other recipes I can use for this. It's almost 3 lbs of it so I'd hate for it to go to waste! I also acquired free packages of Decaf coffee, but those are sealed to make one pot and will give those to the food bank. Thank you!

Lisa from Halifax, NS
December 12, 2008
0

found this helpful
http://www.thriftyfun.com/tf16625730.tip.html
This is fun and useful. I love all the others! I make died tea fabric, but coffee workes great, too.
If the coffee is still good, you can donate it. If not, just put it in a ziplock baggie with a hole or two in the top and hang it from the pantry or back porch, mud room, etc. In about a week or two, it smells incredibly sweet!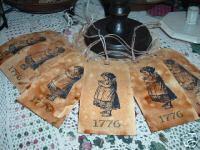 December 14, 2008
0

found this helpful
You could pour a little in the bottom of a knee-high, tie it off and put it in your vaccuum cleaner bag if your vaccuum uses bags. It smells nice when you vaccuum. I use herbal tea bags that I didn't care for like this.
December 15, 2008
0

found this helpful
I certainly would try a pot of it and see how stale it really tastes. Isn't going to waste much time, money or effort to try. Also, by mixing it with fresher coffee it may be fine. I keep my coffee in the fridge once it is opened, which "experts" don't recommend, but it is just fine!
December 18, 2008
0

found this helpful
Give it to me! I am not kidding. I'll brew it and drink it. For some reason, I can't tell the differnce between what you call a 'fresh pot' coffee and one that was left cold in the pot for a day or two. I have been a tea-drinker (with adder sugar and cream) all my life. I am told not forgo adding sugar--so I am using coffee--black, fresh or old, it's all the same to me but it's better than sugarless tea.
December 28, 2008
0

found this helpful