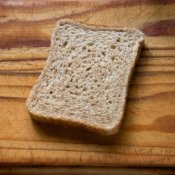 Use up odds and ends of any kind of bread by mixing eggs, milk, vanilla, or other flavor (however you like your french toast) and then add all your bits and pieces of bread to the egg mixture. If it all falls apart, that's ok, because you will scoop it up and cook it in your waffle iron that's been heated and sprayed with a no-stick cooking spray. You'll have the easiest and best tasting waffles ever.
Source: I found a huge pack of hamburger buns that were really stale and I didn't want to throw them away. They provided us breakfast, lunch, or dinner for about a week!
By Linda from Adrian, MI
Read More

Comments
Hi, I am looking for uses for stale bread. I thought that would make a nice Brainstorm. Anne

Answers
January 28, 2003
0

found this helpful
The first thing that comes to mind is stuffing...and the second would be Old Fashioned Bread Pudding..or French toast. You can find many recipes on the internet for any of these foods. And then, of course, you can whiz it into crumbs in your blender or food processor or even the old fashioned way..with a rolling pin, and use it to bread pork chops, fish, chicken, fried eggplant, fried green tomatoes.. Well, everyone, are you hungry yet? *grin*
Harlean P.S. Welcome back...you have been missed.
January 29, 2003
0

found this helpful
Actually most of FRENCH TOAST recipes call for stale bread vs. fresh bread. Make bread crumbs by putting the stale bread in a food processor or a blender in small amounts @ a time. Also croutons are great to make from stale bread. I use stale bread soaked in a small amount of water & then squeeze the water out & use them in your hamburg mixture to make either Italian meatballs or a nice meatloaf. Hope these tips help. If you don't have time to do any of the suggested things donate the stale bread to the birds in your yard or a park. They will be ever grateful. Good luck.
January 29, 2003
0

found this helpful
Croutons are the easiest (and very yummy) way to use up old bread. Throw the ends of bread into a bag in the freezer until you can fill a gallon freezer bag. Take them out, cube them, and toss with a 50/50 mixture of butter and olive oil. I also throw in some Italian spices and crushed garlic to keep them interesting. Toss well and quickly, so that the bread is coated but doesn't absorb too much. Spread on a rimmed baking sheet and bake at 350 for about 15 minutes or so. Test one for "crunchiness". Cool, then store in an airtight container or freezer bag. My family snacks on these so we save money on chips!
Pam
January 30, 2003
0

found this helpful
Bread pudding is my favorite, but you can also make great croutons. Any kind of bread will do, french, wheat, even old biscuits. Cut in bite size pieces, dizzle with melted butter, sprinkle with your favorite spice....garlic, parmesan cheese, parsley, etc. bake for about 15 minutes, stirring every 5. Let cool, and pack in zip-lock or jars. My son loves them on his salad. - Anonymous
By Claire from Brooklyn (Guest Post)
April 7, 2004
0

found this helpful
Panzanella Salad
Ingredients:
2 cups of heirloom tomatoes
1 small cucumber, peel and dice or slice

1 small red onion, thinly sliced
1 cup of fresh basil leaves, torn into small pieces
½ cup of extra virgin olive oil (or as needed)
3 tablespoons red wine vinegar or to taste
8 pitted olives
salt and pepper
6 - 8 slices of coarse country bread
Preparations:
In a bowl, combine the tomatoes, cucumber, onion, and torn basil.
Drizzle with ½ cup or 4 oz. oil and 3 tablespoons vinegar and season with salt and pepper. Toss well to coat evenly.
Cut or tear the bread into bite sized pieces. Place half the bread in a wide shallow bowl. Spoon on half of the vegetables. Cover and refrigerate.
Toss the salad, then taste and adjust the seasoning. If there is more bread left add a little more oil or vinegar.
Garnish with a few basil leaves.
Serve immediately.
By joesgirl (Guest Post)
April 21, 2004
0

found this helpful
If you do not care to use any of the other suggestions for your stale bread, throw it to the birds. They have to eat too.
By Tawnda (Guest Post)
May 4, 2004
0

found this helpful
Some of you may have used a cracker or rice in your salt shaker to prevent moisture from balling up your salt in the shaker, I have also used bread to do this, but you have to have a larger opening to get it in there.
October 6, 2004
0

found this helpful
if you smother it w/ gravy or hamburger helper you might never notice -
My folks always used up the stale cookies or cake that is drying up by making an instant pudding & spoon it over layers of broken cookies or cake - sometimes if she had strawberry glaze - she swirled some on top --the cookies & cake soaked up the pudding & it was really pretty good stuff !
She went to a lot of pot luck suppers & this was one of their favorites !Ya might like this link - has lots of ways w/ the stale bread ! www.cooks.com/.../128
November 20, 2004
0

found this helpful
Don't throw out stale bread or buns. Keep in baggie in freezer and use to make dressing or bread pudding.
By Anne
November 21, 2004
0

found this helpful
Sometimes I just give the bread (even if there are one or two tiny spots of mold on it) to one of our two dogs. They love bread. Same with moldy cheese, they love cheese too.
November 24, 2004
0

found this helpful
Use bread that is not as fresh anymore for a number of recipes in the kitchen. It can also be used to feed the birds and squirrels outside this winter!
By Robin
January 2, 2005
0

found this helpful
I put stale bread in a double ziplock bag and put in freezer and add to it as i get more stale bread. Then when I want breadcrumbs, I take out the frozen bread and grate it up. If I want cubes for dressing, I take out what I need and cube it up. You can toast them crumbs or cubes in a low tempature oven if you want.
Read More

Answers