Kozmo (Persian Cat)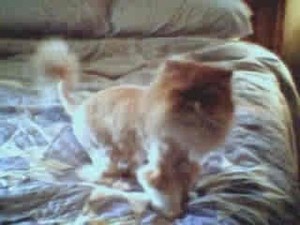 Kozmo is a 4 year old Pure Bred Persian cat. A friend got him for me 3 years ago. He likes to stand in the kitchen sink and look out the window, something he is not supposed to do, lol. He is so cute when he boxes with my sister's cat.
By Sheri from Stockton, CA
By krafty sheri
Feedback
Read feedback for this post below. Click here to post feedback.

By
10/10/2008
I am giggling because my first cat, Niki, was also a Persian and I had to clipper her fur down every Spring to help control fleas (lived by the beach and those darn things always found her even though she never went outside) but I never left pom-pons on her tail or on her feet/legs and clippered her neck, too, cause I didn't want her to look like groomed Poodle ;-) LOL!

Kozmo is quite cute but I wonder what he thinks of his Poodle cut ;-)
Post Feedback
Add your voice to the conversation.