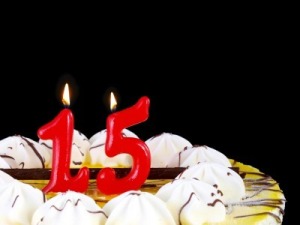 I'm turning 15 on February 6th and I have NO CLUE what to do! If anyone has any CHEAP ideas please let me know!

Brittany from Springfield, MO

Answers
By Darlene (Guest Post)
January 25, 2008
1

found this helpful
Best Answer
Hi brittany, if your mom is going to help you do a lot of the planning, you could do a scavenger hunt party at the mall. Just divide your friends into 2 or more groups and each team has to find the predetermined (by your mom) items.
Other ideas could be a PJ Party, Dance Party, Karoake Party. just put inexpensive foods out like bowls of chips, 3 liters of sodas, you could do pizza, popcorn, hotdogs. Don't worry about decorations, your friends don't really care about that. if you want, you can do cake and ice cream. I would suggest cupcakes because then someone doesn't have to cut the cake and it's less messy. also, then you wouldn't have to buy plates and forks. A cake mix will make 24 cupcakes. Happy birthday and good luck!
By bailegirl (Guest Post)
January 28, 2008
0

found this helpful
Best Answer
In Hispanic Culture, a girl's 15th birthday is her "coming of age", her quincenera. Look around hispanic stores, and sometimes dollar stores in areas with a large hispanic population will carry special things that will have the number 15 on them, and are fairly inexpensive.
Although, some families spend a LOT of money on these parties, it can be done for less. You could simply take the theme, and have Mexican food -- as simple as nachos or boxed taco dinner, or more elaborate. You can find lots of recipes on the web! Good luck, have fun, and Happy Birthday!
Answer

this Question

I am turning 15 on March 6th, 2016 and I have no ideas on what to do. I know it is only January, but it takes along time for me to plan and to get everything verified.
Please help me I have thought about inviting 7-8 people over to hang out, watch a few movies, and eat snacks, but so many people have been doing that lately.
Answers

poehere
Bronze Post Medal for All Time! 105 Posts
January 9, 2016
0

found this helpful
Best Answer
Why don't you make some pizza dough, get some topping, and have a make your own pizza birthday party. Each person can make their own pizza to eat at your party.
You can also try to do a video game challenge to see who wins the game or scores the highest. if you have a Wii try to do a bowling challenge.

August 28, 2016
1

found this helpful
Best Answer
Well I'm turning 15 on the 2nd of September n I thought of great ways to spend my birthday with my 10 closests friends.
Eating at a restaurant
Bowling
Cinema
Shopping
Cupcake making party
Slumber party
Laser tag
Go karting
Answer

this Question

I am turning 15 in a month and I am having a spa day. Also, 8 of my friends and I are going to my grandparents' house and having a garden party. What could we do at the garden party?
Answers

May 19, 2015
0

found this helpful
Best Answer
Depending on your Grandma's age, I bet she would have a lot of good ideas of what to do at a Garden Party. From what I have seen and read in books, it appears they sit around in elegant clothes, eating delicate sandwiches, fancy cookies, cakes, etc.
and having whatever drinks are age appropriate, and gossiping.

Louise B.
Silver Feedback Medal for All Time! 337 Feedbacks
May 23, 2015
0

found this helpful
Best Answer
Croquet is a game that people played at garden parties. If you can't find a croquet set, you could cobble one together by using golf clubs as the mallets (just putters, probably, although use what you have or can borrow), golf balls, and making some hoops out of wire or cut out of plastic jugs or something. You might also find some other sorts of lawn games -- bocce ball, lawn darts, etc. Google "lawn games" for ideas and rules.
Answer

this Question
Okay so I'm turning 15 on June 15th and my parents said I can go anywhere I want, but I do some of the same stuff every year. I want to do something unique that I have never done before. Please help. I want my guest to have as much fun as I will :D
By Victoria C.
Answers

June 18, 2012
0

found this helpful
Best Answer
How about an Amusment Park or Water Park? Or Paint Ball? Or Mini-Golf? Or a Spa Day? with a BBQ or Pizza's & Ice Cream Sundaes to Follow? Whatever you decide-Have a Fun Birthday! : D
Answer

this Question

My birthday is July 12 and I am turning 15 and have no idea what to do. Can anyone help? It needs to be fun for my boyfriend and for my best friend.
By Sami from Prineville, OR
Answers

June 28, 2011
0

found this helpful
Best Answer
Try soaking t-shirts in water, fold or crumple them up and store in Ziplock bags in the freezer. Have a contest on who can get the t-shirt on first. Or fill a lot of water balloons, take them to a park or back yard, add a few water guns/super soakers and have an Easter egg hunt style water balloon hunt and water fight.
Answer

this Question