20 Uses for Lemons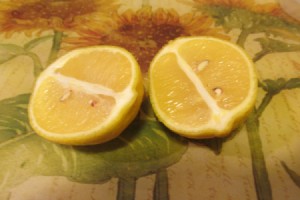 Tips on keeping lemons fresh or uses for lemons and a few lemon recipes.
I wash and dry fresh lemons. Cut them into wedges and de-seed them. Toss them into a freezer proof bag or container.
Whenever I need a lemon in my drink, I add the frozen wedges. No need to thaw, use them frozen. If you need lemon for cooking/baking, take the wedges out of freezer and let thaw a bit.
I have my best results keeping lemons fresh (even halved) by wrapping first in good paper toweling, and then in wax paper, and keeping them in my fruit bin.
I enjoy having cut up lemon in my Coke, lemonade, water, etc. However, often before I get the whole lemon used up, it becomes brown and soft.
Now I quarter each lemon slice, lay it in a single layer on a cookie sheet, freeze,. Then I put them in a zip lock bag and return them to the freezer. I can buy lemons now when they are a good price, and freeze them and keep them handy!
I love lemons, if for nothing else other than for a facial astringent and putting down my garbage disposal. I also like to use them on my salmon (fish) and in water. Once they get too ripe, that's what I use for cleaning.
With all of this in mind, this is how I freeze them. Slices need to be cut, put on paper towels to soak up not all the wonderful juice but the extra that makes it almost impossible to enjoy once you take them out of the freezer. I make a slit in those before I freeze one. That way if you want to use it on a glass it's easy; I put it there before they are totally thawed out (some get limp if too thin).
The ones you are using in quarters or halves do exactly the same thing. Don't squeeze them after you cut, just let them rest a couple minutes on something that absorbs. This way it's not sticky and messy when getting out of the freezer.
Of course wash before starting to get ready for freezing. I find using before totally thawed lemon is best. Unless you are going to just squeeze them over salmon (fish) or for lemonade in the winter, then you can just wash, cut in two and put in a bag. I cut off a corner of a baggie and squeeze right through the bag to avoid any extra mess. You still can go back for the pulp.
I slice all my lemons. Then I will wrap two or three slices together in Sarah Wrap. You can wrap more if you like. When I need lemon slices I just take out one of the little packages and the lemons are as fresh as when I sliced them.
Do not wrap all your lemon slices together because you will have one big frozen lemon ball.
I juice my lemons and put one cup at a time in zip lock bags for lemonade and recipes. If you freeze lemon juice in ice cubes, and then take the cubes and put a number of them in a zip lock bag, you can take out small amounts when you need them.
I also freeze the rinds in a bag. If I need lemon zest, it's easier to grate when the rind is frozen. I also put the flush frozen lemon rinds down my disposal with hot water to fresh my disposal and kitchen. If you freeze your lemons, you'll have them available whenever you want them.
I take the lazy way out - I freeze lemons and limes whole, untouched. I find that when I thaw them, they are easy to squeeze, and give a lot of juice. I buy them when they are on sale, and then I have them on hand at all times. I have never had a problem with doing it this way. It's so much easier than juicing a dozen or more lemons or limes, and I think I get a lot more juice out of them this way.
Fresh lemon juice and lemon zest can be pretty pricey most of the year, but I eliminate this consideration by freezing the juice and zest when lemons are on sale.
You can buy lemons in the winter when they are cheap and freeze the juice in ice-cube trays. One ice-cube section equals about 1 tablespoon of juice.
Squeeze all the lemons until you having nothing but juice, get rid of all seeds. Pour the juice into clean ice cube trays and freeze cubes until solid. Store lemon cubes in a Ziploc freezer bag and now you have cubes to make a pitcher of fresh lemon aid. Place the lemon cubes in a pitcher and defrost, then add cold water and some sugar to taste.
My husband and I purchased a whole box of fresh lemons from a fruit vendor at a flea market and a friend told me about juicing the lemons and freezing the juice in ice cube trays.
Authentic Italian Ice

2 cups water
1 cup lemon juice (2 lemons plus reconstituted juice to yield 1 cup)
zest of 2 lemons, cut very fine
2/3 cup sugar

Heat water and sugar to boiling. Simmer for 5 additional minutes. Remove from heat; stir in lemon juice and zest. Cool to room temperature. Divide mixture evenly among three tubs. Freezer until firm. Shave; scoop into small cups and serve with a spoon or straw. You may wish to garnish with a small thin slice of lemon.

Instant Lemonade

You can mix 4 cups of lemon juice with 4 cups of sugar and stir to blend the mixture. Then put in a plastic tub and keep in the freezer. You can scoop a tablespoon or two anytime (the mixture does not freeze hard, but stays soft because of the sugar) in a tall glass and add cold water to make yourself an instant lemonade or dilute a greater amount in a pitcher for a crowd.
Add your voice! Click below to comment. ThriftyFun is powered by your wisdom!
January 15, 2017
1

found this helpful
Lemons are ridiculously priced. I think you are smart to buy them on sale. And more smart to find so many uses for then. Ever thought about growing a couple small trees of your own?
January 22, 2017
1

found this helpful
My neighbor got a lot of lemons from her tree this year. She brought a small pail of big juicy lemons over yesterday. Love your idea about the Lemonade. I am definitely going to try that and cut some and freeze them. Thanks---tip came at the right time.
January 14, 2018
2

found this helpful
I have a recipe for lemon pudding that uses 2 lemons, grated and juiced. I get plenty and do this and freeze it. When I'm ready for the pudding I take out one of them and it thaws while it cooks. The recipe: lemons from above, 14/c c cornstarch 2 c water 2 tbsp butter1 c sugar and 1/8 tsp salt . cook till thick and temper into 2 egg yolks return and cook till thick. pour into bowls and enjoy. May use for pie as well
Add your voice! Click below to comment. ThriftyFun is powered by your wisdom!
Published by ThriftyFun.
© 1997-2021 by Cumuli, Inc. All Rights Reserved.
https://www.thriftyfun.com/20-Uses-for-Lemons.html