Keeping Salt from Clumping in the Shaker
Solutions
Share on ThriftyFunThis guide contains the following solutions. Have something to add? Please share your solution!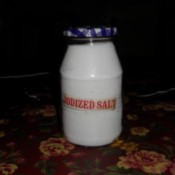 When I first moved to Houston in the early 80s, I learned about Houston's legendary humidity. I also learned that what it said on the Morton's salt box about "When it rains it pours" wasn't true. Raining or not, salt doesn't pour easily in Houston.
I took an empty Smucker's grape jelly jar and poured it full of salt, then cut off the portion of the label which read "iodized salt" and scotch taped it in place. The purple gingham checked lid makes it look nice and my salt never gets clumpy and hard. All this happened in 1982 and my salt jar is still sitting on my counter. At the time I did this, Smucker's only put the company name on the jar label and the lid was solid gingham checks making it more attractive to reuse their jars.
By Marty from Houston, TX
July 24, 2011
0

found this helpful
To keep sugar from clumping put a saltine cracker in the sugar bowl.
Read More Comments
To keep salt from caking in your salt shaker, put a few toothpicks in. You will never have to tap your salt shaker again before using.
To prevent salt from clogging with moisture, I put 1/4 teaspoon of dried parsley leaves into the salt shaker. I then add the salt. It works every time.
Don't throw away a hard box of salt. Beat it with a hammer. It can be used in the winter for melting ice. Add it to a bag of salt for melting ice.
Source: I got it from experimenting.
By Ellen Lou S. from Knoxville, TN
October 17, 2009
0

found this helpful
I thought of another thing as I was going back to today's tips. Storing powdery spices in shaker jars above the stove cabinets is not the ideal place to store such. Steam is hard on them. Especially the powdered or granulated bouillon.
Read More Comments
When your salt shaker doesn't want to work for you, you can solve the problem by adding dry rice in with the salt. This way your salt won't ball up in little balls. I always put rice in the shaker every time I refill it up.
By mamacrafter from TN
March 28, 2011
0

found this helpful
I have a funny story to tell you about this one! When I was in my 20's I needed to earn some extra income so I worked at a really nice restaurant on Sunday's serving brunch. We would put rice in the salt shakers because the restaurant was right on the lake and using the rice kept the moisture out of the salt. Anyway, one morning one of my lady customers started wigging out and yelling at the top of her lungs that there were bugs in her salt shaker! I was totally embarrassed wondering just how to diffuse the situation because everyone in the restaurant was staring.
Well, as I was trying to explain to her that is was simply rice used to soak up the moisture a bunch of other customers were checking out their salt shakers and started laughing. Whew! The woman ended up being the one embarrassed and I felt really badly for her but all was well and ended well. ;-)
I add a few pieces of UNCOOKED rice to my salt shaker. You will never get clumps again!
May 10, 2005
0

found this helpful
Keeping Salt Running Free... To keep salt from drawing moisture and hardening into chunks put a few grains of rice in the bottoms of the salt shaker.
Read More...
Archives
ThriftyFun is one of the longest running frugal living communities on the Internet. These are archives of older discussions.
March 27, 2011
0

found this helpful
Today someone requested a tip for keeping salt and pepper shakers and sugar flowing. Put some rice in the shakers and it will keep the salt and pepper and sugar flowing. I do it and it works.
By Raymonde from North Bay, Ontario
Answers:
Add Rice To Avoid Clumping in Shakers
Rice is great for salt and pepper but use a soda cracker in your sugar. That is what we did in our cafe. (09/25/2008)

By rosemarie
Add Rice To Avoid Clumping in Shakers
I had forgotten all about this tip! When I was in my early 20's I worked at a restaurant on a lake serving Sunday brunch for extra money. The restaurant did this because of the moisture from the lake water in the air. Anyway, one morning a woman called me to her table and loudly and indignantly scolded me for maggots in the salt :-o I wanted to die of embarrassment! I was trying to explain it was rice but couldn't get a word in during her rant. God Bless the older gentleman at a table next to her who got her attention, opened the lid on his salt, dumped some out on the table and put a few pieces of rice in his mouth! LOL! (09/25/2008)

By Deeli
Related Content