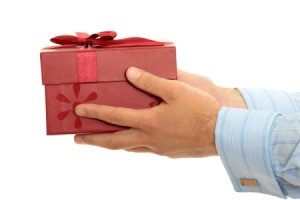 My parents are having their 30th wedding anniversary in late March. I don't have a lot of money, but would like to do something special. I have 2 brothers and a sister who would also help. What would be a nice gift or should we give them a party?
By Tifani
Answers

February 11, 2001
0

found this helpful
Best Answer
How about a gathering of friends and do a "mock wedding" for them -- sort of like renewing their vows only not done by a clergy. I did one for my folks for their 45th anniversay and was so glad I had because they were looking forward to their 50th and passed away shortly before that time. We made up some comical questions about their life together and then proceeded with the vows. We used a black graduation gown as the clergy robe, a veil made out of a curtain, and a rolling pin with a bouquet attached for the bride. We had a homemade "wedding cake", computer "marriage license" and the neighbors gave them a live tree for planting (as a remembrance) and the tree had white paper doves on them.
Each dove had a five dollar bill fanned as a tail on the dove. You can also have some kind of "punch" to toast them. You can expand this idea a lot if you just think about it. Ours went over so well that it even had a writeup in the local paper. We did a lot more things but once you have the idea, I am sure you will come up with ideas of your own.
You could even send out "wedding invitations" to the guests, but be sure to tell them that the wedding will be a surprise for your parents -- that's the best part of it! The will love it!

June 12, 2006
0

found this helpful
Best Answer
As half of a couple married forty-two years, I can tell you that nothing is as important to us as our children and grandchildren. The photo albums are a great idea. Our children did this on my husband's birthday and I overheard his brothers say they wished someone would do that for them. Perhaps you could hire an amateur photographer to take a family portrait in their yard or living room, with everyone dressed in some coordinating way, i. e. one color, all white, all sports theme, all formal clothes, etc.
Take lots of shots, have them printed cheaply and have the best one enlarged and frame in a garage sale frame. I think most one-hour places in drug stores will send them off and in about two weeks you can have a poster size for under thirty dollars. Another thing we would really love is a night or two at a rustic location with everyone there and us to have no responsibilities but to play. And no cell phones.
how about making a set of 3 photo albums from you and your siblings. Each of you could do a decade of their marriage. It would take time, but not too much money. The effort would likely really be appreciated.

February 11, 2001
0

found this helpful
I would like to add another thought to the 30th anniversary party. You can do a "shotgun" wedding as we have done on other occassions. The best man would carry a "toy shotgun" and deliver the groom to the clergy.
Then the bride comes out with her veil on and the rolling pin bouquet. You can also have a "guest book" for your folks to cherish later.
Read More

Answers