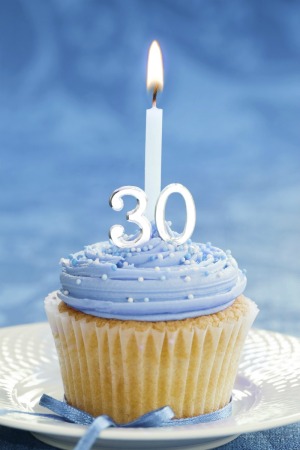 My husband is turning 30 and we are new in our city. We don't have too many friends here. How can I make his day special?
By Smitha from Los Angeles

Answers

Lee Taylor
Bronze Feedback Medal for All Time! 171 Feedbacks
April 7, 2010
0

found this helpful
Best Answer
Why not do some research about L.A. and type up "30 Fun Facts about L.A." You would both learn more about your new city. Include some history about the city and fun places to go see. Maybe include in the card that you will go exploring and visit 30 great places in L.A. That way his birthday will last for months. You can go to funky, local restaurants, cool art galleries, parks, tourists sites, museums, etc... You'll have fun together and make many memories and laughs! Have fun!

April 7, 2010
0

found this helpful
Best Answer
Do thirty little things to surprise him or make him happy. Starting with a good morning kiss , breakfast, messages written and tucked into a pocket you know he'll use, pick him up for lunch and do a picnic or restaurant that's at a new location.
You get the picture. It could last all day (and into the night! lol) Have fun. Do things he likes to do. Skype with old friends back home.
Answer

this Question

My boyfriend's 30th birthday is in January. He is the most genuine, sweetest person, always ready to help out anyone. He deserves a great party and at times has hinted he wants a party with all his friends and family (100+). I need help in how to achieve all this with a small budget.
My house will not accommodate everyone one so I am considering renting the local Legion Hall, but how can I make it extra special? Any thoughts or ideas will greatly help. He is into cars, not a sports guy, and just likes having a good time. Thanks
Jessica from New Jersey
Answers

September 29, 2008
0

found this helpful
Best Answer
Three keys to a great party: a) food, b) music - happy and danceable, c) a mix of people who can talk and are reasonably sociable. The shy ones should be in the minority.

September 29, 2008
0

found this helpful
Best Answer
Here in Salem OR, we have a shop called Craft World. There, you can get a card that says what everything was the year he was born...price of food, gas, fashions, tv, politics, fads...etc. It's fun to look back. Also, you can gather shots of him growing up, have it scanned to a cd and play it on the computer, as a slideshow. If you want, narrate each photo, or have others do some like his friends, family.
If he loves cars, you can make the theme be that and have everyone help decorate with hubcaps, horns, tires, and all things cars. Have fun, and he will too. Good luck!
PS: If you google "fake newspapers" you can find lots of companies who will make a news paper the day he was born, with stories of his life and the times/place where he was born.
Answer

this Question

How can you celebrate a 30th birthday when you are away from family and friends. Flying is too expensive right now. How can you make it a big bang with just you and a spouse?
I am looking for fun ideas. I feel it will end up being too "anniversary" like, if its just the two of us. Please help.
By sara from Bay Area, CA
Answers

susan
Silver Feedback Medal for All Time! 472 Feedbacks
February 8, 2010
0

found this helpful
Best Answer
We've always enjoyed going somewhere or doing something that we've put off. How about the aquarium, a museum, the zoo, a movie, a park, a hot air ballon ride, a restaurant, adopting a pet, finding the perfect pair of jeans, even painting a room. A birthday doesn't mean you have to have a party with relatives. As you grow and mature, relatives move or have other responsibilities; life is constantly changing.
Find ways to embrace those changes since you have no control over them. If you are set to have cake, take it to work with you to share with coworkers or invite neighbors over for dessert. I'd not mention your birthday ahead of time though, or they'd think the invite was a just you expecting gifts rather than you offering the hand of friendship. What is your perfect day? Maybe just sleeping in, soaking in the tub, getting a massage or your hair done, relaxing and reading a good book. No matter how simple, make it about you and enjoy it.
Answer

this Question
My boyfriend is turning 30 in December. I'm having trouble figuring out party ideas. He's really into video games and zombies. If I have a zombie party at a hall can I invite his family members? I also want to try and keep the cost low, but am beginning to feel like this is impossible for Long Island.
Any help you can give would be greatly appreciated!
Thanks!
By Crystal
Answers

December 6, 2014
0

found this helpful
Best Answer
I think you should only invite the family members that have fun. Then have a small get togther so that the family doesn't feel left out.
To keep it on a low make him think y'all are going out to eat.
Answer

this Question

My husband is turning 30 in a few months and I would like to throw him a party. He is into guns and computers, any creative ideas?
By Pup

Answers

June 29, 2015
0

found this helpful
Best Answer
Well, when my husband turned 30, I secretly booked a trip for only 2 us. Unbelievablely, He was so supprised at me and we had a happy moment there. You may try it or other ways, such as a meaningful gift.
Answer

this Question