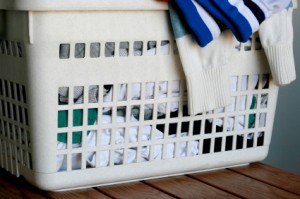 I have known many friends and family that have had problems with getting their home as nice as they wished. There was not a parent around to teach them, due to work or illness. The plan is to make a list of the kinds of areas in the home and the things the family needs and wants. I helped a new mom by visiting her 2 to 3 times a week. I taught her to organize using a basket, big garbage bags and sticky notes.
To collect and clear things, first take the garbage bag around and pick up garbage and waste. Some people throw away bottles and cartons but we are encouraged to recycle them. Do this collecting in every room. Next, the basket is for laundry to be collected and put in laundry area to do later. After that, take the basket again and this time collect toys to return them to the rooms so the children can put away their toys. Once the basket is empty again, it is time to collect the dishes. Most homes have cups and glasses all over the place so do not do the dishes until collecting is done.
The sticky pad is for reminders where some things go back to, mostly major items. Start with tools, games, cords, first aid, pet items. There are always things like this that get around and lost if there is not a dependable return place.
Now look around the home and see how much you have cleared away and how easy it is to clean now. You will be happy to see how 25 minutes can get most of your home clean. The organizing slowly improves with the spots named and the family can see how things are supposed to be. This is leading by example. There are many young people with a family that get feeling sad about the home and need some slow simple instuctions to reclaim the nice things and feelings about home life.