I have a deck on the back of my house and at night it's pitch dark out there. I don't like to turn the porch light on because it attracts mosquitoes, etc so bad. And citronella candles don't do a thing to repel them either.
So I came up with a great idea. I took the tiny Christmas lights, and strung them under the railing all the way around. It gives a nice soft light, without attracting the bugs. Also lights up the steps just enough so the dogs and us are able to go up and down without falling. Now it's really nice to sit out there at night.
By the way, I want to thank Deeli for her idea of lighting her way around inside and using green lights. The green ones would be even nicer on my deck too.
By Cricket from Parkton, NC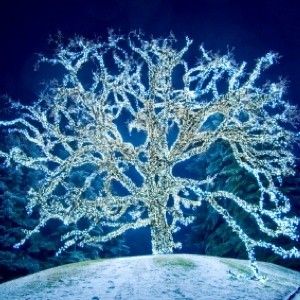 There's something about a garden lit up at night that draws people in and makes them feel warm and cozy, especially during the long dark nights of winter. Lighting can turn a landscape that appears, cold, hard, and barren, into a landscape that is soft, inviting and full of visual interest. Here are some tips for using light to warm up your winter garden until the heat of summer returns.
Frame Your View:
Use your windows as a guide to positioning your lights so that you can enjoy them from indoors. Instead of trying to light your entire garden, focus on two or three things that will serve as focal points (trellises and arbors, shrubs and trees, fences and benches, sheds and outbuildings). For both safety and aesthetics, you'll also want to light the path that leads from the garden to the door of your home.
Highlight Architectural Shapes:
Winter can create what seems like a barren landscape in the garden, but the lack of greenery can actually reveal some striking architectural details that normally go unnoticed when trees and shrubs are covered with foliage. Use a few well-placed lights to highlight the interesting shapes and branching structures of your trees and shrubs. Strings of lights look great when they are positioned at the tip of an evergreen and allowed to cascade down the sides. Drape a net of lights over bushes and shrubs to outline their round shape, or outline the crooked, twisted branches of a small deciduous tree with strings of mini lights.
Use Different Lights To Create Different Effects:
For example, garland lights add an eye-catching effect when draped from porch and deck railings. Rope lighting works well to outline the shape of garden beds, and creates an interesting effect when wrapped around columns or formal sculptures.
Avoid Using Colored Lights:
Using white lights have two advantages over using colored lights. First, in the winter, white lights will enhance the effects of the light already being reflected off of the snow making everything seem that much brighter. Second, white lights create a neutral backdrop so you can enjoy them all year long and not worry about taking them down after winter. A neutral background also makes transitioning through different holiday seasons easy. Just add illuminated silhouettes like snowflakes, stars, hearts, pumpkins, or strings of colored lights appropriate to each holiday.
Save On Energy Costs:
LED lights use far less energy than conventional outdoor lights. They also burn cooler, which means when they come into contact with foliage, it won't burn as easily. Attaching lights to timers will also help cut down on energy costs. If you're buying new LED lights, look for products that come with built-in timers.
Go Solar:
Solar-power lights can be used in hard to reach areas or areas where no electric outlets are available. They also use zero electricity and come with a built-in timer--the sun! Once thought of only as "path" lights or spot lights, solar powered lights have come a long way. They now come in multiple colors and shapes (even snowflakes), they can be static or blinking, and they come in strings or nets.
Stay Safe: Make sure you use lights and extension cords that are rated for outdoor use. Avoid attaching multiple strings of lights to a single outlet, which may overload the circuit. To make decorating easier and reduce the number of cords per outlet, try using a multi-outlet extension cord. They come with three to six inline outlets spaced every eight feet along the length of the cord.