Adding Lighting to Your Garden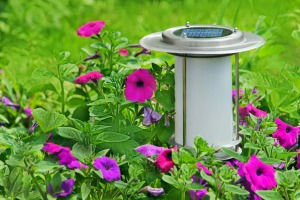 Garden lighting can be used to illuminate a path, spotlight a special plant, or add seasonal interest. This is a guide about
adding lighting to your garden.
Solutions
Share on ThriftyFunThis guide contains the following solutions. Have something to add? Please share your solution!
I have a deck on the back of my house and at night it's pitch dark out there. I don't like to turn the porch light on because it attracts mosquitoes, etc so bad. And citronella candles don't do a thing to repel them either.
So I came up with a great idea. I took the tiny Christmas lights, and strung them under the railing all the way around. It gives a nice soft light, without attracting the bugs. Also lights up the steps just enough so the dogs and us are able to go up and down without falling. Now it's really nice to sit out there at night.
By the way, I want to thank Deeli for her idea of lighting her way around inside and using green lights. The green ones would be even nicer on my deck too.
By Cricketnc from Parkton, NC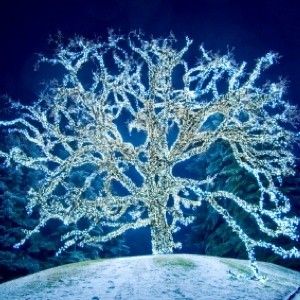 There's something about a garden lit up at night that draws people in and makes them feel warm and cozy, especially during the long dark nights of winter. Lighting can turn a landscape that appears, cold, hard, and barren, into a landscape that is soft, inviting and full of visual interest. Here are some tips for using light to warm up your winter garden until the heat of summer returns.
Frame Your View:
Use your windows as a guide to positioning your lights so that you can enjoy them from indoors. Instead of trying to light your entire garden, focus on two or three things that will serve as focal points (trellises and arbors, shrubs and trees, fences and benches, sheds and outbuildings). For both safety and aesthetics, you'll also want to light the path that leads from the garden to the door of your home.
Highlight Architectural Shapes:
Winter can create what seems like a barren landscape in the garden, but the lack of greenery can actually reveal some striking architectural details that normally go unnoticed when trees and shrubs are covered with foliage. Use a few well-placed lights to highlight the interesting shapes and branching structures of your trees and shrubs. Strings of lights look great when they are positioned at the tip of an evergreen and allowed to cascade down the sides. Drape a net of lights over bushes and shrubs to outline their round shape, or outline the crooked, twisted branches of a small deciduous tree with strings of mini lights.
Use Different Lights To Create Different Effects:
For example, garland lights add an eye-catching effect when draped from porch and deck railings. Rope lighting works well to outline the shape of garden beds, and creates an interesting effect when wrapped around columns or formal sculptures.
Avoid Using Colored Lights:
Using white lights have two advantages over using colored lights. First, in the winter, white lights will enhance the effects of the light already being reflected off of the snow making everything seem that much brighter. Second, white lights create a neutral backdrop so you can enjoy them all year long and not worry about taking them down after winter. A neutral background also makes transitioning through different holiday seasons easy. Just add illuminated silhouettes like snowflakes, stars, hearts, pumpkins, or strings of colored lights appropriate to each holiday.
Save On Energy Costs:
LED lights use far less energy than conventional outdoor lights. They also burn cooler, which means when they come into contact with foliage, it won't burn as easily. Attaching lights to timers will also help cut down on energy costs. If you're buying new LED lights, look for products that come with built-in timers.
Go Solar:
Solar-power lights can be used in hard to reach areas or areas where no electric outlets are available. They also use zero electricity and come with a built-in timer--the sun! Once thought of only as "path" lights or spot lights, solar powered lights have come a long way. They now come in multiple colors and shapes (even snowflakes), they can be static or blinking, and they come in strings or nets.
Stay Safe: Make sure you use lights and extension cords that are rated for outdoor use. Avoid attaching multiple strings of lights to a single outlet, which may overload the circuit. To make decorating easier and reduce the number of cords per outlet, try using a multi-outlet extension cord. They come with three to six inline outlets spaced every eight feet along the length of the cord.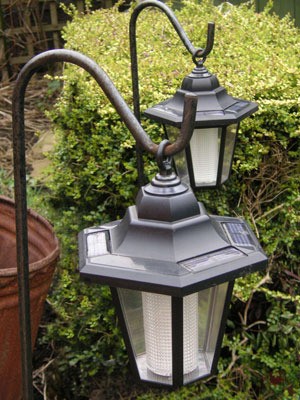 Lighting plays an important role in creating an outdoor environment. The trend towards creating beautiful, functional outdoor living spaces means finding lighting options that are both practical and aesthetically pleasing. Fortunately, homeowners have more options for outdoor lighting than ever before. Unfortunately, all those choices can make planning a lighting strategy for your landscape a bit confusing. Here are five tips for illuminating your outdoor space.
Take Time to Design
You've probably also seen boxes of inexpensive pathway lights stacked near the checkout at your local home store. They are often placed there for a strategic reason-namely to get you to make an impulse purchase as you walk out the door. Too often, outdoor lighting is treated like an afterthought. You drive by someone else's yard at night and see the charming lamppost or lights illuminating the walkway and decide you want to add some lighting to your landscape. Before you start, take time to think about how you use your space. Start by sketching out your landscape on a piece of paper. Pencil in as much detail as possible-noting how you use each part of the space. Where do you walk, sit and eat? Where are the focal points? Are you concerned about safety? How will the placement of light affect your neighbors? Will lights near the vegetable garden attract pests? Do you want to light up a water feature? After dark, grab some flashlights and head out to the garden. With the help of a friend, start playing around with your ideas.
Incorporate Flexibility
It's a good idea to incorporate some flexibility into your lighting design. Garden landscapes are dynamic. As your landscape continues to evolve over time, your lighting needs may change. A specimen tree you light up now may be ten feet taller 10 years from now. Installing fixtures with swivel mounts or several beam angles will make adjusting to changes a breeze. Also, as the seasons change, a frosted or color lens may be more desirable than a clear one. Take advantage of lighting that can be repositioned or relocated to other parts of the garden. The old way of thinking suggests that when designing with outdoor lighting, only the light cast from the fixture should be visible and never the fixture itself. This is no longer the case. Now there are many beautiful lighting options that serve double duty as garden art and lighting.
Be Considerate of the Environment
Keep environmental concerns in mind when designing lighting for your landscape. Bear in mind that many plants, animals and insects are strongly influenced by light cycles. Certain plants rely on a period of darkness each day to perform certain plant functions. Some may not grow optimally when photoperiods are extended beyond normal.
Lighting also takes energy and outdoor lighting is a luxury. Use energy-efficient compact fluorescent bulbs and solar powered lights when possible. Install timers to save energy and reduce light pollution. If you're concerned about safety and break-ins, keep lights on around lower level doors and windows and consider installing a home security system.
Less Is More
The easiest mistake to make in designing outdoor lighting is overdoing it, either in wattage, in the number of fixtures or by trying to light up too many features. Bright lights are for Broadway and outdoor sporting events. Think about the garish lights in department store dressing rooms and how they illuminate every little flaw. The same is true for plants. Use bulkhead luminaries only for security reasons-your plants will thank you. Keep the focus on one or two focal points and a few pretty accents to avoid distracting from your landscape's true beauty.
Consult A Professional
Outdoor lighting comes with its own lingo: low-wattage, line voltage, voltage drop, transformers and terminal blocks. Make sure you educate yourself with the basics before you get started. Now your limitations and when it's time to call in a professional. Not only can outdoor lighting add to the safety and aesthetics of your landscape, but it can truly expand your living space and add significant value to your property.
Related Content