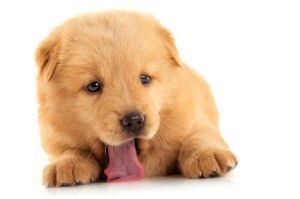 Where can I find a golden retriever chow mixed puppy?

Nicole from Worcester, MA

Answers

July 12, 2009
1

found this helpful
My daughter has a rescue retriever - chow. It may be shiba-enu chow, but can't be sure without a DNA test. She is wonderful but a little strange at times, but I think that is from her prior life rather than her mix. The pic is right after a summer cut.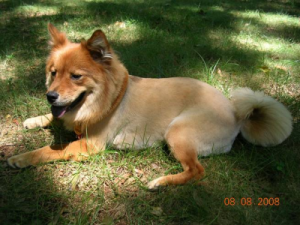 August 16, 2009
1

found this helpful
I rescued this dog, "Purty" along with her 2 pups from a waste water treatment plant last week and they were in pretty rough shape. They were treated by Cape FearAnimal Hospital and she is up to date on all shots and vaccinations. Her pups have been placed in a home and she is now spayed. I've been working with Columbus County Humane Society which if the dog is adopted, it will be through them.
"Purty" is approximately 18-24 months old and super friendly. She was obviously owned by someone at one time because she's so sweet. My guess is someone dumped her when they found out she was pregnant. She is currently on an antibiotic due to her malnourishment and a developed bacterial skin infection. It is looking much better already in 2 weeks time. She is very mellow, but might act a bit timid at first.
Please call or e-mail if you or anyone you know could help by fostering/adopting "Purty." Thanks so much!
910-538-2983 Robin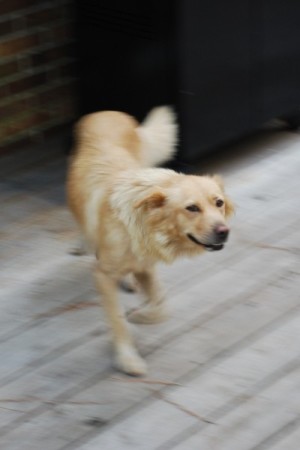 September 14, 2009
1

found this helpful
Just had to add my sentiment that this is a wonderful cross. My Golden/Chow mix is sweet, very affectionate, but just a bit stubborn like a Chow.
A wonderful dog, I would recommend this cross and only wish we could see more of them.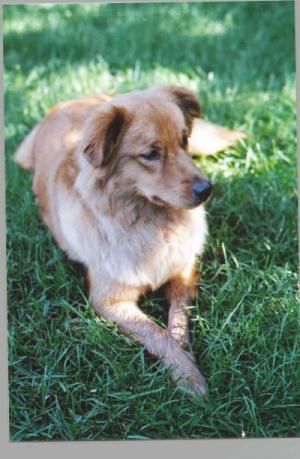 September 20, 2009
0

found this helpful
Hi- our Chow Golden is Willie! He is 6 years old and an incredible dog. I will tell you as a puppy we had to do obedience as he was a reckless, stubborn, maniac who had absolutely boundless energy. We live on a lake and he loves the water, cars- and other dogs. He is very social and likes people- especially little kids. He loves to water retrieve and goes for hours. I also have a chow collie cross and he too is an incredible dog who is now 8. My third is a Chow hound cross who, a female who is an absolute sweetheart. She is 12. All of them were adopted as rescues from the shelter. I wouldn't get a dog any other way!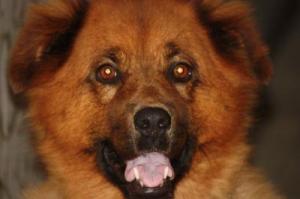 September 25, 2009
0

found this helpful
This is my chow retriever mix, Pea` (payuh) which means bear in Hawaiian. He pulled the chow look but the retriever personality. He's 8 now but 4 in this picture and still looks the same. I love this dog like no other. He is part of the family.
He's very loyal. Friendly but protective when needed. I can't keep him out of the water or away from balls. He goes nuts for both. I personally think this should be a new breed, it's a wonderful mix!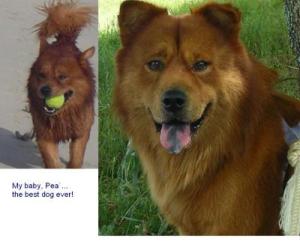 October 17, 2009
0

found this helpful
We adopted "canyon" from a shelter, he is golden/chow mix. He's the best. We don't know how old he is, but by far, best dog ever. He's not too active, talks by growling, won't venture far from us when off his leash. I recommend this mix breed highly!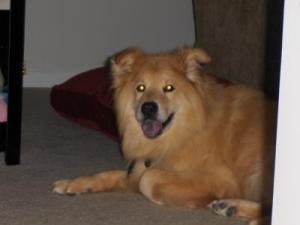 October 20, 2009
0

found this helpful
He is beautiful. I have a chow border golden mix and she's the best dog I have ever had. She's very stubborn about stuff, but is extremely smart and loyal.
She also talks by a growling, anoyed sound when she wants something.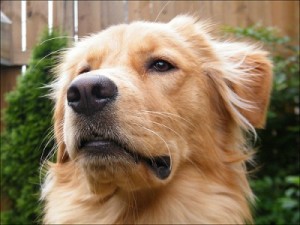 October 29, 2009
0

found this helpful
The animal shelters are the best bet for mixed breeds. Here is a picture of my Golden Retriever Chow mix. He is now 8 years old and one of the best dogs I have ever owned.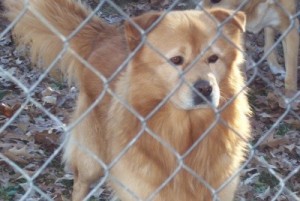 June 25, 2010
0

found this helpful
This was Brady. We lost him about a month ago due to illness. He looks so much like these Golden Retriever Chow Mixes, I had to add him to this post.
He was my best friend, so good with my kids that he will be hard to replace. If I could find another one of this mix, I would definitely grab it up.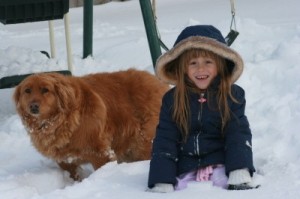 July 11, 2010
0

found this helpful
The one on the left is Angela. I adopted her from a shelter at 6 months old. Great personality and obedient dog.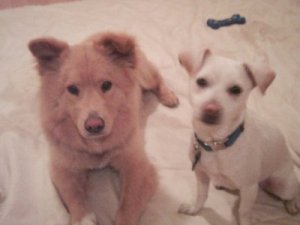 July 18, 2010
0

found this helpful
Muffin is a Chow/Golden mix. She is gentle and sweet,perfect in the house, my best friend, and great with my grandchildren and all children. Yet she is very protective of me. She inherited the best from both breeds.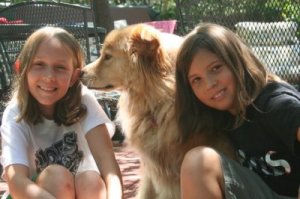 Read More

Answers