Where can I find a Golden Retriever Chow mixed puppy?

Nicole from Worcester, MA

Answers:
Golden Retriever Chow Mix Puppy
You should check with some rescue groups. They have lots of animals who need homes and they actually work with them to make them as adoptable as
possible. You can do a general search on the internet for ones in your area. I don't know why you want that particular mix. Just make sure, if
you haven't yet, that the breed's personalities are a match for your home. Also, know the dog's level of energy, whether he or she is kid
friendly, gets along with other animals, does or doesn't like to be held and a lot of other stuff if it's applicable. (11/01/2006)

By Me
Golden Retriever Chow Mix Puppy
try Petfinder.com (12/10/2006)

Golden Retriever Chow Mix Puppy
We have a Golden Chow and she is by far the best dog I have ever had. She is afraid of alot of men too, but follows me around everywhere I go.
She is very much a pack dog and thinks that my wife and I are the leaders of the pack. I love this dog. (07/29/2007)

By Dustin and Pookie
Golden Retriever Chow Mix Puppy
I found our Golden Chow at a local shelter thanks to Petfinders. She is highly intelligent, very obedient, friendly with people and other
animals. She has the best traits of both breeds. In the house she is calm and quiet, but outside she is fun and action, an all around great
companion. Is a deliberate mix, a "designer dog" or just fortunate accidents? Either way I would recommend this combination to anyone.
(09/02/2007)

By Tara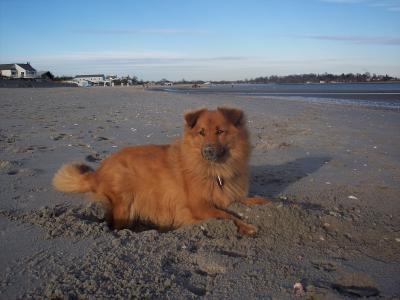 Golden Retriever Chow Mix Puppy
I had a Golden/Chow for 13 years. He was the best dog ever. And I've owned several. We got him at 10 months from a guy who was moving to an
apartment and couldn't keep him. He joined my husband, 3 grade school age kids, an old German Shepherd, and a noisey Guinea pig. He was shy at
first, but once he "adopted us" everything was fantastic. I do a lot of hiking and have been unable to find as good as companion as Mr.Hobbes.
He barked very little, fell in behind me when we met a horse or bike, pointed deer for me because he knew I like to photograph them and even
pointed people if I needed to leave the trail for a pit stop. None of this was "taught" he was just helping, which was he's favorite thing to
do. (11/21/2007)

By Billie
Golden Retriever Chow Mix Puppy
I love my mix. He is 3/4 Chow 1/4 Golden with mostly Chow features and a Golden personality. He is the sweetest dog, very mellow, and gets along
great with my 8 pound Papillon. Here is a pic of him at 10 months. He is a year and a half now. (05/30/2008)

By Faye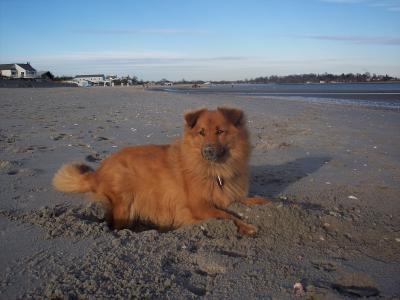 Golden Retriever Chow Mix Puppy
I think the Golden/Chow mix dogs are the prettiest dogs out there. Too bad the AKC doesn't recognize them. They are beautiful, loving and very
intelligent dogs. They have the guarding instincts of a Chow and the companionship of a Golden. Here is my buddy, his name is Shepper. Love to
get another someday. Gotta love the black tongue. (06/10/2008)

By Janice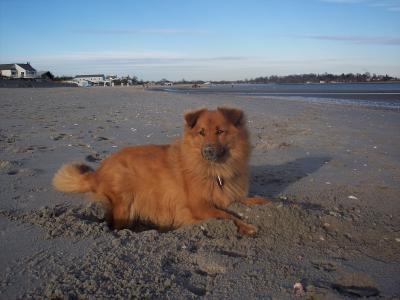 Golden Retriever Chow Mix Puppy
I have had 2 purebred Goldens and thought they were great. But then Beau came into our house. Just love this guy. He does not run off, sticks in
the front yard or campsite. Loves to let us know when something is not quite right. And has been very protective of my teenage daughter, just
ask her boyfriends, yet he is very loving, and loyal. He actually pushed one of the boys off the coach. Worth his weight in gold. (06/16/2008)
By Bodacious Bodega Beau the Boat Dog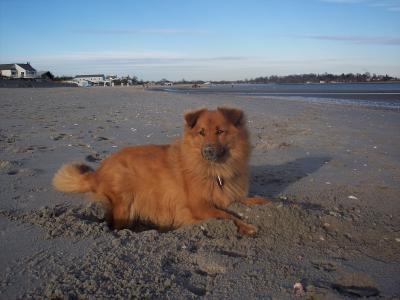 Golden Retriever Chow Mix Puppy
My Chowtriever, as I like to call her is named Love, because I adopted her from the local pound on Valentines day '07. My friend has a Chow
Golden mix and I just absolutely love her dog so when I found Love I knew it was meant to be. I grew up with purebred Goldens, but I couldn't
have designed a better pet than her. She is about 2 1/2 now. The pound didn't have any back story on her and I searched for days to make sure no
one was looking for her. I just don't understand how anyone could have let her go. (08/04/2008)

By Minda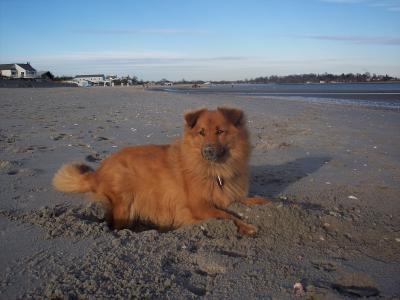 Golden Retriever Chow Mix Puppy
This is MoJo, his mother is a purebred black Chow Chow and his father is a purebred Golden Retriever. He is black like his mother but has the
curly hair like his father. He is such a sweet boy and everyone just loves him. He is now 13 weeks old and weighs 28lbs, he has massive front
paws and I believe he will be a large dog when grown (80 lbs possibly). Here is a picture of MoJo sitting in my daughter's car seat (he thinks it
is in the car for him.) (10/02/2008)

By Maggie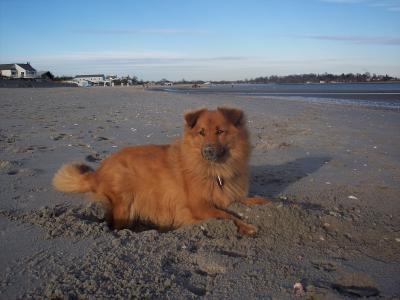 Golden Retriever Chow Mix Puppy
We adopted Summer from a local shelter. She had been adopted out once and brought back almost a year later, unbelievable. We are absolutely in
love with our "Chowtriever". She's so great with kids. She doesn't chew on anything and she only barks when someone approaches the house.
She looks like a Retriever but acts like a ChowChow. She is a bit aloof with strangers, she only does things that make sense to her (she only
does tricks for food ) and she can be super stubborn, but we love her for all her quirky traits. (02/27/2009)

By Janet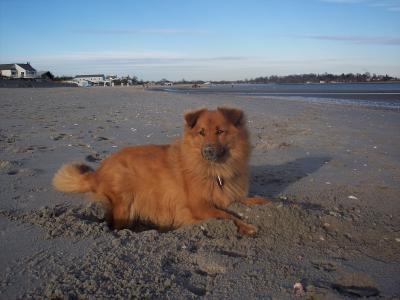 Golden Retriever Chow Mix Puppy
I had posted pics on here of my little Mojo when he was just a few months old and I figured I better post some more recent pics of him so you
can all see how big he has gotten. (Recap) Mojo's mom was a purebred black Chow Chow and his father was a purebred Golden Retriever, he now
resembles a black Golden Retriever, and he has a pink tongue with many black spots all over it. Mojo is now 8 months old and he weighs almost
80 lbs he is very sweet and very smart. He is eager to please and knows several commands.
Here is a picture of Mojo (on right) with our 8 year old Lab (on left, she weighs 65lbs)
(03/10/2009)

By Maggie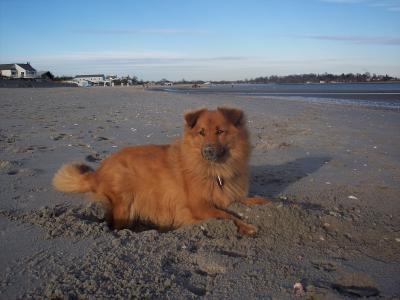 Golden Retriever Chow Mix Puppy
This is Riley. We rescued him from a LA County shelter where he was scheduled to be euthanize. He likes to throw his toys in the air and
catch them. Sometimes he cries at them. He kicks things when he's frustrated, haha. He also makes Chewbaca like noises. Does anyone else's
dog do that? (04/07/2009)

By Jenny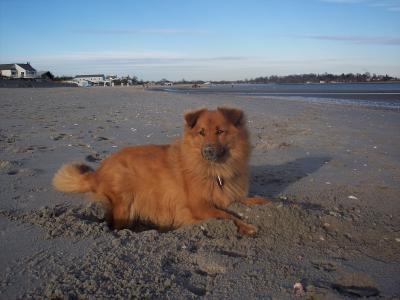 Golden Retriever Chow Mix Puppy
This is Oliver he is about a year and a half old. He was found living under a car at about 4 weeks old. He is super sweet and knows a ton of
commands. Although he can be a little dense sometimes, he is a great family pet and I would recommend the mix to anyone. (04/07/2009)

By wade bowlin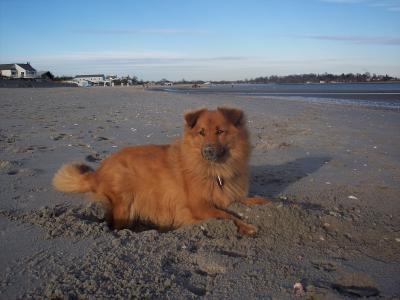 Golden Retriever Chow Mix Puppy
Hey ya'll. This is my golden chow Buckley and he's the best. A friend found him wandering around and we adopted him. He's high energy, but just
the best dog ever. As you can see, my daughter loves him. He's awesome around my kids, my cats, and my other dog, a Jack Russell who's much
smaller than him. (04/24/2009)

By Will