7 days ago my Pekingese dog got sick, I took her to the vet and she was positive for parvo. She died Tuesday, the problem is I have 7 puppies and they all played together. So far one of my Chihuahuas passed away Thursday. Now her sister is really bad, she is only a pound and doing really bad. We have her on IV, electrolytes, she's really weak and the vet won't do anything else. Does anyone have any other tips for me on getting my little girl better?
Thanks,
Kaitlyn from Saginaw, Michigan
Answers:
Advice For A Puppy With Parvo
My pup (15 pds) beagle mix was barely able to walk. Did not eat or drink. This was 3 days ago. That night I got some pedialyte and used an ink refiller syringe that holds about an ounce of liquid. I gave him 3 full doses of pedialyte (by mouth) then one every 2 hours through the night. Next day I pulverized the following ingredients together: fresh garlic clove, an adult multivitamin and mineral supplement, and an acidophilus tablet, added a tablespoon of pancake batter and about 3 ounces of pedialyte in a cup, I mixed it up very well and used the syringe to put the concoction in the pups mouth. Give one dose of this mix 2x a day, plus doses of regular pedialyte in between. My pup is now eating and drinking and running around. I also ordered parvogaurd just in case. It is a good idea to add a half tablespoon of bleach per 3 gallons of water if you keep your dogs water outside. It keeps worms from getting in. This tip came from a dog breeder. My other pup has not gotten the parvo as of yet but I certainly know what to do to save his life if it happens. Good Luck (03/06/2006)
By Jay
Advice For A Puppy With Parvo
PLEASE DO NOT Listen to anyone who says you can treat parvo at home--yes your dog can get better but may suffer further damage without your knowledge such as infections. Fluids, antibiotics and supportive care is the best thing for the dog. Prevention is the key. Get your dogs vaccinated with the full series of vaccine when they are puppies. They can still get parvo but usually is a much milder case!! I have been a vet tech for over 16 years and can't get over people who refuse to spend a few dollars on shots then are upset when something happens to their dog!! (06/13/2006)

By dpinney
Advice For A Puppy With Parvo
After a vet charged us 150.00 up front, 75.00 for "more tests" and more $$$$ for another bunch of tests we sadly had to have our little girl put to sleep. After losing our much beloved Pekingese/Dachshund my SON informed us it was Parvo - the vet never did say what it was and didn't bother to refund anything, either. When another puppy got sick, did I take it to the Vet? Nope. And that one lived (plus two that weren't mine). I kept it hydrated orally by giving small amounts of gator-ade FREQUENTLY (several dropperfuls day and night, depending on size) and an herb called chaste tree berry which stopped internal bleeding. I kept everything clean with bleach. They were recovered in about a week or less. If you do try giving your puppy the bleach I'd make sure it's safe - clorox used to tell you how much to use to purify drinking water, don't know if it still does. I do give all my dogs vaccines now. Take it to a vet? Maybe the one I have now, but sounds like YOU need to find another puppy doc. I agree with the one who said to do some research. I took care of mine at home, but be informed first. You might have to give them liquids orally instead of IV. I'm very sorry for you. I know what you're going through. (06/13/2006)
By got2bcristi
Advice For A Puppy With Parvo
I had a young Rottie that was current on all his shots and still contacted parvo. We realized that he was sick on a holiday weekend and called the vet, who didn't want to go to work and tried to talk us into waiting until Tuesday morning. I said I wanted him seen immediately, so the vet did go into his office. Upon examining him, he realized it was parvo and encouraged us to put him down. (Rotties are on the low end of survival for parvo.) Again I disagreed, stating that I knew my dog and thought we caught it early enough. He was put on antibiotics, IVs, etc. He survived and was a wonderful pet. Personally, I think love and attention is important too. I truly believe my dog willed himself to live. (06/14/2006)
By susanmajp
Advice For A Puppy With Parvo
I totally feel for you. My dog is currently in the hospital with parvo. I hope that he gets better. I had him for about a week we took him to the vet and he said everything was fine, then the next day he got sick. This was a saturday, the vet reluctanly came in, he told us it was parvo and it was not a big deal that the dog would be fine. He then gave us antibiotics and told us no food or water for 24 hours. We came home and looked up parvo on the internet. thank god that we did. I then called a family friend that knows a lot about dogs. She got us started on a pedialite and asodopholius diet. we had to wait until monday to get him to a real vet and he is still hanging in there, hopefully we can take him home soon. (07/04/2006)
By Lex
Advice For A Puppy With Parvo
My 11 week old Pom just came through the deadly virus and is doing well. I was out of town and she was at a local kennel and the lady there got her to a vet and $520.00 later and many prayers I can still hold my lil Pom in my hands and she is happy and running around with my 8 mopnth old male Pom. There is a light at the end of the tunnel. I was very worried but she was worth the wait and every dime. I am in the process of going after the breeder who has yet to stop selling her Poms and address the virus in her kennel. (07/24/2006)

By Chris - Dutchess's owner
Advice For A Puppy With Parvo
My 7 month old puppy got parvo and i took him to the vet and she said he had a 50/50 chance of living. so everyday we took him to the vet to get an IV and we brought him home at night and fed him boiled chicken and pedia lite. My dog got better slowly and survived the ordeal. Just keep an eye on them. (07/31/2006)
Advice For A Puppy With Parvo
My three and a half month old pug has parvo. She hasn't eaten in five days. She is now in the hospital where they are giving her medicine and an IV. I couldn't find anywhere to take her at first. She is at The Animal Cruelty Society. I qualified for the low income program. This place may have saved my puppy's life. I thank them. She might have to stay four to five days. (08/10/2006)

By Jeanella
Advice For A Puppy With Parvo
I'm sorry about all the sick pups out there. But I cannot believe anyone would try to treat their dog at home without the vet's advice. If you get a pet you have to understand it is up to you to do right by it. Would you hold doctor care from your child? If you don't think you can afford to or just don't want to feed properly and get routine and emergency vet care for your pet, then don't get one. You might be able to barter for pet care. See if you can work off the bill. Clean poop if you have to. But a sick animal should be seen by a vet. Most of them are not out there to rip you off. Yes some are, but not for the most part. (08/11/2006)

By valery
Advice For A Puppy With Parvo
I have a 3 month old Chihuahua and one of his litter died from parvo. So my puppy had parvo from playing with the other puppies. About 3 days later, my puppy started vomiting foam and refuses to eat for 3 days. So i took him into the vet and the test was negative. So I took him home thinking he was ok. He didn't get any better, so I took him in again and he was positive this time. I was so sad. The hospital bill for parvo was too expensive. So they gave me another option and that was to give him IV and antibiotics at home twice a day. They said it would be a 50/50 chance of him surviving. But i took that chance. After giving him his IV he still didn't want to eat so i didn't want him to starve. I went back to the vet and they prescribe me some perscription diet for him to eat. I mix it with water and suck it up in this one thing and squirt it in his mouth so he'll get some proteins from it. I gave it to him like evey 2 to 3 hours so he won't have a empty stomach. The next day he stopped vomiting. The 3rd day he woke up and started to drink water. I was surprised! He started to feel better and started to eat again. I was so thankful. Right now he's still fighting it and I think he'll make it. He'll be done with his treatment this thursday! So you just have to take really good care for you puppy. Try to make her drink water as much as she can. (08/15/2006)

By Susan
Advice For A Puppy With Parvo
I got my puppy last Friday and i had to put him down on sunday, because he had parvo. He wouldn't eat he only drank water. I was sad but then i figured out that putting him down would be the best thing that i could have done. So if u really love ur dog and ur not sure that it will survive then follow your heart. right when u make your choice you'll have regrets and feel real bad but later on you'll feel as if u did the right thing. (09/08/2006)

By Brittney
Advice For A Puppy With Parvo
My baby Rott is currently in the hospital now with Parvo. He developed symptoms on Saturday night, Sunday morning we had to take him to emergency vet out of town and Monday morning he was admitted to local animal hospital. He is still hanging in there, today his fever dropped and he is vomiting less but he still isn't out of the woods. Everyday he wakes up is another day of hope but does anyone know "how long"? I mean is there a typical time frame that by the fifth day or whatever he should be showing signs of improvement? (09/15/2006)

By Felicia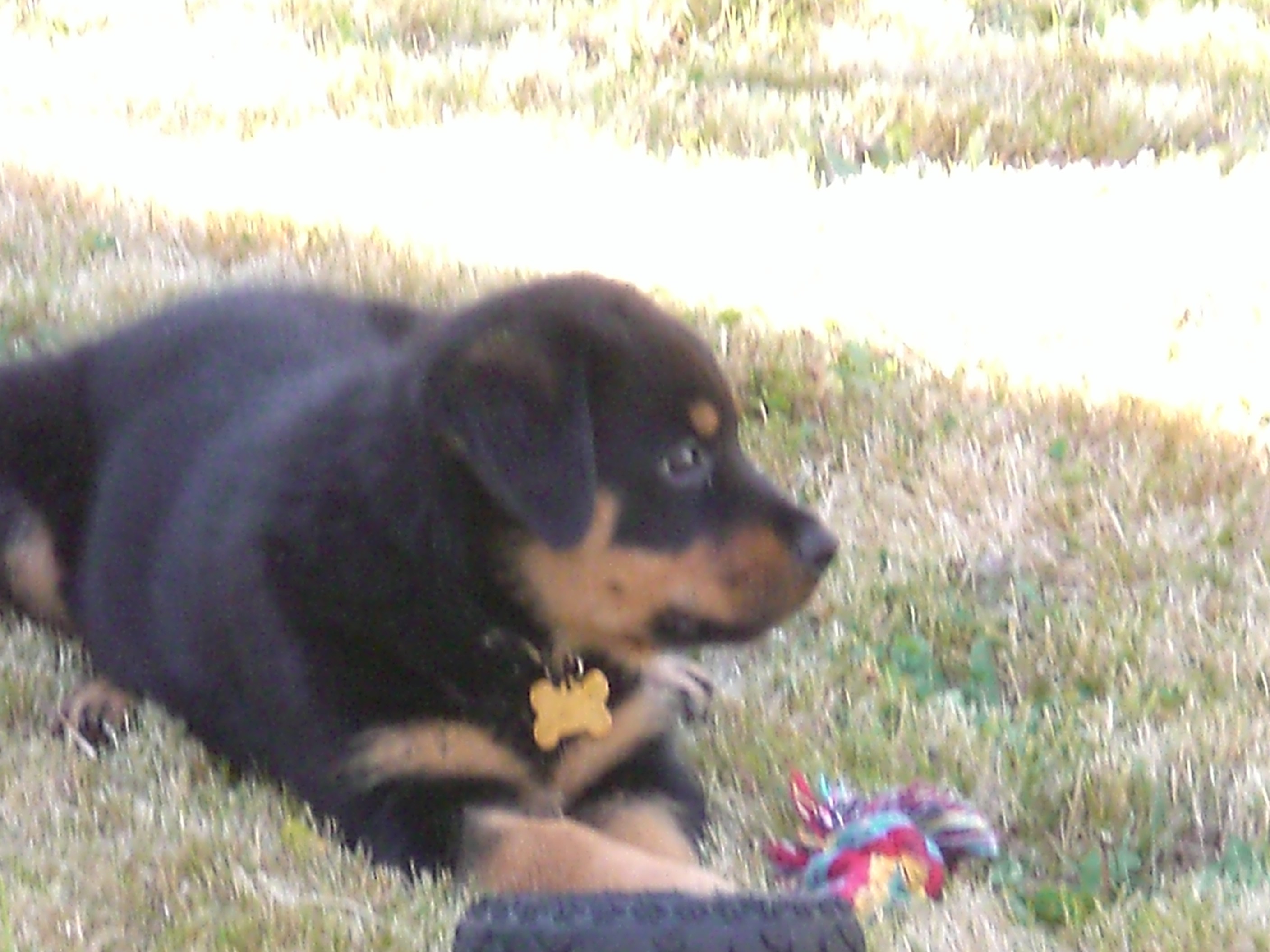 Advice For A Puppy With Parvo
My 4 month old Puppy became sick with Parvo, She became ill on Wednesday, then Thursday she was running around playing fetch as if she was never ill, Friday she was nearly dead, I gave her Pepto, Gatoraide, Pedylite, fed her baby food, and her condition wavered all day Friday, so I stayed up with her all night trying to save her, I had to put her to sleep Saturday morning, she was suffering and I felt it best to end it. (no she would not have made it if I had let her wait it out) I grew up on a farm and I saw the signs that she was going to die. Needless to say, I agree with all the other posters that said, GET YOUR DOG THEIR SHOTS, Hell get them extra shots. That has to be better than watching your dog die. (04/07/2007)

By Darin
Advice For A Puppy With Parvo
We adopted an 8 week old Doberman mix puppy from our local animal shelter on the 3rd of May. He was full of energy that day and partly into the next. My husband then noticed he was vomiting frequently and his stool was getting to be more of a liquid with a foul smell each time he went to the bathroom. He then had explosive diarrhea and that was the last straw. We called the vet clinic and took him right in. They diagnosed him with Parvo right away. The vet said the amount of Parvo was so great that the positive on the test showed up before the control did. Right away the vet gave him Sub-Q fluids, Absolute (a horse serum), an antibiotic, and a suppository for the diarrhea and the vomiting. He seemed to come back to life and the vet had us come in for another round of antibiotics and Absolute. He crashed down the following day, vomiting twice with one bout of diarrhea. He went back to the vets for some Sub-Q fluids and more antibiotic. He also got another suppository. Today is his best day. He is running around great playing with our other dog and eating his treats. He will be going to the vet again in a few hours for more antibiotic and hopefully we will be told that he is on the road to recovery. Please do not give up hope with young puppies with Parvo. Our vet said that our pup may not make it because he is so young but he is holding in there! Good luck to everyone! (05/10/2007)

By Rhonda
Advice For A Puppy With Parvo
I work at a vet's office and after reading some of these postsI have a couple of things to say...DON'T feed your dog bleach even if it's diluted with water, etc. Bleach does kill the virus but it's POISON and will more than likely kill your dog. Parvo effects the canine digestive tract and bleach will also irritate the stomach. Be smart.

Also when you first take a parvo infected dog or puppy to the vet and they seem ok at first but then are worse a couple of days later, it is not the vet's fault... you would see your dog get worse if you had not taken it to the vet, it's just the virus running it's course. A lot of times it gets worse before it gets better and you did the RIGHT thing by taking it to the vet as soon as you knew something was wrong.

If you get a new puppy take it in for its shots ASAP... Parvo is preventable with proper vaccination. Also don't take your puppy to dog parks or any other places where lots of dogs gather and poop... the virus is rampant in those types of places and puppies are more vulnerable to the virus than older dogs. Spring and summer time is when I see the most parvo cases at work. Pit bulls, bull dogs, and black and tan dogs are also at higher risk for the virus. If you catch it early and take it to your veterinarian immediately then the likelihood of its survival is much much higher. Please do your part in preventing the spread of this horrible virus.

My heart goes out to all of you who have a pet with this illness. (06/16/2007)

By Claire
Advice For A Puppy With Parvo
Hi, my names candice and my puppy has just been tested positive for parvo. One of the most things that helps is to show them love and give them Pedialyte every hour at the same time..
pluse the meds that the vet gives you but you have to keep an eye on them if they throw up cut back on what your giving them and then when they can hold it down you add just a little more of the pedialyte. you have to catch parvo in the beginning stages like when the dog poops, if its bloody thats when you no the have it. all you need to do to keep her alive is love and care and pedialyte pluse the meds its hard but its worth it. (03/18/2008)

By Candice